Tea with Mary Berry
Josh Kimblin meets baking royalty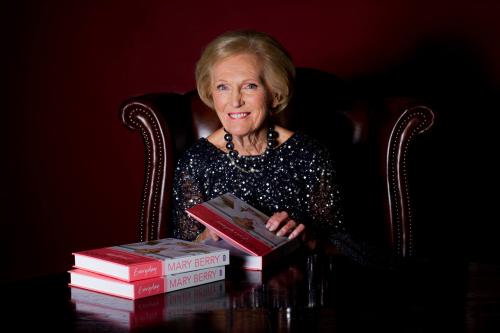 Mary Berry is the undisputed Queen of home cooking.
While the lesser nobles in the Cooking Royal Family squabble and have high-publicity spats – Prince P. Hollywood and Princess N. Lawson come to mind – Queen Berry rules with a quiet dignity.
In fact, she shares many of the traits which we associate with the other Queen: long service, understated glamour (have you ever seen a bad Berry hair day?), and the ability to be as endearing in person as on-screen.
However, it is only in the past few years that Berry, 82, has become a surrogate grandmother to the nation, courtesy of the Great British Bake Off.
This raises my first question. With over 75 cookery books to her name, why has her style of presentation become popular so recently?
"My recipes are ones which everybody can follow," she replies. "I was given advice very early on to write as you speak. My then-boss had asked me to write a feature for a magazine – I was in PR at the time – and I said 'I can't possibly do that! I've only got one O Level!'"
"She said: 'All you have to do is write as if you were right there in the kitchen.' It was the best advice, because up until that point I had always been trying to use long words and other things. Stop trying. Just give clear instructions."
Berry then describes her method for creating her recipes: "It can be a very long process, or a very short process. I have a team of two and we test everything several times. If it's a classic recipe, we will research all the others and then create one with modern ingredients, using nothing too unusual which people won't have in their cupboards. There's no point in people buying things and not using them again." Waste not, want not; true home-economics philosophy.
She relates how she perfected her take on spaghetti bolognese for her latest programme, Mary Berry Everyday. "I looked at the great Italian chefs, who used white wine and a dash of cream. All the newspapers said 'It's not correct; why isn't she using red wine?' But if you go back to Elizabeth Davies, who got her recipes from her time as an au pair in Italy, then you find the traditional, authentic recipe. So, although I was criticised, I held my head reasonably high!"
""Some people use microwaves," she adds, with a little hint of disdain."
She then offers some advice for students cooking with limited equipment. "I do an awful lot in a non-stick pan with a lid," she explains, "Mushrooms, for instance, can be fried until the outsides are browned but the insides remain uncooked. If you put the lid on, they cook in their steam. Or you can buy a slow-cooker."
"Some people use microwaves," she adds, with a little hint of disdain, "But if you're cooking for a gang, it's slower to use a microwave. It's only to be used for small quantities of vegetables or for a small piece of fish."
"It's all about sensible eating – a little bit of everything and just not being greedy."
The conversation takes a serious turn as I ask Mary for suggestions on how to deal with the obesity epidemic. Despite being the Queen of cakes, Berry is a long-standing advocate of moderation and small portions.
"It's very, very serious," she says earnestly. "People should forget diets and, although I'm maybe old-fashioned with calories, a calorie count can help. It's all about sensible eating – a little bit of everything and just not being greedy."
"Many obese people over-eat the wrong foods. It's really about cutting away the sweet things, or deep-fat frying. I have never done a recipe with deep-fat because I don't believe you need it."
Without a hint of irony, I then ask for Berry's judgement on a series of long-standing disputes over sweet treats. First, which comes first on scones: jam or cream?
"That depends on whether you live in Devon or Cornwall," she replies quickly. "Personally, I would put jam on first, with cream on top. But do what you want."
Next, is a Jaffa Cake a cake or a biscuit?
Answer: Bake Off treated them as biscuits. "And I know some people like to dunk them," she adds, a reference to Paul Hollywood's infamous penchant for immersion, "I'm not a dunker, though." They don't do that in the South.
"The important thing is not the food, though; "it's the family you share it with.""
When asked for tips on making good macarons, Mary suggests following a good recipe, sifting your ground almonds and resting them. "They're very much in the vogue nowadays," she muses, "They're very sweet and they're very pretty. But I think we've moved on from them now. I know I have!"
On adding vegetable matter into cakes – be it carrot, courgette or aubergine – Mary advises increasing the amount of raising agent "because extra moisture makes the mixture heavier. But not too much, otherwise you get more bicarb than beetroot."
Finally, she reveals her preferred Sunday lunch: a slow roast lamb shoulder. The important thing is not the food, though: "It's the family you share it with".
Wise words from a woman who has ruled over family cooking for fifty years: long may she reign!