A 'moment' in student politics?
Student issues have been making front pages recently – but that's not the only time we should be scrutinising them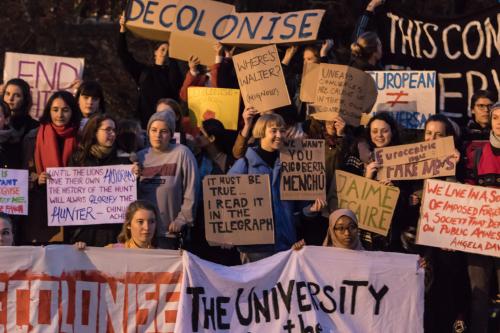 It's undeniable that student politics has been in the limelight more than usual recently. We've done our bit to contribute towards that, with recent front pages covering David Lammy's proposals to make Oxbridge more representative of the country as a whole, the government's efforts to stop free speech being 'stamped out' at universities, and of course this week, decolonisation.
But here has also been coverage in the national press. It was The Daily Telegraph's inaccurate and inflammatory coverage of the open letter to the English Faculty regarding decolonisation that has got more people talking about the issue, while Newsnight a few weeks ago dedicated an entire episode to everything vaguely 'student-y': safe spaces, preferred gender pronouns, and content notes.
This does seem like something of a 'moment', then, and it is right for us to give it the due coverage. Not only are the issues being discussed in government and in the national media ones that directly affects us as students, but they're ones that are often misrepresented. We see it as part of our job at Varsity to set the record straight, and give the student perspective in a way that no national publication can.
That's what we've tried to do this week with our coverage of the decolonisation movement. We've got an account of the rally held outside of Senate House on Tuesday evening (the first event of its kind on this particular issue), a report on the English Faculty working group held on Wednesday, and a look at what a decolonised curriculum might look like.
Yet it's important to remember, as many of those involved with the decolonisation efforts are at pains to put across, that these debates are not just taking place when they appear on newspaper front pages in the form of public rallies or the announcements of government ministers. Indeed, to paraphrase many who spoke at the rally on Tuesday, the battle surrounding issues like decolonisation is one that takes place more in working groups and faculty boards than it does on King's Parade.
We hope you find Varsity's coverage of the decolonisation debate informative, and we will make sure to keep a close eye on events as they progress. Student issues might not always be on the front pages of The Telegraph or The Times, but that doesn't mean they're any less worthy of scrutiny and debate