The Grenfell Tower fire shames our society
Horrendous incidents such as the Grenfell Tower fire reveal effects of putting the interests of the richest above those of the poorest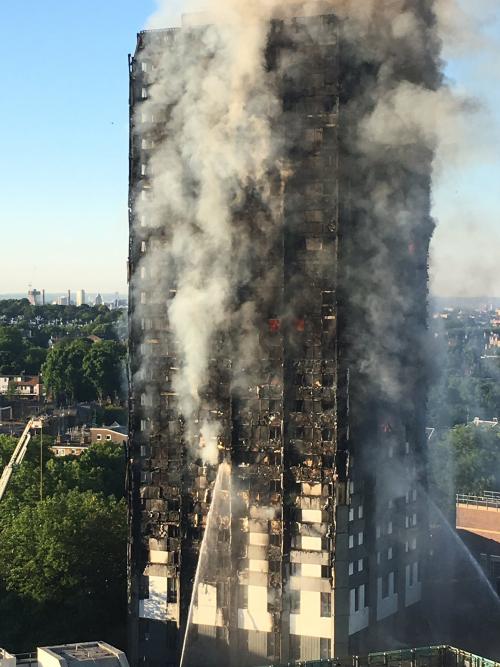 It is easy to overlook the poverty which persists for some living in the Royal Borough of Kensington and Chelsea when shows such as Made in Chelsea massively glamorise the area. While it is certainly true that this is one of the richest boroughs of one of the richest cities on earth, along with the townhouses and expensive cars comes vast levels of deprivation. The Lancaster West Estate, for example, where Grenfell Tower is situated, was recorded in the top 10 per cent of the most deprived areas in England in 2015. Earlier this week, this inequality became a matter of life and death for the residents of Grenfell Tower who found themselves trapped as their homes became engulfed in flames. The death toll has already reached 79 by Tuesday, although it has been reported that it may rise up to 150 as fire services continue to make their way through the rubble.
The first confirmed death was Syrian refugee and civil engineering student Mohammed al-Haj Ali, who in his final moments, sent a text to his family in Syria saying "the fire is here now, goodbye." In a call to her best friend in the middle of the night, a teenage girl, still missing, said "We're not going to make it. I love you." On a Facebook live video, a 30-year-old woman, reportedly with her two young children, can be heard desperately shouting and praying in Arabic.
"Rest assured that if this happened in a wealthier part of Kensington and Chelsea the council would be scrambling to aid those affected"
These glimpses into the events in the early hours of last Wednesday morning can only provide us with a faint idea of the horrors which occurred. However, they ought to be heard and heard loud by a number of people: by the Kensington and Chelsea Tenant Management Organisation, who repeatedly ignored campaigns about the building's fire safety and who have now urged the public to donate to the victims as opposed to offering the money itself; by the 319 Tory MPs, 71 of whom are landlords themselves, who voted against an amendment which would have required homes to be "fit for human habitation"; and by Theresa May, who could not even be bothered to meet the residents affected by the tragedy when she visited the site.
Early indications have shown that the fire was allowed to spread quickly due to flammable cladding which had been installed just over a year ago. This £10.3 million renovation had been an attempt to make the building less of an eyesore for the luxury property owners who lived nearby, a large number of whom were probably in London for only a couple of months a year. This is only one example of where the frivolous wants of London's wealthiest citizens have been put over the basic needs of the city's poorest, and it is distressing that it has taken such a huge loss of life to highlight this. These attitudes have led to what can most aptly be described as the social cleansing of London.
However, it would be wrong to think that the fire at Grenfell Tower swung the council into action (although rest assured that if this happened in a wealthier part of Kensington and Chelsea that they would be scrambling to aid those affected). Instead, concerns have been raised over the council's handling of those who have lost their homes. The humanitarian effort on the ground is being led overwhelmingly by volunteers as opposed to local authority officials, in particular those from the Al Manaar Islamic Centre who offered to help within ten minutes of the blaze engulfing the building.
Furthermore, the council have not assured that they will rehouse residents within the borough in the long-term. Nor have they opened up any of the 1,399 empty homes owned by overseas investors which lie only a short distance from Grenfell Tower, despite calls to do so from various figures including Jeremy Corbyn and other senior Labour MPs. Finding accommodation should be the council's number one priority right now rather than leaving residents to sleep on roll mats in a sports centre as if there now exists a refugee camp in one of the richest boroughs in London.
This is a crisis which was caused by the decision of corporations and the council to place the interests of wealthier citizens above those of the poorest, and which is now being perpetuated by the same classist attitude as they fail to provide adequate assistance. If a huge number of deaths cannot even change these attitudes, then I despair about what will