We may sneer at Melania Trump, but with her position comes power. How will she use it?
She speaks five languages and attended university in Ljubljana. Dominic Page says we should be wary of underestimating the new First Lady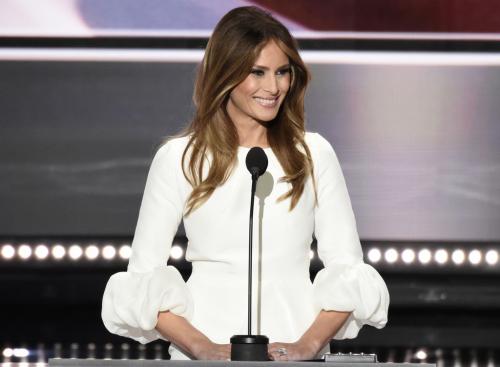 Michelle Obama will leave the White House this month as one of the most popular figures of the last eight years, with her 64 per cent August approval rating substantially exceeding that of almost any other senior politician. Many have grown to love her, and the attacks on her as an 'angry black woman' have been long forgotten.
Melania Trump's approval rating, on the other hand, lingers much lower, at a mere 38 per cent. Regardless, she is now set to be the unlikely First Lady of the most powerful country on earth, and every night shares a bed with her volatile and capricious husband.
Over the course of the year Melania has been portrayed as either unintelligent and uninteresting, or money-grabbing and ambitious, her marriage to Donald Trump (24 years her senior) seemingly cold and calculated, and her plagiarism of Michelle Obama's speech indicative of her having nothing between the ears. Yet is this fair, given what little we know about her?
Melania was born Melanija Knavs in Slovenia (then part of communist Yugoslavia) in 1970, making her the second First Lady to have been born outside of the US. She speaks five languages (Slovenian, English, French, German and Serbian) and has enjoyed a highly successful modelling career. She moved to the US in 1996 and met Donald in 1998. They married in 2005.
Unlike Michelle Obama, a Harvard and Princeton graduate, Melania dropped out of the University of Ljubljana after one year to pursue a modelling career. But we should not underestimate her intelligence. As if speaking five languages wasn't enough, her former lecturer, Prof. Blaz Matija Vogelnik, emphasised that in order to gain entry to the university at all she would have had to pass rigorous academic tests.
Given that Melania is Donald's third wife, after Ivana Zelníčková (the mother of Donald Jr, Ivanka and Eric) and Marla Maples, and that she will be the only First Lady to have modelled nude, it is perhaps surprising that Trump was able to emphasise himself as a man of traditional family values and mobilise white evangelical votes.
Perhaps this was the result of Melania largely staying off the campaign, or perhaps it was the constant parading of his children at rallies – including, on occasions, Melania and Donald's ten-year-old son, Barron – that did it. Nevertheless, it appears baffling that such a man has the political force of the Bible Belt behind him, and that Melania now finds herself in this position.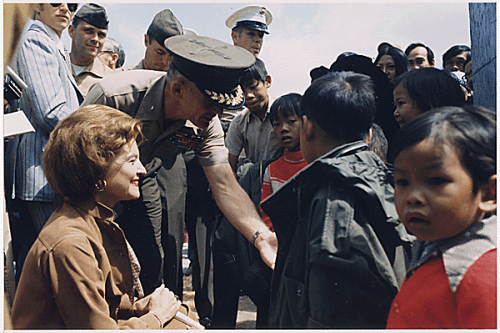 Last year, Melania told DuJour magazine that she had made it clear to her husband that their family would completely change if he ran for the presidency, and that, whatever happened, she would "be a mom first". This explains Melania's decision not move into the White House in January – choosing to stay instead in Manhattan with their son until he finishes school in summer.
She has stated that she never anticipated that the media would be "so mean" towards her, with newspapers digging up her nude photoshoot and her immigration status in the nineties in order to smear her. However, she told CNN's Anderson Cooper that she "can handle everything" and needs no pity, despite the inevitable negatives of her new role.
The influence of any First Lady in the White House is always going to be limited, but numerous have demonstrated significant influence. Eleanor Roosevelt, for example, famously held hundreds of news conferences and campaigned extensively for civil rights. Hillary Clinton, too, had her own office in the White House and was instrumental in putting together certain healthcare initiatives. Michelle Obama has been a positive influence in launching initiatives relating to both childhood obesity and education for girls.
Back in 2000, Melania stated that if she were ever First Lady she would be "very traditional", and cited Betty Ford and Jackie Kennedy as models for inspiration. Yet 'traditional' does not mean apolitical. Betty Ford was known for being vociferously pro-choice and outspoken on issues relating to women's rights, often putting her at odds with the Republican grassroots in a way we must hope for Melania. We know precious little of her views, but speaking to CNN she said she frequently gives her husband political advice, and insisted she was very much her own person. While strongly defending Trump's comments on immigration, she has criticised his lewd comments about women and expressed frustration over his tweeting (if only mildly).
This frustration, and the hard time she has had in the media, are likely what prompted her to make a much-scoffed-at speech against cyberbullying, criticised for its hypocrisy. We may see Melania providing a more human face for the incoming administration, and effect positive change on her husband's foul and abusive persona.
Washington is slowly being populated by some of the most unpleasant figures in American politics. Melania will stay away from the White House for the coming weeks. Is it naively optimistic to think she could be a positive force come late January? Whatever the answer, we should avoid targeting Melania as simply a figure for ridicule or contempt. As the situation stands, any grain of hope is welcome