Caroline Walker: Actions: The Image of the World Can Be Different
Annabel Bolton interviews artist Caroline Walker, discussing the impetus behind her new collection of paintings on display at Kettle's Yard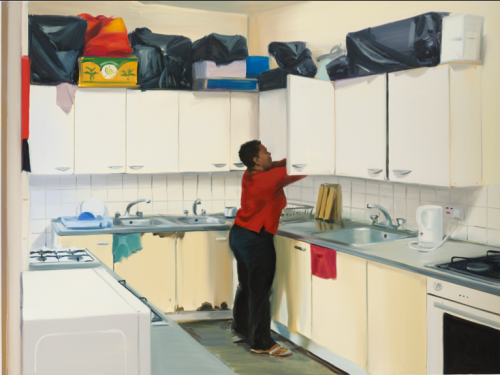 There's something refreshingly normal about Caroline Walker. As I am ushered into her canvas-stuffed studio with a welcoming grin, I am greeted with coffee, biscuits and laughter. With this introduction it is easy to forget that I am interviewing one of Britain's leading contemporary artists. In a field often permeated with pretention and inaccessibility, Walker and her work feel like real life, and her upcoming solo project of new paintings at Kettle's Yard as a part of their recent exhibition Actions: The Image of the World Can Be Different, is exactly that. With the title Home, the works depict a group of women in domestic spaces in London; the subjects are refugees seeking asylum, attempting to re-establish normal life in the capital. 
"I would say it's definitely the most politically sensitive work that I've made," explains Walker. It fits effortlessly with Kettle's Yard's aesthetic and ethos: issues of racism, feminism, and class differences are addressed by nine artists in Actions, including Walker. This opportunity for her arose through a direct commission from Andrew Nairne, the creative director at Kettle's Yard, who has been visiting her studio for several years. 
"Walker desires for the viewer to see reality in a new light, recognising elements of everyday life that we might normally overlook"
It was Nairne who suggested that Walker's paintings serve as a response to the refugee crisis. But this was quite a "leap" away from the themes in Caroline's previous oeuvre. Walker is a polished artist, with her own vision, ambition and brilliant self-consciousness: "I realised I would have to find a way of doing it which approached the subject in a way which made sense in the context of the rest of my work." 
To begin with, Nairne suggested a trip to the "Jungle" in Calais. Walker agreed, but knew from the start that whilst this would be rewarding and intense, it was not necessarily going to stimulate a creative response: "that particular subject matter didn't feel right for me to tackle," she rationalizes. However, the title of her series - and indeed the key idea behind her finished paintings - came from an event Walker experienced visiting the French coastal city. Upon entering the "makeshift accommodation" of one of the few women present at the camp, Caroline explains the experience: "It was like she'd tried to transport…something more familiar into this space. And it made me think about how it is we actually create a sense of home; what does home mean when you're so far away from your home?"
Staying true to her artistic style, Walker came up with an idea for her project: "I decided that if [the subject] was going to fit it had to be about women and it had to be in London for me to feel that as an artist I had any right to respond." Caroline then discovered Women for Refugee Women, a charity which challenges injustice experienced by women seeking asylum in the UK and provides a support network, meeting in groups on a regular basis for yoga sessions, knitting, English lessons, and other activities. Walker attended a meeting hosted by the charity to pose her preliminary photoshoot, and five women agreed to participate.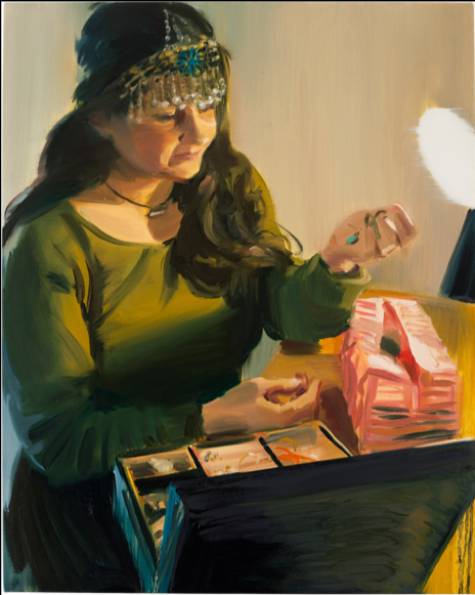 Abi, Consilia, Joy, Noor and Tarh all have incredible stories to tell. Escaping dire situations of domestic violence, forced marriage, abuse in the workplace, they have left everything behind - for some of them that includes family and children.
However, their moving biographies made Walker sensitive of her identity as a white British female: "I was unsure about my position in relation to their lives, and whether it was appropriate for me as an artist who has no personal experience of the displacement and uncertainty faced by refugees to be the one to tell their stories." But the more invested she became in the work and the more she painted, she realised that "If you take out the political context of who they are and what it means in the current socio-political climate… they're really just portraits of women in London."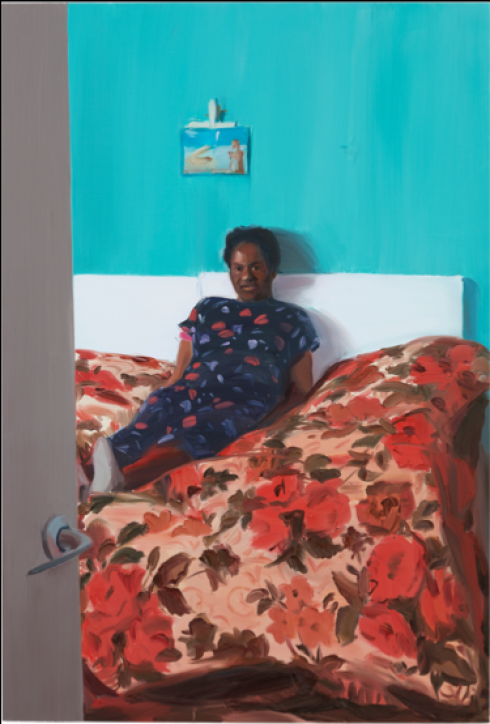 Her new models are unassuming, humble women, carrying out daily activities rather than posing for the camera. In the past Walker has hired architecturally modern houses or apartments and dressed her models in a certain way to achieve a desired, almost dream-like aesthetic –  something she describes as "almost like working with a film set". With these five women, however, there was "nothing staged about the interiors or what they're wearing or anything, they're just – as they are."
I refer to the image of Tarh, where we peer in at her from the other side of a door: the voyeuristic point of view is a common trope for Walker , but here it takes on a newfound relevance,"I am an outsider and I'm getting this little glimpse into their lives… but I'm not claiming to be inside that experience, so I wanted the paintings to reflect that there might be this slight distance between us."
Walker's striking sense of colour and light is also palpable in the image of Joy, painted with a strong turquoise backdrop, the subject sitting on a floral bedspread in her very own 'home away from home': "the intention of that painting is to say something about that real person and their situation, so it's imbued with all this information about her." Caroline wanted not only to photograph her subjects, but to capture an essence of who these women were in order to be able to reflect this in her painting.
In all of her work, Walker desires for the viewer to see reality in a new light, recognising elements of everyday life that we might normally overlook. The same is true of this series: "They're quite quiet paintings really, but I don't believe it's my job to tell you how to think about these women, but maybe to reflect on something which is all around us [that] we just don't notice." Surely that must be one of the greatest heights art can hope to achieve?
Caroline's work at Kettle's Yard is on display from 11th April – 6th May 2018