Review: Rachel Whiteread at Tate Britain
Far from the daring and innovation that won her the Turner Prize in 1993, Becky Grubb finds Rachel Whiteread's retrospective at the Tate lacking.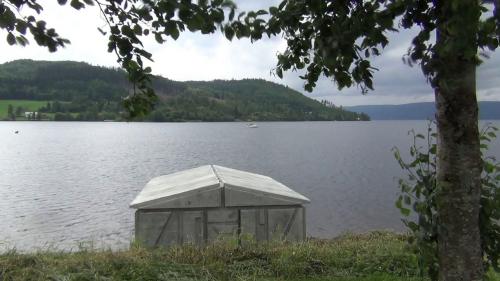 In October 1993, Whiteread erected 'House' on Wennington Green: a concrete cast of the interior of a Victorian terrace house in Mile End, due for demolition. At the time, large parts of East London were up for redevelopment and renovation, causing many of the terrace houses to be pulled down and replaced. House struck the public with the chilling power of a ghost, set to remind them of the East End's buildings and history that had recently passed.
It was a controversial and instant hit. In November of that year House made Whiteread the first woman to win the Turner Prize. Her sculpture was described by Andrew Graham-Dixon as 'one of the most extraordinary and imaginative public sculptures created by an English artist this century', and a petition for House to become a permanent installation received over 3,300 signatures. Fast forward 24 years to 2017, however, and Whiteread has filled an exhibition room at the Tate Britain with cast objects of plaster, concrete, rubber, resin and metal. Upon seeing this, my heart sank.
"Whiteread's quiet casts birth an audience who are comfortable, unchallenged and ultimately passive."
Despite being taken momentarily by the pleasing, monochromatic, sculptural forms, which work well in the warehouse-like expanse of gallery, a sense of Whiteread's lack of artistic progression from 1993 overwhelmed me. Casting things and cordoning them off behind glass or touch-sensitive wires to give them a sense of artistic legitimacy is about the sum of her efforts. Even her drawings, presumably set to support her 3D work, only add to the limp-wristed display of work which scarcely catches a glimmer of the 'extraordinary and imaginative' early work Graham-Dixon once praised. 
Where, in arguably the most free and diverse fields at man's disposal, has Whiteread's imagination and creativity gone? A cast of a staircase, a cast of a door, a cast of a mattress, of a bog-roll and of a hot water bottle are set before the viewer. But don't worry if you find yourself bored and perplexed by the singularity of her artistic method as you wonder from one object to the next, Whiteread has another curve-ball to entice and challenge your viewing: the bog-rolls, hot water bottles and other trinkets come in different colours!
Sadly for Whiteread, the concept of a repeated image or object adapted by colour has been done before by Andy Warhol, and rather well at that. He was also honest: his silk-screens of repeated Campbell's soup cans were titled Campbell's Soup Cans and Eight Elvis's was indeed a picture of Elvis Presley, printed eight times. Whiteread, however, calling her selection of cast hot water bottles 'torsos', irritatingly toys with the line between everyday objects and objets d'art - another familiar, overplayed concept of modern art and sculpture.
But even this interplay is ineffective. I heard one member of public, referring to one of Whiteread's resin cast doors, say "I would like that door as a door". In other words, the transformative quality of her casts is not enough to draw them away from their original, functional purpose. Pretty though it may be, much like primitive man would use a spear-shaped stone as a tool, my instinctive desire for this object to be put back into its frame is not overcome by its new form. As casts, these objects become obsolete and uninspiring.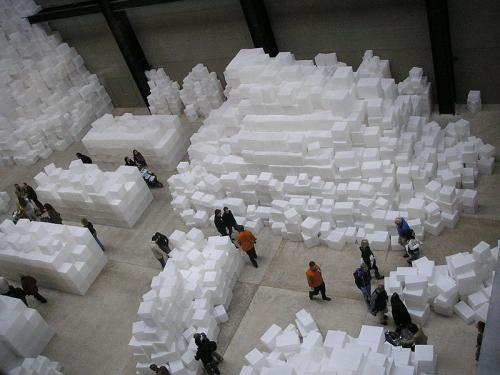 Perhaps more frustrating is the fact that this exhibition encourages the number of people who do go to galleries towards a very binary kind of artistic enquiry. We are naturally intrigued to work out what the objects are cast from and cannot help feeling pleased when we work this out. The titles suggest what Whiteread imagines them to be ('torso' for the casts of a hot water bottle) and we are either confused by her title or pleased that we can see them as she does. If we are confused, we move on because the objects offer us nothing more than themselves. If we are 'correct' we also move on, because the object has been classified and there is nothing more to challenge our visual experience or entice further contemplation.
The problem is not with the casting process, nor with the quiet of Whiteread's exhibition. Marc Quinn's recent fragmentary plaster casts featuring himself and his partner entwined are enchanting. His sculptures quietly blend with the antiques of Sir John Soane's Museum and are endlessly transformative. "Great art is emotional time travel," Quinn says. But where does Whiteread's exhibition emotionally transport us?
Whiteread's quiet casts birth an audience who are comfortable, unchallenged and ultimately passive. Her casts embody an artistic laziness, a true lack of progress and enquiry beyond the casting process which kick-started her career as a leading British artist. Just before the opening of this retrospective Tate exhibition, Whiteread spoke of her dislike of 'Plop art', "where you plop a piece of work down where it doesn't bear any relationship to anything else". But this comes dangerously close to a description of what she has achieved. She continued, "I think art is there for a reason and should be respected and looked at". I would argue that Whiteread's work falls short of inspiring our visual appetite to demand this respect. In a recent article by Jonathan Jones, he describes what Whiteread achieved with House in 1993 as "one of the most haunting and enduring things created by a British artist".
Why, then, has Whiteread so miserably and unconsciously strayed from the monumental power of her early work? 'Plop' would be a very accurate verb for her disappointingly ineffectual exhibition at the Tate Britain today. Leading British artists should lead. If we follow Whiteread's example, we may find ourselves down a very ordinary and vacant alley indeed.
The Rachel Whiteread exhibition is on at the Tate Britain until the 21st of January 2018