Review: Soul of the Nation: Art in the time of Black Power
Attesting to art's power to affect profound change in the viewer, Aimee Lister highly recommends Tate Modern's Soul of the Nation: Art in the time of Black Power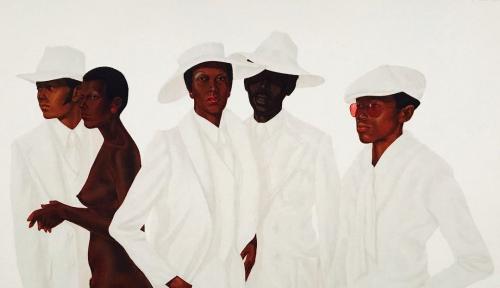 When my parents took me to art exhibitions as a child, I treated such 'cultural outings' as merely the prologue to a fancy lunch or shopping excursion. The concept of observing, pondering, and considering the artworks before me was excruciating. Art often does not speak to me still. I still feel a resounding disconnect when people around me discuss how moved they were by such-and-such a painting or such-and-such an installation. However, things changed this August when I ventured to the Tate (of my own volition, surprise surprise), and came across Soul of the Nation: Art in the time of Black Power.
Despite being chronically aware of how racism ails modern society, I had somehow never encountered the intersection between art and race, nor had I felt how powerful it could be. The exhibit is vibrant yet so peacefully violent, colourful yet also incredibly binary, defining the line between 'blackness' and 'whiteness' without ever explicitly doing so. As you enter the exhibit you are confronted immediately with Norman Lewis' America the Beautiful. At first glance, the painting appears to consist entirely of randomly placed white smudges illuminating a blindingly black background. Yet on further scrutiny conical figures and crosses become distinguishable. It depicts a KKK gathering.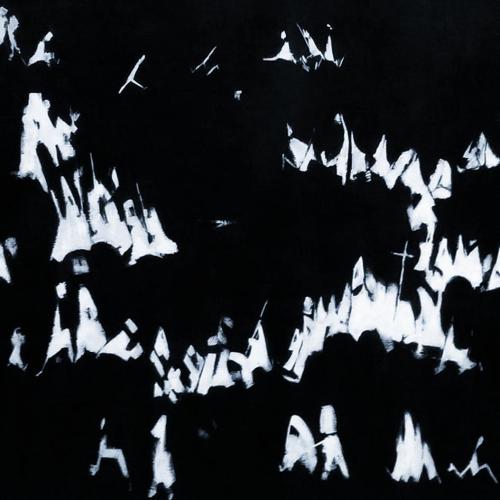 It's shocking that something so simple could be so powerful. Norman Lewis plays on the striking contrast between the black and white paint to convey the definitive line between black men and white men. It occurred to me just how transcendental this painting was. Its title, for one, retains its irony; Trump's America has in some parts barely progressed beyond what Norman Lewis knew. And the events of Charlottesville revealed the perpetuity of certain ideologies. The seeming subtlety of the subject matter that soon becomes all too obvious makes the overall message much more powerful.
The art engages you twice over; there's a duality to the way that you view it. First, when you see the image you try to decipher what it is or digest the visual aspects of it. Then, you understand the art in conjunction with its meaning, whether that be a political message, a warning, a reminder, or simply a monument to black suffering. It speaks to you.
The exhibit is curated marvellously. You follow the art movements as well as the historical tides; you learn about black history's key figures in parallel with its key artists; you see how they play into one another; you understand that this art did play and still plays a role, that it still means something. For instance, Eula Biss' Notes from No Man's Land, a collection of essays sold at the exhibition, opens with a piece discussing the telephone pole's inadvertent transformation from an object devoid of racial stance into an icon of lynching.
"I was moved to understand the systemic racism that diseases modern society. Moved to understand my position within the conversation, something I had always been hesitant to do before"
This was reflected in many of the artworks displayed in the exhibition. Dana Chandler's Fred Hampton's Door, quite literally a door, hounds you with not only a single man's murder but also the murder of all innocent black men. The door is riddled with bullet holes and branded with a stamp of 'U.S. Approval', again evoking a powerful irony. It is a testament to the brutal police murder of twenty-one-year-old Fred Hampton who was asleep in his home. His only crime? Climbing the ranks of the Black Panther Organisation and contributing to politicising the race conversation. Chandler's use of a door, as opposed to a visual substitute such as a painting or photograph, is immensely powerful. The physical presence of it leaves the viewer no escape but to acknowledge the reality of what the door represents. It is not only an image but also a mundane object, an object that each and every one of us encounters multiple times a day, metamorphosed into a symbol of systemic racism.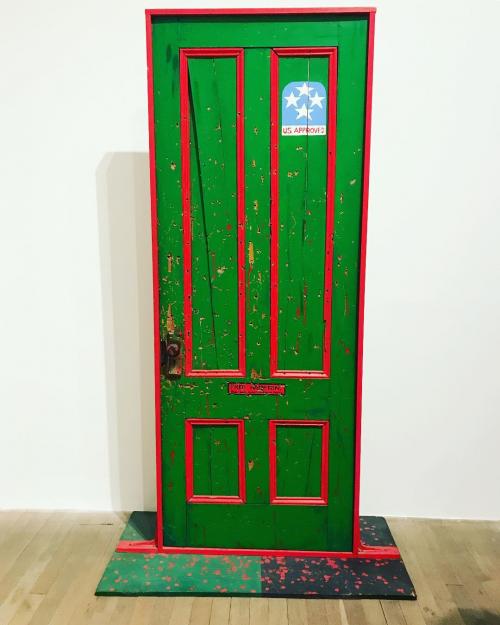 Betye Saar's Sambo's Banjo is another memorable example. Inside a banjo case hangs a lynched man alongside a hanged skeleton. Stuck next to them is a photo of a real lynching. Above the lynched man is a rifle. Thus, the piece is open to interpretation: Does the man escape, or does he die? Saar offers a tool of liberation, creating a caricature of the harrowing event. Her work is also a commentary on the stereotypes that were once ubiquitous – the wooden watermelon that lies next to the banjo case takes on a much more morbid meaning. The watermelon, as I learned, is a famous symbol used by racist propaganda to imply 'black stupidity', something I probably would never have known had I not seen this exhibit.
If you can't tell, the exhibition moved me. I was moved to delve further into racial discourse, venturing onto literature, starting with the works of James Baldwin and Eula Biss. I was moved to understand the systemic racism that diseases modern society. Moved to understand my position within the conversation, something I had always been hesitant to do before. On leaving this exhibition, instead of the exaltation I used to feel as a child, I felt a responsibility. I wanted to share this exhibition. I wanted to understand its context more. I wanted to engage in the conversation. I hope you will too.
Soul of the Nation: Art in the time of Black Power is on at the Tate Modern until October 22