Music: Dale Earnhardt Jr. Jr.- It's A Corporate World
Ella Griffiths reviews the high-octane Detroit band's debut





by Ella Griffiths
Tuesday 8th May 2012, 13:52 BST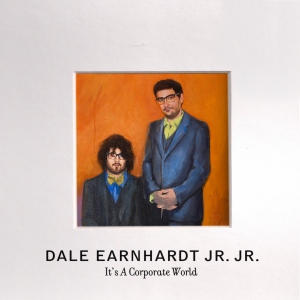 The first thing that should strike anyone listening to Dale Earnhardt Jr. Jr. is their ridiculous name.  A flippant homage to the professional American racing car driver, it stands as a symbol for the light-hearted creativity and playful complacency of the band. A Detroit-based hipster duo consisting of Josh Epstein and Daniel Zott, the band specializes in fusing folky, melodic indie pop with sparkling electronic beats and samples in the vein of The Postal Service.
For instance, 'Nothing But Our Love' melds gently crooning vocals with a clattering beat and crunchy synths into a track memorable for its woozy sonic texture; an accompanying sepia-hued music video of the band playing a hauntingly fragile acoustic rendition of the song featuring an impressive array of knitted jumpers deserves a mention.
Dale Earnhardt Jr. Jr. perfect their delicate indie formula, reminiscent of The Moldy Peaches or Bombay Bicycle Club, on their latest single, 'Simple Girl'. A twinkling medley of sunny harmonies, chirruping whistling and cheerful beats, this is Bright Eyes made addictively saccharine and destined for the soundtrack of a deliciously twee indie film.
It soon becomes clear that Dale Earnhardt Jr. Jr. have a talent for production, creating shiny, slickly layered tracks with a radio-friendly electronic lustre obscuring underwhelming melodies, like in the MGMT-esque shuffling of 'Morning Thought'.
This skill for crafting short, sweet and painfully catchy chunks of pop is impressively manifest in the upbeat garage rock of 'Corporate World' and the standout 'Vocal Chords'; with a jubilant, toe-tapping beat channelling the tropical vitality of Vampire Weekend into an energetic bundle of chirpy trumpets and vivacious falsetto, this is almost guaranteed to be a definite summer hit.
Furthermore, a sense of real ambition is revealed in their transformation of Gil Scott-Heron's We Almost Lost Detroit'. In this fresh, tightly controlled track, Heron's dusky and languid original has been revolutionised by razor-sharp Motown hooks and bubbling synths into a pulsating, anthemic paean to their hometown.
While Dale Earnhardt Jr. Jr. aren't necessarily a classic band with melodies of enduring longevity and depth, that's not what they're trying to be. This album is all about catching a fleeting moment, injecting it with a shot of infectious exuberance and glossing tracks with the dazzling synthetic sheen of surface production. As they say themselves on the shimmering 'An Ugly Person On A Movie Screen', these are light, breezy songs for "summer lovers, summer dreams" that will infiltrate the soundtrack of our holidays.
Comments