Music: Santigold- Master of My Make-Believe
Siana Bangura is delighted with Santi White's latest





by Siana Bangura
Wednesday 2nd May 2012, 13:10 BST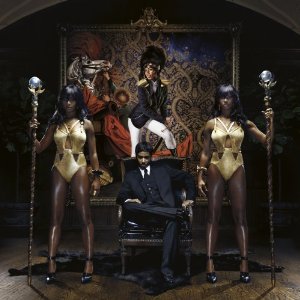 The wait is over. The eagerly anticipated sophomore album from the queen of neon-pop polyrhythms, Santigold, has dropped and what an album it is. On her long-awaited follow-up, we meet with a reconfiguration of her well-known 'twitchy' brand of Caribbean-retro-punk-fusion and the results are as eclectic as ever.
Although more subdued than her debut effort, strident synthesizers and other-worldly sounds are in abundance. Not short of wispy harmonies, dreamy guitar chords and marching drumbeats, Master of My Make-Believe has a distinct military vibe- 'Disparate Youth' is a slow march through an LSD trip. Elsewhere, with spacey beats accompanying Santigold's eerie voice; the slow drums, sad lyrics, and air of vulnerability on 'The Riot's Gone' sounds very much like something Lykki Li could have churned out.
'Look at these Hoes' is fierce and full of the energy of Santi's first album- sharp rapping, a catchy chorus and hook, dubstep beats, and strange techno buzzing, it's a tune to listen to in the dark with your hood up and the strobes on. As is 'Freak Like Me,' an irresistibly sassy fusion of pop and M.I.A style rap with just a dash of reggae.
Atmospheric and sensual in places, danceable in others, Santigold's follow up effort is a dream to the music lover. Santi carefully mixes sounds and her rather bewitching voice to create a record that could easily be the soundtrack to the 80's just as much as it is a soundtrack for 2012. Full of exciting layers, and a few surprises, Santigold's latest is sassy, fierce, and the very definition of cool.
She has maintained her distinctive sound whilst creating an album that is sonically a step-up from her debut. Master of My Make-Believe is fresh and timeless; fans can be very proud of this second offering.
Comments