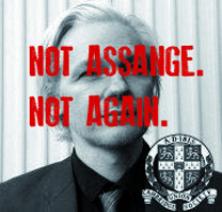 As a result of the 150-strong petition to the Union a Special Business Meeting is expected to be called, for Union members only, where a vote will be taken on whether Assange should be allowed to speak at the Union on the 27th November. For the vote to pass in the meeting it will require a minimum 75% majority.
However, even the process of calling the meeting has been complicated, with Union members left puzzled by an email to all members this afternoon which stated that: "We would also like to inform you of a Presidential Interpretation to the Constitution, which will take effect at 14.20 tomorrow (pending appeal). As of that time, a requisition for Special Business Meeting will be valid if electronically signed in circumstances when the motion is time-sensitive and it would be impracticable to require 150 signatures in writing."
This statement was released after Susy Langsdale, the CUSU Women's Officer submitted the list of 150 names to the Union by email only to be told by the Standing Committee that they had to signed by hand.

Speaking to Varsity today Langsdale said: "I informed the Union that we had gathered the 150 signatures last night and I was astonished to be told by the Standing Committee that this was not sufficient as they had to be hand signed. Nowhere in the constitution does it say this. Nor did anyone in the Union, including several members of the Standing Committee who submitted their names by email to me, inform me of this beforehand."

However the Union has now taken steps to allow electronic signatures to count for the petition and sent the message to members announcing that this ruling would come into effect from tomorrow at 14.20. Langsdale concluded that "I am relieved to see the decision to allow our requisition order, although disappointed that this postpones the Special Business Meeting further."
Once the requisition motion becomes valid at 14.20 tomorrow (20th November) the Union has 120 hours to call and hold the Special Business Meeting. This means it must be held within five days, making the latest possible time for the meeting Sunday 25th November at 14.20.
Laura Wetherly, a King's Student commented that "As a disabled student, I have limited physical mobility so going to the Union building is difficult and tiring. For students who use wheelchairs the building is not accessible. To expect us to enter the building to physically sign is not reasonable. I am disappointed by the Union's failure to support me as one of their members."
The original petition, run by the CUSU women's campaign was open to anybody regardless of whether they were a Union member or not, had 927 signatures at the time of publication. The women's campaign also tried to persuade the Union to disinvite Dominique Strauss Kahn, who spoke at the Union last year, however they were unsucsessful in that instance.
Comments