Cambridge art: diverse displays
Frankie Cherry explores the array of art-viewing spaces on offer in the city, from the imposing to the intimate
by Frankie Cherry
Saturday 6th October 2012, 08:53 BST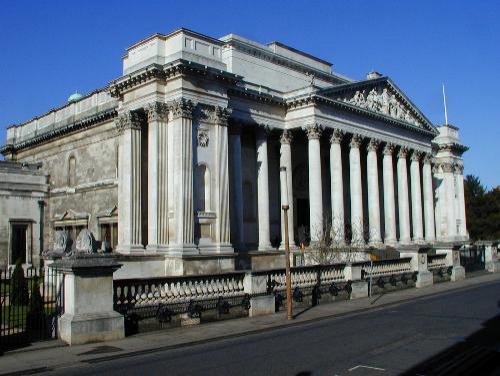 Cambridge 2000
Gallery, n. An apartment or building dedicated to the exhibition of works of art.
If you're looking for art, this is where most of us would head to find it. A trip to a purpose-created enclosure certainly showcases the art, but leaves the spectator - well, myself at least - with a case of aching feet and depleted blood sugar. Surely, for the artwork to come to life, its recipient needs to feel alive too?
Thankfully, the relationship between art and viewer is constantly evolving. Our interest is fed by the diverse ways we can enjoy it. Street art. Marketplace caricatures. Palatial national galleries. Websites that allow you to zoom in forensically on a painting's colour and texture without the watchful eye of the curator. Prehistoric caves with their charcoal frescoes. Pop up exhibitions. The Antiques Roadshow. A private house. These more unusual exhibitions should be encouraged as a means to bring art to the younger, more gallery-shy generation.
Living in Cambridge places us at the heart of the divide between old and new ways of looking at art. The Fitzwilliam Museum showcases a traditional British art gallery at its finest. The building itself is a masterpiece of gilt, mosaic and marble, and the range of pieces, from a Han dynasty jade burial suit to works of the Venetian Renaissance, makes this gallery an excellent way into the world of art. However, has the static gallery experience become stale in our age of flux?
In contrast, Kettle's Yard, whilst technically still a gallery, offers the spectator an innovative and definitely more natural means of enjoying art. Formerly owned by Jim Ede, curator of the Tate Gallery in London in the 20s and 30s, Kettle's Yard is a private house holding a distinctive collection of 20th century artwork dispersed throughout a comfortable living space, complete with squishy sofas, ramshackle bookshelves and trailing houseplants.
 Everything in the house has been precisely positioned to create the single and complete vision of a particular collector in his living environment. As my guide showed me, a butter yellow disc in the corner of a Miró piece was mirrored across the room by a lone lemon embellishing the window sill, whose slightly greenish hue reflected diagonally across to an impressionistic picture of apples. From then on, connections between works throughout the house became more obvious; the lines and shapes of one set of pieces metamorphosed with ease into new forms in the next room. Once given the opportunity simply to sit, look and discover, the merits of the experience began to extend beyond beating the aching feet and escaping the clutter of audio guides and handbooks.
I couldn't help but reflect upon the fact that decoration and artwork around the home and hearth is a practice that stretches back to the earliest humans. Family visits to Pech Merle and Font du Gaume caves let me glimpse some of the earliest forms of art. Pech Merle's horse gallery, around 25 000 years old, acts today as a breathtaking mural. It seems we cannot help embellishing our surroundings as some form of primal instinct. It is unsurprising, therefore, that Ede curated Kettle's Yard to encapsulate a sense of continuity. Instead of a static catalogue, his vision represented "a continuing way of life... in which stray objects, stones, glass, pictures, sculpture, in light and in space, have been used to make manifest the underlying stability."(http://www.kettlesyard.co.uk/house/ ).
But given the acceleration of change in our society during the years since Ede's death, is this stability being disrupted? Perhaps. And this is why spaces like Kettle's Yard need to be seen by everyone, if not just to explore different ways of enjoying art, but to reflect on our basic human nature. Art should not limit itself to a contrived, agoraphobic and sterile row of squares on a whitewashed purpose-built wall, but work with and transform everyday spaces, just as the caves did for early humans and as Kettle's Yard is doing for its visitors.
Why do I feel that this more homely way of viewing art should be celebrated? It is because I would like to see more art dispersed and displayed within our day-to-day life. That way, art is not a clinical display but is given a vitality that allows us to absorb it inadvertently. For me, at least, it is the art that my parents decorate the house with that transforms its cool bricks into the warm walls of a home.
Comments