Preview: Waiting for Godot
Rivkah Brown observes a meticulous rehearsal in preparation for a new production of Beckett
by Rivkah Brown
Saturday 19th May 2012, 17:41 BST
Ed Eustace, Guy Woolf and Jack Hudson are lying in a pile onstage when I enter the ADC, as Theo Hughes-Morgan stands by, staring anaemically into space. Surely this must be Beckett, I think. My tentative 'Is this Godot?' is indeed affirmed vigorously by a beaming Charlie Parham, director of Waiting for Godot,who welcomes me into the empty auditorium.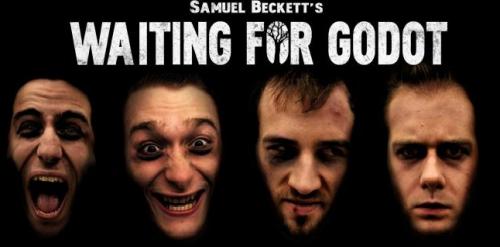 I was worried my presence might throw off the cast, but I find it is me who is thrown, as Jack and Theo's lines seem so immediate that I feel like I should be talking back. I have never seen an ADC rehearsal, and it is rigorous: Charlie pushes his cast, getting them to repeat lines over and over until they sound like an absurdist broken record. Parham paces about behind me, text in hand, keeping an eagle-eye on the boys' every move, cutting in every few seconds to adjust facial tics, inflect speech, inject millisecond pauses. His own direction takes on a performative aspect, and I can see that Charlie commands his cast as much as they command their audience. It's clearly been a long day, and when Theo mutters the line, 'I begin to weary of this motif', I sense he means it. 
Parham is a perfectionist: when he reprimands Jack for not making his pauses "equally long", I am shocked, but when Jack's redelivery of the line comes out sounding copybook Beckett, pedantry starts to seem more like genius. It seems that Parham approaches his role as part-conductor, part-director. He not only pushes and pulls the music of the lines themselves, but is constantly shaping the white space, the silences which punctuate and characterise Beckett's work. Parham modestly defers to Beckett: "It just shows how incredible the writing is - when you do it how it wants to be done, it just comes together." 
Parham has put a significant new spin on the play: making, as Theo puts it, "a virtue out of necessity", Charlie has cast Vladimir and Estragon, the play's protagonists, as young men, rather than typically Beckettian senes. He explains, "It's so bleak that they're at once so young, and yet a million years old". I agree: nihilism is surely all the more tragic in the young, who have so much still to live for. Jack suggests that this new reading of the play is in fact supported by the text itself, drawing my attention to its last lines, "We have time to grow old".
But not everything about the production is so unorthodox. Parham clearly has one eye on originality and another on tradition, mentioning 'Beckett fanatics' as he critiques Theo's delivery. One particular traditional choice he has made is to cast the ensemble as all-male. Beckett explicitly intended his play to have an all-male cast, and in fact took a Dutch theatre company to court (unsuccessfully) for staging an all-female production ofGodot.Parham defends his decision in true Beckettian style: "There's something very different about a sterile man rather than a barren woman", echoing the playwright's own words, 'Women don't have prostates.' 
To be played well, Beckett needs not just 'fanatics', but protégés. The bizarre tragicomedy of Godot can be alienating without the cast and director's willingness to engage with its fierce emptiness, it repellence of drama itself. But I feel we are in safe hands: this lot get Godot,or at least get that there is nothing to get.  
Waiting for Godot runs from 22nd-26th May at the ADC Theatre
Last updated: Sunday 20th May 2012, 12:58 BST
Comments