POETRY / MUSIC / PERFORMANCE / FILM
The Judith E Wilson Drama Studio hosts a weekend of multi-media performances by contemporary poets and musicians
by David Grundy
Thursday 10th May 2012, 22:49 BST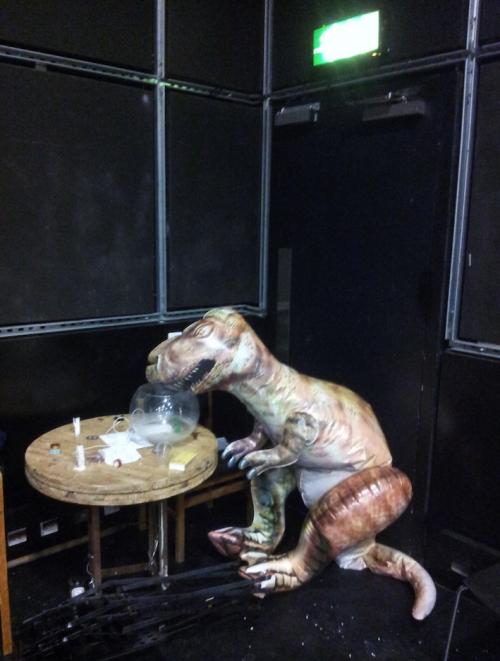 The Judith E Wilson Drama Studio has become a hotspot of innovative music, poetry and performance in Cambridge: from the annual Miscellaneous Festival to poetry readings to drama days like the one for Will Stuart last week. This weekend, a gaggle of performers will once again descend to the basement of the English faculty for a two-day event under the vague, yet accurate catch-all title 'POETRY / MUSIC / PERFORMANCE / FILM.'
The weekend will begin on Friday night at 7.30 with readings from out-of-town poets Nat Raha, Francesca Lisette and Sophie Robinson, which will alternate with improvised solo music sets by London-based Dadaist Adam Bohman and Cambridge student Lawrence Dunn.
The varied work of Raha, Lisette and Robinson looks at the attendant political connotations of gender and sexuality through a wide-ranging, yet fractured discourse in which direct tendresse is mixed, messed and mashed with evasive complexity. Fiercely playful and playfully fierce, their poetry is rigorous but flexible to the contingencies of a moment. A recent collection of three years of Lisette's work has just now been published under the title 'Teens' by Cambridge's Mountain Press, and will be available on the night. 
Performance is critical to everything that will be presented and created in the space, but the only work that calls itself 'theatre' is Lisa Jeschke and Lucy Beynon's 'He's Dead, He's Dead, I've Shot Him in The Head'.
'He's Dead' will be followed by a selection of short films from Cambridge-based artists who are, in the main, better known for their poetry and performance-based activities. The programme will include the public premiere of Lucia Yandoli's medieval Italian philosopho-religious romp 'In Waking We Are Saved', Ollie Evans' and Jeremy Hardingham's Faustus clown-fest 'Glutted_Of This' (which references everything from David Lynch to Antonin Artaud), and shorter pieces by  Ian Heames and Justin Katko.
Also on Saturday's bill, Dimitra Lazaridou-Chatzigoga will be playing prepared zither. Hers is a music of abrasive risk once described as "quite breathtaking music that sounds something like what eels produce in the stomach".
The aim of the mix-media compilation is not to falsely institutionalise a cohesive idea of innovative performance – the juxtaposition of events will reveal incompatibilities and contradictions that cannot be synthesised. Yet these fault-lines are precisely what the sounded texts and musical explorations ultimately have in common: a difficulty of encounter that engages, using un-easiness as a ground for ethical relation.
Performers include: Francesca Lisette, Nat Raha, Sophie Robinson, Adam Bohman, Lawrence Dunn, Lisa Jeschke, Lucy Beynon, Dimitra Lazaridou-Chatzigoga, Lucia Yandoli, Ollie Evans, Jeremy Hardingham, Ian Heames and Justin Katko
Comments