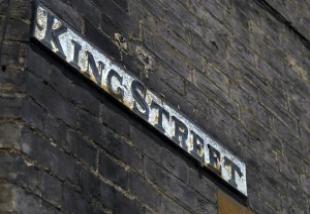 The low ceilinged upstairs of Clowns café left no room for fussy judgments about genre and quality when it was filled last Sunday by a small group of folk musicians. The gentle glow from the tea lights in the otherwise dark room made all ideas of anti-folk, psych-folk, trance-folk, post-ironic love-folk melt away into a blur of ambient chatter that was incidental to the immediate fact of the people playing, and listening quietly to each other – the only real edicts of folk music
"It's a nice way to start playing," said graduate student Shadia, one of the many people who chip in with the organisation of the Sunday night sessions. "It's friendlier than some of the open mic things you have to pay to get into." Indeed there were people of all types in the room, and all were entirely at ease in each other's company, joining in with each other's music, dropping out as they saw fit. "I might just play a twelve bar thing in E-major, please feel free to join in," one of the musicians said as his fingers began to fly up and down the neck of the guitar in a spectacular show of guitacrobatics. He was quickly joined by an eager foot which struck up a steady beat on the floor, a violin which provided a nice low counterpoint melody, a mandolin, and a banjo. The sky became darker as the room exploded into polyphonic fireworks.
Songs in the Dark has been going on every two weeks for six or seven years, yet attendance has dwindled this year as people arranging it have graduated. "The open mic community in Cambridge is quite tight," said Shadia, "which was good because things could pass through word of mouth." But this year the model has been failing, said her co-organiser Owen, "because graduates tend to move in move in smaller circles. We would love more people to come, there's plenty of space. We used to have people standing and filling this room." And it's no wonder – to be serenaded  by candlelight on a Sunday night? I would stand.
Comments