At the beginning of this month (3/4), I took the train to London to watch Goldie versus Isis. It was the day of the main Boat Race too, of course, but the battle I cared most about was between the reserves, as a friend of mine was competing in the second Oxford eight. Sadly, the half a minute during which the two crews were in sight from the bank was as much as I was able to see.
Curious about the reason for the lack of media coverage, I speak to Henry Evans, the bow seat of this year's Goldie boat. He describes to me the shape of his season at Cambridge University Boat Club (CUBC), starting with what happens once initial trials are over: "The coaches spend a lot of the first month working out where guys are in terms of their technical and fitness ability, and getting us all moving towards the same idea of how we want to row. [CUBC Chief Coach Rob Baker] had a very clear vision of what he wanted the stroke to look like and how he wanted us to move the boat. It was there from day one."
I watch as he counts various things on his fingers. Three boats of eight. Twenty-four rowers, plus three coxes. Twelve training sessions a week. Eight water sessions. Three erg sessions. One weights session.
Although all the men are in it together at this early stage of training, a hierarchy is quickly established in the boathouse erg room. The machine in the front left corner is reserved for the fastest man, Evans explains, while the back right corner is for the slowest. Athletes are moved up and down as the term progresses: "some guys really live and die by where they are in the room."
"You don't ever want to feel like something outside of your rowing ability is influencing how the selection plays out"
With the exception of occasional cuts early on, the first dissection of the squad is before Trial Eights, which happens in December. This race sees two Cambridge crews pitted against one another, to assist the coaches in determining who should be picked for the crew that will face Oxford. Since there are only sixteen spaces to be filled, there are already rowers forced to sit out.
Nevertheless, over the Christmas break and into the new year, right up until the final days of selection in February, these spare men are on the same training plan. Ergs, water, weights: all of it.
I ask Evans if the selection process is really as fair and transparent as it should be. When there are Olympians around, it seems difficult to believe that they don't have a straight route into the first boat.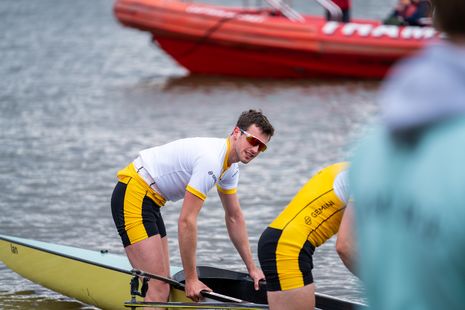 Evans replies slowly and thoughtfully: "What you want when you're selecting a team is to have consistency in expectations, transparency in how the process works, and consistency in how the results are interpreted. What you don't want is a heavy amount of selection bias that seems external. You don't ever want to feel like something outside of your rowing ability is influencing how the selection plays out."
"So were the eight rowers in the Blue boat the best rowers in the club?" I ask.
He pauses. Fidgets in his seat. His dark eyebrows meet at the bridge of his nose: a look of concern.
"This is a tricky question. Yes. They are. But I do think that it depends on who in the squad you ask. I think there were at the end of the season a couple of guys who felt that some questions hadn't been answered."
The first boat is the better boat. That goes without saying. So there is inevitably disappointment from those who miss out. Seb Benzecry, for example, who was a Blue last year, didn't make the cut this time round. "It's not like these guys are bad rowers," Evans emphasises. "These are very high performing athletes. It's difficult, but it's part of the sport: being physically and mentally resilient.
"Goldie is its own thing. I didn't really refer to it as 'the reserve boat' ever, because that makes us just a sort of attaché to the Blue boat"
"Those guys take the weekend, feel a little sorry for themselves, but they don't just sit around. They step right into being in a boat that wasn't the one they wanted to be in and make that boat as good as possible."
Evans believes that Goldie is the Blue Boat's perfect counterpart. "Every team is like that, right? The second team is always scrappy and gunning for the first team, always trying to prove that 'hey we're actually the fast ones', which is a lot of fun. If you're the underdog and you're expected to lose side by side stuff, you can really just chase after them and not have to worry about anything."
Considering the hours that these men put in, it's a travesty that their race is not broadcast in the same way as the Blues' races. The same applies for the women's second eight, Blondie, and for Isis, the second Oxford boat. There might not be as large an audience, but this is certainly not to say that there is no audience at all.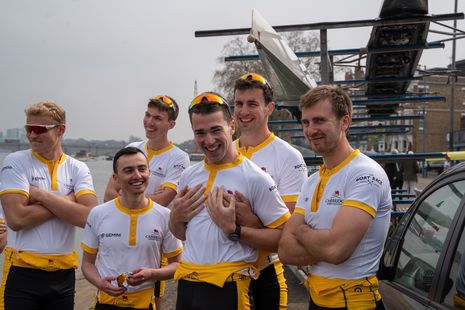 In fact, for aspiring rowers, seeing these crews compete is a reminder that there are different levels of elite rowing, and that being part of a club like CUBC might still be possible, even if they aren't tall enough or heavy enough to be part of the first eight.
Evans points out to me that the media boat which follows behind the two main races creates a large wake, and that it might not be possible to get it quickly back to the start line at Putney Bridge without compromising the race conditions. However, there are alternative options: a drone, or a camera on the umpire's boat perhaps. When I look for footage of this year's race, having managed to catch only thirty seconds live, I cannot find any at all. Except for the recorded results online, it's almost as if the Goldie race never happened.
The BBC's Former Head of Sport, Charles Runcie, claimed the Boat Race has become 'multi-camera, online, digital, on demand, worldwide'. I'd argue this isn't true unless it is true for all four races that take place that day.
Evans agrees. He too thinks the race is a little overlooked, and wishes - mostly for his Mum's sake, he softly admits - that there had been better coverage: "The stoic sportsman in me wants to say it doesn't matter, that it's all about the event, but I would have loved for it to be filmed. My family could have watched it at home in the States. And the crew could watch it back. You always want to do that as an athlete, win or lose, because it's interesting to see how it goes."
Of all the things that Evans says, what touches me most is his description of the support that the second eight received that day: "Goldie is its own thing. I didn't really refer to it as 'the reserve boat' ever, because that makes us just a sort of attaché to the Blue boat.
"When we drove up on the day, on to the Embankment, there was a big group of guys in Goldie sweaters, Goldie rowers from years prior. They all started banging on the bus and cheering us on, getting excited for Goldie to show up. They were there when we walked out as well. To have people specifically invested in the success of Goldie, that's really exciting."
The dedication of the numerous athletes that don't quite make it into the Blue boats is frequently overlooked. They do the same training. They put in the same hours. And, most importantly, as Evans has proved to me, their attitude to the sport is just as admirable, if you pay attention for long enough to notice.