Tom George isn't scared of anything. He doesn't love spiders, but having conquered the European Championships, the World Championships, and now the Olympics, there's not much that frightens him anymore.
Before coming to Cambridge in September, George won a bronze medal representing Great Britain at last summer's Tokyo Olympics, in what many saw as the peak of his rowing career to date. "You kind of don't really realise how big it is, I think, when you do it," George explains, "I remember watching Athens, Beijing, London, all the way through, and being like this is massive, and then you're there doing it. People always say that it's just another race and don't treat it differently, but you kind of want to treat it differently. You want to rise to it."
George is at once enlarged and humbled by his achievement: "Everything changed, but nothing changed at the same time. We really wanted to win, and we were sort of favourites going in, so we would have loved to be able to come back champions. That's the goal going forward, going back into the team: try and win in Paris."
In the meantime, before training for the next Games gets underway, George has thrown himself back into student life, balancing an MPhil in Real Estate Finance at Peterhouse with rowing as part of Cambridge University Boat Club (CUBC). I want to know if he sees this change as part of a process of continual improvement, or if it feels at all like a step backwards: "I do fewer sessions a day because I only do two here and on the national team Monday, Tuesday, Thursday, and Friday we'll do three. One of them will be weights or stretching though. In terms of raw time rowing - actually in a boat - it's very similar."
"Once you get to international level, the Boat Race is the only opportunity you have to go back to rowing at a kind of club level and mix things up"
What's the difference then? George's eyes widen: "Everyone's doing so much cool stuff here. Honestly, it's unbelievable. Everyone's charging around. On Wednesdays, I've got class at midday, so I'll go [to Ely] at 5am, do two rows, and rush back to Cambridge. Then I'll go and have dinner at Peterhouse and talk to some PhD student, where I'm like wow, I'd never have this conversation if I wasn't here."
In contrast, the rowing world is a small one. George was at school with Ollie Wynne-Griffiths, who will also represent Cambridge in this year's Boat Race. The pair played rugby together at Radley College, separating only for university when Wynne-Griffiths went to Yale and George to Princeton. "We spend a lot of time together. We lived together at Henley last year, and then I turned up here and it was like oh, we're living together here too. It's quite nice because you know how the other person operates."
"You just understand each other," I add.
"Yes exactly," he says, "exactly that."
Reminiscing about his time at Princeton, what stands out to me is the affection George has for the people he was there with: "You get to know everyone really well, and you become best mates with them. They're people you can just pick up with instantly." When I ask how it compares to Cambridge, his response is identical: "I'm sure it will be exactly the same with the guys I've met here. I feel like rowing pulls people together in a weird way. You go through quite a lot, commit a lot of time to each other."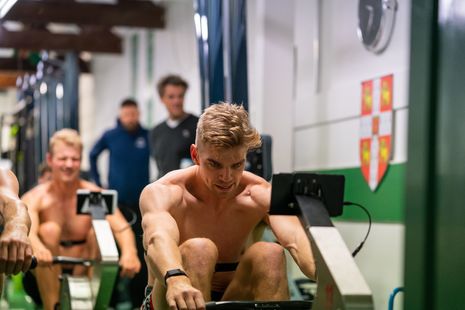 George also has history with Angus Groom and Charles Elwes, who will both be rowing in the Oxford boat; they were part of the eight-strong GB crew with whom George competed in Tokyo. I ask George if it's a strange feeling, being pitted against his friends: "It's part and parcel of it. What's been nice this year is that when we went and did the weigh-in, some guys had said that in previous years there has been quite a lot of animosity and it's been really awkward, but I guess because [Ollie and I] know [Angus and Charlie] so well, you just start talking to them. It was a nice atmosphere. Once you get to international level, the Boat Race is the only opportunity you have to go back to rowing at a kind of club level and mix things up, to go into a team where you're racing against your friends rather than with them."
Outwardly, George has everything going for him. However, reaching such a high level in the sporting world has not come without sacrifice. When I ask what he has missed out on over the last decade of training, he begins to count on both hands the events he has missed and the friends he hasn't been able to visit: "I'm missing my best mate's wedding. That's definitely the hardest part, especially with all my friends in the States. They're a massive part of my life and then I've come back here. It would be really nice to celebrate those kinds of things with them, but your whole life is dictated to you. You get a holiday for three weeks of the year, but it's when [British Rowing] tells you."
"Our race will be about getting good length around the front, to make sure that we've got a rhythm that is really robust and strong"
Once you set yourself on this path of elite sport, I pose to him, it seems pretty difficult to switch to another. "I think about that quite a lot," he replies. "There are a lot of guys rowing at club level who have only ever rowed at club level, and just want to win at Henley or something like that. For some reason, it's a really hard carousel to get off. Maybe it's got something to do with the psyche of people who can persevere for that long, in a sport where you have to be able to hurt yourself and have the discipline to do it for quite a long time."
Now, with only two weeks to go, George's priority is the Boat Race. Having won four out of four races last year, the pressure is on for CUBC to prove that being on home turf had nothing to do with it. I wonder if anxiety has set in yet, and if the club has started to buckle under the pressure. George reassures me this is not the case: "Nerves are a really good response to have, but only in the 24 hours before or you'll be a complete wreck by the time you get to the race. I'm pretty good at staying detached from it until it happens. I'm quite good at staying on top of how I feel about things."
I want to find out if there is a plan for the race itself. George smiles across at me but refuses to give too much away: "Our race will be about getting good length around the front, to make sure that we've got a rhythm that is really robust and strong." From what I understand, the crew are under the impression that Oxford are hoping for a quick race, so are preparing themselves to row hard and fast all the way to the finish line at Chiswick Bridge.
My last question for George concerns the best advice he has been given. He thinks about it for a minute, crumpling up his forehead, and then answers slowly and thoughtfully: "No one loves it every day. It's rowing advice, but I guess it applies to life in general. Sometimes you just have to turn up and do it. Turn up every day, wanting to get better but knowing that you're not always going to enjoy it and, if you do that, good things start to come out of it. Eventually, things start to blossom."
George and the rest of the Light Blues will take to the Championship Course for The Boat Race on Sunday 3rd April. The Men's Race will begin at 15:23 and the Women's Race at 14:23.