Almost 20 years ago, in November 2003, Varsity published an article in its fashion section offering a tribute to Mod fashion. The writers attempted to recreate the iconic 60s vibe, dressing male models in sharp-looking brown suits and female models in colourful shift dresses. Although the photoshoot improvised and utilised contemporary early-2000s trends in its interpretation, with one look sporting blue three-quarter length leggings beneath a shimmery halter neck midi dress, many of the outfits would not look out of place around Cambridge today.
We've scoured Varsity's archives from the 60s, and have found that in spite of their shielding black and white print, student fashion was certainly not afraid of bright patterns. Bell-bottom jeans, chunky belts, and floaty floral shirts emblazoned the pages.
The 1960s marked a major shift in the fashion world, with the "rise of the teenager" and shifting social attitudes translating into availability of diverse clothing items. No longer restrained by war-driven limitations in materials, innovation worked its way through boutiques, couture and into easily accessible consumer markets. Although trends didn't move at the speed of today's fleeting fashion crazes, 1960s experiments with style and cheaper synthetic materials began to accelerate the proliferation of new trends. For example, while the early 60s still stuck close to 50s dress hemlines and plain-coloured suits for men, the mid-60s were marked by an explosion in colours and patterns. Wide-leg trousers worked their way into women's wardrobes, and men began to sport bright yellow shirts paired with red pinstripes in place of the duller textures popular in the 1950s.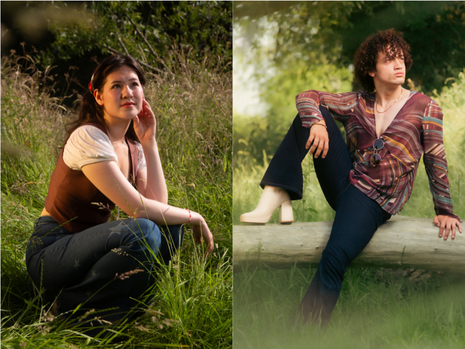 Walking through Urban Outfitters, a resurgence in 1960s fashion trends appears to be tightening its grip upon the fashion world. Browsing Urban Outfitters' spring collection, a new collared shirt-dress with a blue collar and stripe for its buttons looks like something out of a 60s Vogue magazine. The dress utilises the shift form popular in the mid-60s, falling loosely around the model. Borrowing from the 1960s love of floral, the dress is subtly decorated with yellow flowers. Even the colour scheme is reminiscent of 60s fashion magazines, with the deep blues set against a white backdrop to create that sharp contrast of vivid colours that Varsity's 2003 shoot played into.
The newly opened Lucy & Yak on Green Street is also a retro goldmine which has been an outrageous success with students. Passing the shop window on Green Street, their 70s festival edit immediately leaps out. They haven't neglected the 1960s either: denim pinafores, floral miniskirts and striped shirts fill the shop's interior. Vibrant yellows, oranges, greens, reds, and blues decorate the clothes - colours closely associated with the 1960s.
We're obsessed with all things nostalgia, and crochet is no exception. Once synonymous with the countercultural movement of the sixties, the crochet trend has wound its way back into mainstream fashion. Although the art form dates back to the 1800s, crochet really came into vogue in the late sixties, with the granny square motif particularly taking off, adorning clothing, accessories and home furnishings. Crochet's popularity waned as it was replaced by the allure of cheap, mass-produced synthetic fabrics, but today crochet features in high fashion such as Dior or Dolce & Gabbana, and in homemade items of clothing. During the Covid-19 lockdown, crochet witnessed an unprecedented surge in popularity as people sought solace in creative hobbies.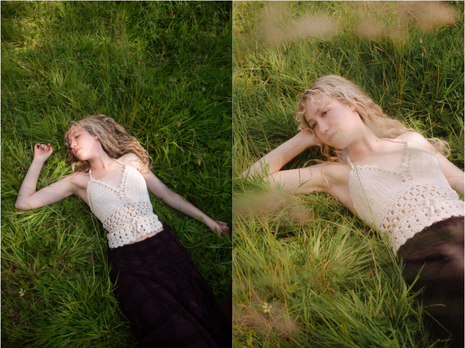 Mary Quant is often credited with 'inventing' the mini skirt back in the 60s (however, as clarified by the V&A Museum, rising hemlines had been part of a gradual trend). Although long, sweeping, skirts appear to be the most popular with Cambridge students, the mini skirt is becoming more prevalent in shop inventories as the Spring season approaches.
Whilst knee-length boots are not as proliferent as a pair of trusty Doc Martens or Mary Janes, these platform shoes provide yet another example of a trend that has ascended from the seventies to contemporary fashion. The explanation for the popularity of platforms in the seventies is two-fold: they kept long bell-bottom trousers from touching the dancefloor, and provided an iconic silhouette.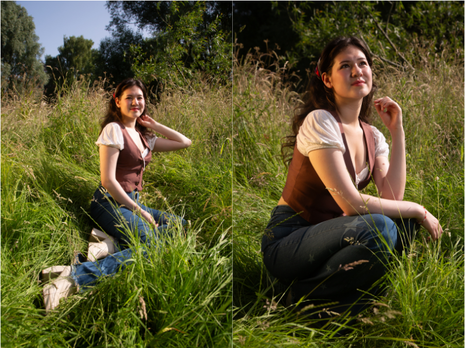 They also offered an impression of androgyny that refreshes in light of other footwear trends. Their discomfort their height might suggest is countered by their blockiness, leaving them ruling supreme over the kitten heel in our books. We sill can't resist a platform - and neither can fast fashion. Chuck Allstar converse, Docs, Balenciaga Triple S Sneakers (among others) reveal the platform's potential to permeate all levels of fashion.
Fabrics have changed: thankfully, we do not have to deal with the itchy synthetics used in many true vintage pieces. 1960s fashion nostalgia undeniably lives on in today's trends. Bowie might have made the leather jacket popular in the 70s, but we still can't resist it today.
Models: Emma Dawes, Hugo Gregg, Rob Monteiro, Holly Jewitt Maurice