King's Affair – the self proclaimed antidote to May Balls – returned this year with the theme "carnivalesque". The word, coined by Mikhail Bakhtin, refers to a literary philosophy rooted in "liberation from the norm". For us, that norm was a week of atrocious sleep schedules, mud-caked dress shoes and silent disco headphones, and that liberation came in the form of a chance to live out a strangely universal fantasy of running away and joining the circus.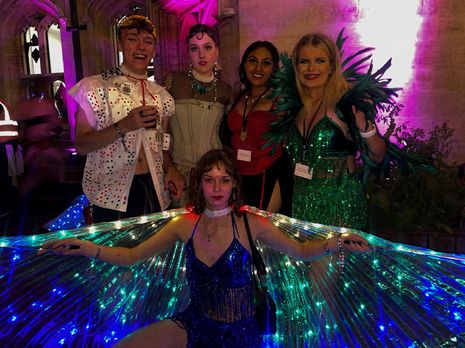 Equipped with the words of a Russian philosopher, a distinct colour scheme, and a few cryptic social media graphics, the variety of outfits dreamt up were varied but coherent. Elements of archaic courtly entertainment littered a sea of red, black and white clothing. Clerical collars, jester hats and striped stockings were must-have accessories. Playing cards and tarot cards were artfully placed on the body for decoration, on top of tight corsetry and fishnets. Others committed to dressing as specific entertainers, from jesters to trapeze artists, blurring the line between guest and performer. A woman who had transformed into an elaborate and incredibly accurate recreation of the Corpus Clock created just as much spectacle as the couple on stilts, circling the main stage tent.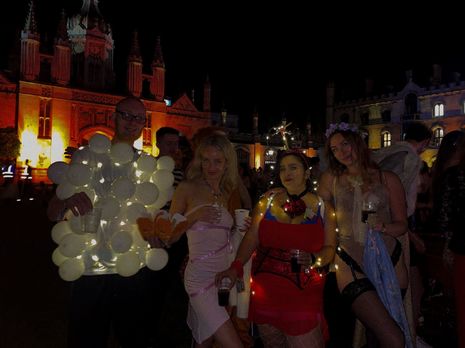 From the Tudor fool to 1920s flappers, costumes were an ode to carnal celebration through the ages. There were recurring motifs: striped tights, love hearts and enviable clown makeup. But where some paired them with lace, others went for latex. Outfits with metallic capes and leather boots, or bloomers with enormous bows were topped with the same pointed hats. Reminiscent of the characters in the painstakingly cohesive sets of the 1995 film The Doom Generation, the monochrome was striking even against the decorations of the same hue.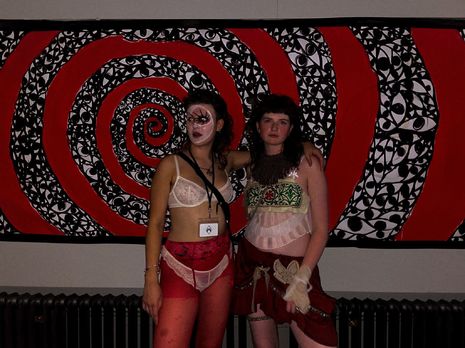 Double acts and group costumes were abundant, sharing similar frills and complementary stockings, or incorporating the same glowing material in each outfit in increasingly unique ways.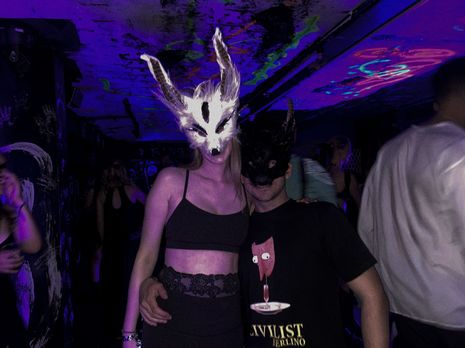 The fantastical was similarly embraced, as I found myself queuing for waffles behind celestial bodies and Greek deities. Elaborate headpieces were seen with surreal masks, looking like animals from Alice's Wonderland – if they preferred drum'n'bass to tea parties.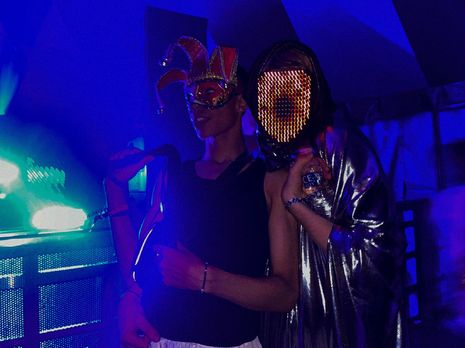 Feathers framed faces, made wings and even elongated eyelashes. Costumes that looked as if they were plucked right off of the streets of Notting Hill carnival employed twinkling fairly light wings, feather boas and equal parts tutu and tinsel. Faces were painted with cubist extravagance, whited out and outlined by small twinkly gems. Cheeks rouged in the shape of hearts and diamonds, with eyes lined like stars.
As the sun came back up again, the obligatory survivor's photo commemorated the feat of making it until 4am, even if our costumes might not have lasted so well. It saw a crowd of tunics, stays, and garters, with tights ripped, heels in hand and face paint smudged and sweated off.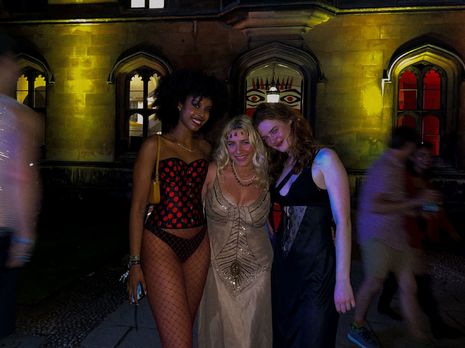 Masks were exchanged and wigs lost to the night, concluding King's Affair; not a May Ball nor a fancy dress competition, but a celebration of the body and the infinite ways we can decorate it.