Content note: this article contains discussion of chronic illness and pain, weight loss, food / appetite, and blood and gore in the context of art
Crohn's disease is an inflammatory bowel disease that causes chronic inflammation in the gut. 
When I first conceived this art project about my disease at the start of Lent term, the damaging symptoms associated with the condition were a distant memory. I could only hazily recall the mind-numbing pain I'd felt in my gut aged 13, and so I created an abstracted,  self-indulgent version of my relationship with Crohn's. If I'm honest with myself the condition was more of a vehicle to convey something visually striking, rather than having any specific emotional value to me. I'd recently gone down a Francis Bacon rabbit hole, and so my diseased guts felt like a convenient way of emulating the blood and gore of his paintings. I fashioned these tentacle-like sculptures out of clay, adding little suckers to represent my formerly ulcerated insides. I didn't really care that my art hadn't come from a place of intense personal feeling, because to me it looked good.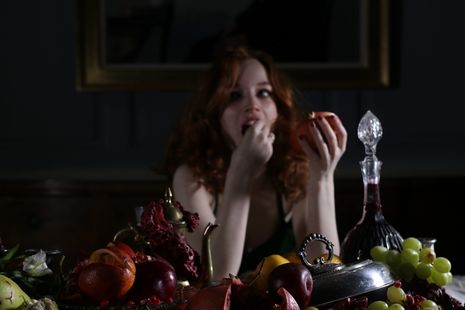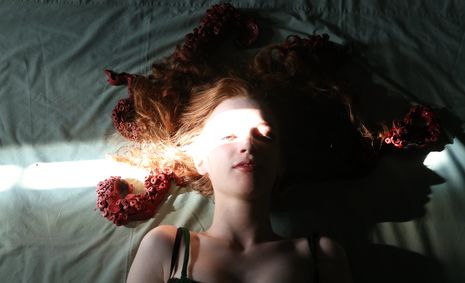 But by some bizarre coincidence, the symptoms I first felt almost a decade ago started creeping back. At first I barely noticed it: a faint murmur of my stomach at meals, a loss of appetite, an extra dose of fatigue. All of these signals could be explained away by a huge workload and the dubious offerings of an overworked, underpaid college kitchen, and it was easier for me to ignore them. But my attention-seeking intestines became more insistent: my body started refusing solid food and I looked spectral, having lost around 5 kilos. Making tentacled sculptures turned from an idle distraction from my looming dissertation to a means of relief, a means of catharsis: moulding the wet clay into strange, undulating shapes allowed me to channel the growling pain in the pit of my stomach. My room turned into an uninhabitable nest of reddened, proliferating creatures as I sat, hunched, late into the night, fingers caked.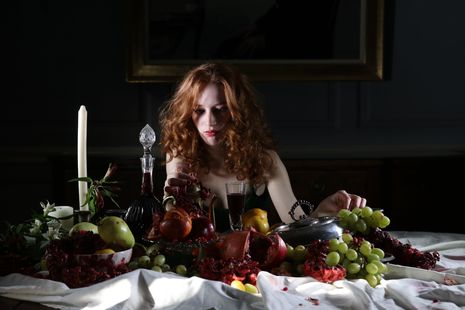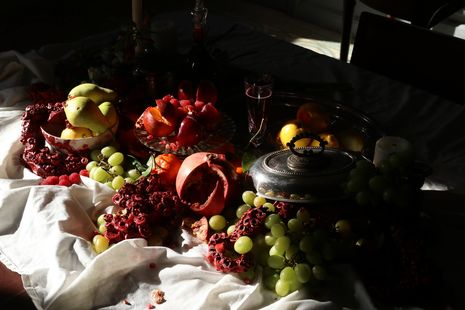 From there I devised a photo series in which the gut sculptures would be laced around a rich banquet of food - at first imperceptible amongst the spilling grapes and pomegranates. I took inspiration from late 17th Dutch still life paintings filled with their  unpeeled lemons and shining goblets and rumpled tablecloths. There was something delightfully menacing about their stillness, about their quiet symbolism. The point of this set-up was to convey a kind of reversal, a strangling of the food which I felt was strangling me every time I attempted to eat.
"The condition was more of a vehicle to convey something visually striking, rather than having any specific emotional value"
The return of Crohn's elicited a strained relationship with food where its enticing appearance felt deceptive: I craved something I knew would cause me pain. I also wanted to display the hiddenness of the condition. If you looked at me today all you'd notice is I look a little gaunt, a bit on the thin side. But inside it's a different picture: I'm bleeding, I have ulcers, I do not look pretty… My wonderful photographer Fin Scott captured this feeling of innate monstrosity by creating a set in which the sculptures were emerging from my head, Medusa-like.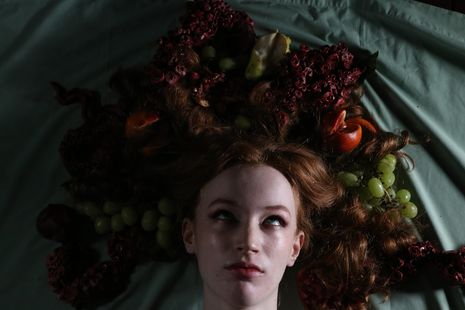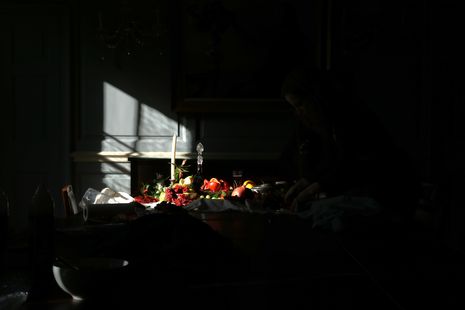 When I was first diagnosed with Crohn's I did feel like a monster: I'd go to great lengths to conceal from anyone that I had the disease. As a fully fledged teen I found it socially crippling having to suck powdered food out of a straw like an infant for weeks on end, and answering hospital questionnaires which would ask things like: 'Do you worry about ever finding a girlfriend or boyfriend?' I was relieved when the disease drifted into the fringes of my life and never really wanted to discuss it again. But now I think it's something really worth sharing because it's a life-long disease that few people know about despite the fact that Crohn's and its sister Colitis affect over 500,000 people in the UK and is increasing among young adults.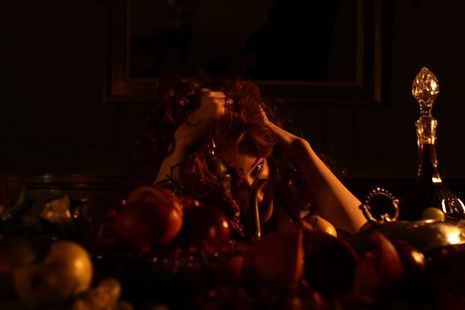 I'd frankly rather have a healthy gut and less creative inspiration, but hopefully this series will raise awareness about a condition that is under-diagnosed and often misunderstood.
For more information or support please visit: https://www.crohnscolitisfoundation.org/. 
Nicola's project will feature in the second issue of Lunulae zine.
Photoshoot Credits:
Creative Director and model: Nicola Medicoff
Photographer: Fin Scott
Creative Assistants: Sam DeMarco and Anna Chandler de Waal