Content note: this article discusses conflict and trauma
What Lies Beneath – the title of Murray Edwards' latest exhibition of female art invites the viewer to think beyond the initially eclectic range of pieces, considering their finer details, symbolic value, political function and spiritual purposes of the work. Curators Naomi Polonsky and Lorna Dillon take the title from Enam Gbewonyo's piece, subtitled 'Empire's Dark History Revealed', and, in doing so, challenge the viewer to seek a meaning beyond the artwork's superficial appearance. Much of the displayed work is transformative. Quilts, for instance, may appear primarily functional, but hung on the college's white walls, become symbols for a deeply collaborative and communal lifestyle. Equally, clothes, which in the past, had oppressive implications, are reclaimed and reconfigured into a critique of empire, as Gbewonyo's piece achieves.
"Women, like these pieces, have been neglected, overlooked, and are very rarely considered and judged by what lies beneath"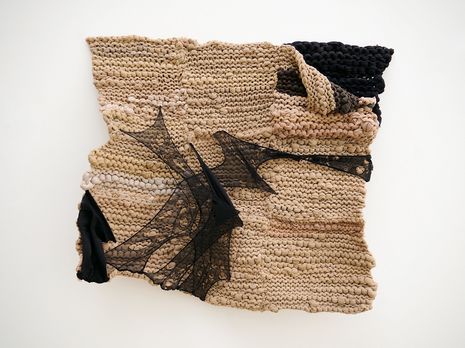 By exhibiting these kinds of pieces in the same vein as more traditional and historically prominent artforms, the New Hall Art Collection platforms the art of a group that has been excluded from artistic discourse. Women, like these pieces, have been neglected, overlooked, and are very rarely considered and judged by 'what lies beneath' their external appearances and roles. In this collection, which spans four continents and multiple generations, reorients aspects stereotypically attributed to women, into forms of power. Stella Mae Pettway's Big Wheel (1986), a double knit, made from recycled fabrics of cotton and polyester, is influenced by a broad and fascinating tradition of African American and Native American quilting and patterning. With its bold complimentary colours of blue and orange arranged geometrically, Big Wheel is visually striking. However, we are never far from a reminder of Big Wheel's initial purpose.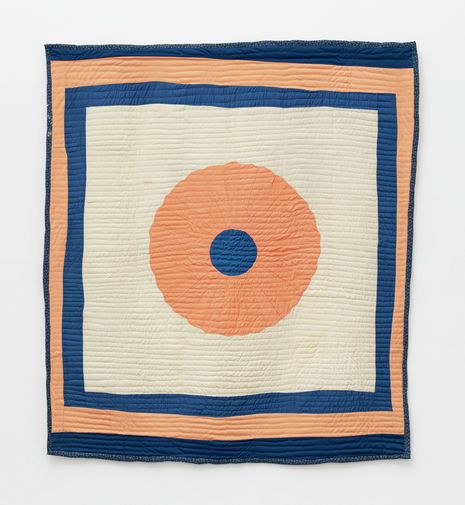 Spotted with stains, it is evident that this quilt was pushed to its full utility prior to display and thus not designed to be observed in this way. Seemingly out-of-sync with the pristine image we may have of gallery art, it is exactly this aspect of female art which the curators wish to highlight. Defined by its function, it reminds us of how it was produced: by working-class women on the Alabama river, seeking warmth amidst poverty. The method of production of these pieces are vital to their cohesiveness as an exhibition. It is composed predominantly of textile pieces, from this quilt, to the rug hooking technique employed by Anya Paintsil in Blodeuwedd (2022), which combines the two halves of the artist's identity as a woman with Welsh and Ghanian heritage. Like Pettway, Paintsil is inspired by the techniques of her ancestors, and combines Afro hair styling methods with her working-class Welsh grandmother's rug-making technique.
"Clothes... are reclaimed and reconfigured into a critique of empire"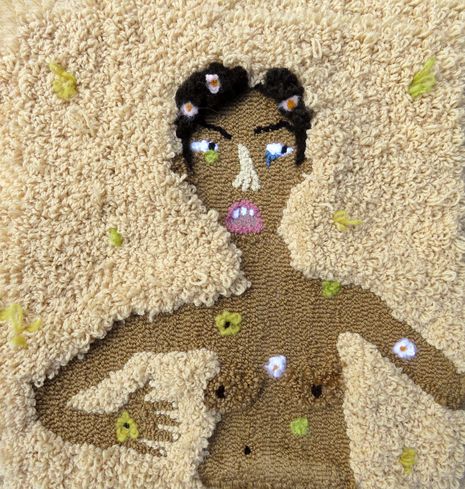 Blodeuwedd stands out in its use of the artist's real hair, and combined with synthetic materials, allows Paintsil to produce an artistic fusion of these two cultures. Hair, which is also used in other aspects of the exhibition, while a creative way of illustrating texture, also has implications beyond this. For many marginalised groups, the control of hair has often been used as a tool for oppression. As a black woman, Paintsil claims her hair as her own tool, as she has the innate right to, for her own creative expression. This is much like Gbewonyo's piece, which uses tights, an object which has historically excluded people of colour, as its primary material. Paintsil's resulting piece is an extremely tactile and layered, rug-like self-portrait, which derives inspiration from Welsh mythology, and the functionality of the rug as its own unique artform, making for an intriguing display.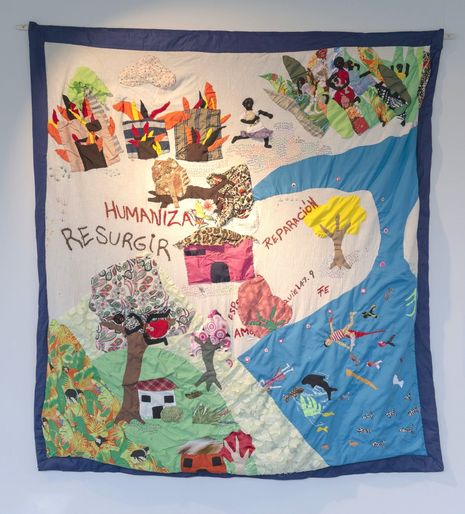 Though much of the works are created both in and for the home, in some cases, they depart from the domestic and carry a more explicitly political purpose. Tejedoras de Mampuján's Mujer pariendo en el árbol (Woman Giving Birth in the Tree) (2008) is an intimate marriage between the private and the public, where a seemingly innocent nursery quilt, with bright colours, patterns, and shapes tells a much darker story upon closer inspection. Using an appliqué of sewn fabric, the piece details the experience of displaced Afro-Caribbean women following armed conflict, and depicts people fleeing with the few belongings they have, childbirth, and childrearing. It also displays more violent imagery such as houses burning and people drowning – equally unsettling are the stuffed toys with copper beaks and helmets in Permindar Kaur's Turbans (2012). However, unlike Kaur's Turbans which maintains its unusual nature, the quilt's disturbing imagery is contrasted with the words "reparación" (repair), "humanizar" (humanise), and "resurgir" (resurface), which are emblematic of its functional purpose to heal and make peace.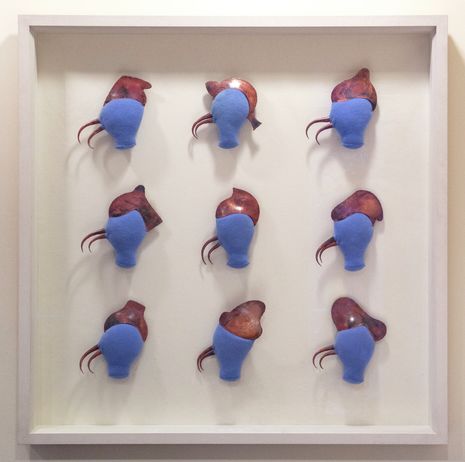 Travelling further down South America, Memorarte's, ¿Dónde están? (Where Are They?) (2018) (see header) exhibits arpillera, a Chilean artform, in which a piece is constructed from everyday materials, and often used to depict political themes. Further, they are often produced by large groups of women, known as arpilleristas, who collaborate in both production and protest. In this instance, the political element of the piece is very real, as this arpillera was used in street demonstrations, evidenced by the dirt marks on the bottom of the fabric, against the forced disappearances of often-left wing people during the Chilean dictatorship, and is seen in the piece which illustrated various missing people posters.
"Art… is imbued with courage and activism"
These artworks were not without risk: creating certain pieces, such as the arpillera, placed women in danger of punishment from the government and/or other authorities. Art, in this case, is imbued with courage and activism, and demonstrates that despite the fact that women have been confined to the domestic sphere, they are still capable of making an impact – all with everyday materials. Creating artwork with these materials lies at the heart of this exhibition, and perhaps invites the viewer to consider the hierarchies of art: where does the work of this exhibition, composed of unconventional materials such as clothes, hair, and scrap fabric, and made within the domestic sphere, stand in comparison to fine art?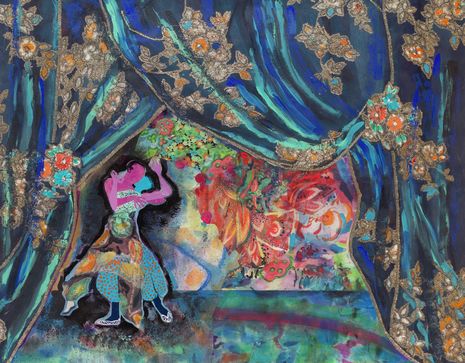 Speaking of fine art, there is one piece that stands out as more traditional. Miriam Schapiro's Madness of Love (1987) is a vibrant, abstract painting of a couple sharing an intimate embrace. However, it goes beyond the usual confines of fine art, and is actually what Schapiro calls 'femmages' – collages which carry a conscious feminist subtext, and are created with with crafts that have a long-standing association with women and femininity, such as fabrics and embroidery. In this particular piece, Schapiro makes use of fabric, gold thread and sequins, creating a colourful, almost theatrical, set – and it is through these femmages that she pays homage to creative women of the past who have been ignored by art history.
Ultimately, the neglect experienced by women is the very thing that What Lies Beneath brings to the fore. The collaborative nature of many of these spaces is a testament to the shared female experience, and the collection enshrines it in the physical. Laced with both dynamism and purpose, a sense of openness and intimacy to share trauma and other experiences is fostered.
You can find out more about the 'What Lies Beneath' exhibition here: https://art.newhall.cam.ac.uk/event/what-lies-beneath-women-politics-textiles/
The exhibition can be viewed virtually here: https://artspaces.kunstmatrix.com/en/exhibition/9158904/what-lies-beneath-women-politics-textiles
Varsity would like to thank curators Naomi Polonsky and Francesca Vella Bonnici for providing the writers with a tour.