Theatre is ephemeral. Or so they say. For many, the moments that stay are the ones which reveal the most about theatre's resonance and power. The writers and editors of Varsity Lent 2023 take stock of a jam-packed nine weeks or so of reviewing, answering questions borrowed from the Maxamoo Theater Podcast's year-end roundup.
What moment gave you goosebumps at the theatre this term?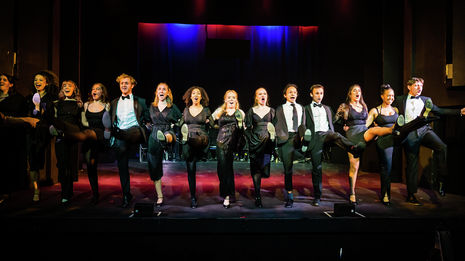 The most memorable moment for me was sitting in the audience of CUMTS Gala 2023: Livin' It Up On Top. The atmosphere was buzzing with alcohol and anticipation, and the performance was thoroughly rehearsed; each performer was immensely talented, and all had individual moments to shine. Gala itself has a reputation of charm and glamour, partly thanks to the black tie attire and its position as a two-night only extravaganza of Cambridge Musical Theatre talent, but this year really exceeded all my expectations. The setlist was thoroughly calculated to please any hardcore musical theatre fan like me, and was skilfully executed by a significantly sized and hugely energetic on-stage band. It was one of the most entertaining performances this term. GINA STOCK
Indecent was full of those moments: the opening, where the ensemble slowly let sediment – was it sand, dust, ashes? – fall through their fingers, as they came back to life; or the heart-stabbing tableau of characters we had followed and grown to care for the whole evening standing in line for a gas chamber in Auschwitz, their fate unspoken yet deeply registered and known by all as the narrative flickered between fiction and history. That flickering returned in the final 15 minutes of the play as two iterations of the final scene of the play-within-a-play were recreated on stage. As the young lovers frolicked in the rain, blissfully unaware of the world of pain outside each other's arms, their purity of hope struck through my heart, and made me realize that the evening had been a way for their purity to stay alive, a resuscitation of people long gone. For their own benefit, and gratefully, for ours too. THEO CHEN (Read our review of Indecent)
The ending of An Intervention left me in such pure shock that goosebumps feel like an understatement. I, along with the entire audience, was speechless. The co-leads Maddy Power and Theo Tompkins portrayed a graphic ending of a suicide with extreme care and powerful realism, and with genuine sensitivity towards the heaviness of this painful subject matter. As "A" loses hope and "B" fights to keep him alive, the sound of news coverage of various wars and tragedies plays eerily in the background – a goosebump-inducing reminder that in an age where broadcasts of pain and suffering seem to blend into one, such trauma may have more of an impact on our existence than we realise. POPPY GIBBS (Read our review of An Intervention)
What was your favourite design element at the theatre this term?
14 seconds of brilliant design in Parlour SongNeve Kennedy with permission for Varsity
Towards the end of Parlour Song, Neve Kennedy's tautly directed take on Jez Butterworth's three-hander, as the emotional turmoil among a misbegotten love triangle reached its unbearable limit, the stage suddenly filled with a massive projection of a demolition, perfectly mapped onto the suburban home set (major kudos to the production designers Lucas Holt, Izzie Sayer, and Jeremy Zolnai-Lucas). It was the perfect representation of all the tension ratcheting up in Ned and Joy's failing marriage, and the emotional release the play needed, all the more devastating for it expressed everything the characters could not – and would never – be able to say to each other. THEO CHEN (Read our review of Parlour Song)
I could wax lyrical about Ina Bi's set design for #WomenSupportingWomen. Impeccably cluttered, every stray object was calculated to deliver subtle quirks characterisation. Karina's desk, if you looked closely at the cute vases and expensive tech, could have been in business-Barbie's evil villain lair. Sara is framed by the dozen books that litter her floor, just out of view of her phone camera, and dwarfed by the chair she uses as a desk. This was delightful – paying close attention to the set felt rewarding, leading to insights about the characters that truly complemented the show's themes. ALEXANDRA PICKEN (Read our review of #WomenSupportingWomen)
The opening of King Charles III at Robinson College. A funeral march for the late Queen Elizabeth II, in which a shrouded chaise-longue "coffin" was solemnly processed around the stage. Height of camp. The coronation in May will pale in comparison. Simply no notes. DANIEL PEREIRA (Read our review of King Charles III)
Agatha Christie's The Hollow's falling-statue prop was one of those perfect small touches which elevated a production immensely. Perfectly hidden by Henrietta Angkatell from all the other characters, it was a fairly unassuming prop for most of the production. But oh my days – the jump scare! – my heart jumped and my back stiffened. For a moment in this otherwise light murder mystery, genuine fear engrossed me. JUDE CRAWLEY (Read our review of The Hollow)
What was your favourite musical moment at the theatre this term?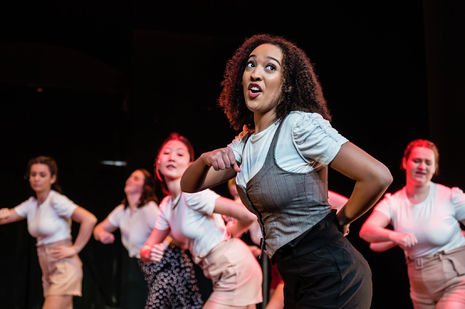 The orchestra of A Little Night Music, masterfully conducted by Charlotte Wan, played sumptuously. Sondheim's waltz-heavy score had a rich and full sound, the melodies delicate and the unamplified music carried through the air of the Trinity Hall Lecture Theatre with a resonance and complexity that made the Sondheim-devotee in me thrilled and gratified. It was unparalleled satisfaction, just like the feeling of being sated after a delicious meal. THEO CHEN (Read our review of A Little Night Music)
For me, the almost non-stop auditory overload of the CUMTS 24 Hour Musical was one constant highlight; a whirlwind tour of witty lyrics and upbeat music, elevated by some truly excellent singing talent. In particular the bizarrely erotic bisexual homage to the TV stations' witheringly-flirtatious Weather Girl perfectly encapsulated the feel-good frivolity of the evening. What a riot! ALEX PARNHAM-COPE (Read our review of CUMTS 24 Hour Musical)
'Too Darn Hot' in Kiss Me, Kate! was one of those brilliant musical numbers that just sent goosebumps up my arm. It was the classic, second act opening song – often the best in a musical – where the stage comes alive. Isabel Beresford-Cole led the number as Paul powerfully, in her vocals and physicality, hitting each note with the perfect Broadway twang. The energy brought by the ensemble, and the sharpness of the choreography just made it a delightful spectacle. JUDE CRAWLEY (Read our review of Kiss Me, Kate!)
What, to you, was the most impactful theatre moment of the term?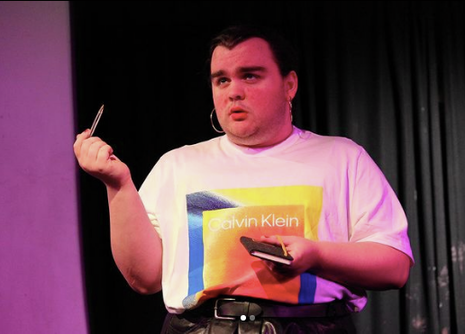 The most striking theatrical moment that's stuck with me since the heavy clouds of Lent term have lifted was the pole dancing in Dragtime!'s astounding Alice in Wonderland themed show: Curiouser and Curiouser. The night in general brilliantly balanced the erotic and the chaotic, the bawdy and the beautiful. But there was something about Magic Dyke's deeply moving and impressively acrobatic pole dancing sequence, set to dramatic sombre music, that really resonated with me. It was a powerful embodiment of the vulnerability and drama of the queer experience, without saying a single word. ALEX PARNHAM-COPE (Read our review of Dragtime! Presents: Curiouser and Curiouser)
If Evie Chandler's Cow makes a comeback after its London run at the King's Head Theatre, take my advice: run, don't walk. I didn't think I'd make it, but after a last-minute dash from the ADC Theatre after reviewing Parlour Song, I was lucky enough to get the last ticket. A packed one-night show, Chandler gave us an autobiographical look into queer souls and queer bodies, from the euphoric nightlife to the trials of dating, the traumas and – the most moving part of the production – the enduring joys of it all. DANIEL PEREIRA
The most impactful moment last term, for me, was the death of the players in Indecent. The cast lined up with heads bowed, being stared down at by the lone, solemn side light from the wings of the ADC. The clear implication followed as the actors collapsed. It was visually beautiful, and so intimate and sensitive. Given the subject matter of the scene, this was a central moment, and it was just the most perfectly-handled moment. There was no hiding from the horrors of the Holocaust, but the director steered clear from overplaying the moment at all. I think it's safe to say, moved the entire audience to tears. JUDE CRAWLEY (Read our review of Indecent)
What was the worst case of Theatre FOMO (fear of missing out) you suffered this term?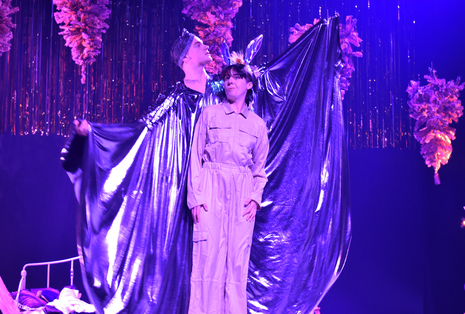 I still regret not seeing Parlour Song, the Week 1 ADC main show – it looked like a beautiful piece of theatre and I was in awe of the skilled set and tech! Working appliances on stage? It really seemed a stand-out moment, and both Varsity and other friends were extremely complimentary! GINA STOCK (Read our review of Parlour Song)
Unfortunately I was jugular-deep in essays and Outlook bureaucracy mid-term and missed Indecent, which I'm still kicking myself about. All my friends – let alone the Varsity theatre section – were gushing about the tender portrayal of pertinent social issues and the striking lighting and set design. It sounded fantastic! ALEX PARNHAM-COPE (Read our review of Indecent)
Again, my worst case of theatre FOMO would have to be missing Indecent. I heard nothing but praise for what sounded like a hauntingly beautiful production and a truly important piece of theatre. With a live band, dancing and incredibly reviews, I really wish I could have been part of the audience. POPPY GIBBS (Read our review of Indecent)
With the coronation of its titular character swiftly approaching, I wish every day that I had devoted an evening to seeing King Charles III while I had the chance. There's something about the new King's bizarre family life that demands curiosity. TV shows and films like The Crown and Spencer have dedicatedly dissected his famous affair, rendering him a kind of comic buffoon. Written after the death of Elizabeth II, King Charles III's timeliness makes me wonder how we're all meant to feel now that centuries of monarchy have led to such a lame conclusion. I'll have to stick to watching the coronation, which will be far less witty and insightful than King Charles III promised to be. ALEXANDRA PICKEN (Read our review of King Charles III)
A fate worse than the guillotine? I missed out on Arianna Muñoz's production of Marie Antoinette. When I take to a particularly eye-catching publicity design, it always seems to be Katie Wrench's. Her opulent posters have made her theatre royalty – Marie Antoinette's poster was mentioned in conversation by a friend who has hardly stepped foot in a theatre. She has somehow managed to reach beyond the thespian coterie to the common masses, to which I say: let them eat cake! I'm calling on Katya Stylianou to reprise her now-famous role as a French sheep. And, as Varsity writers, to miss a play about self-entitled nepo babies… well, it's an affront to our journalistic heritage. DANIEL PEREIRA (Read our review of Marie Antoinette)
Ahh, there are so many regrets! BME Shakespeare's Twelfth Night and Her Very Many Faces are definitely on the shortlist but the show I am kicking myself most for missing is the Marlowe Society's rendition of A Midsummer Night's Dream. With a truly Cambridge A-list Cast, everyone I know who saw it was reeling in praise for it. With tickets costing nearly £20, I was just really reluctant to break the bank going to see this one – and to be fair the Cambridge Arts Theatre is pricing students out. However, given the number of times I have spent £20 on far more frivolous crap in my life, I really wish I had invested in seeing what sounded like a masterful version of Shakespeare. JUDE CRAWLEY (Read our reviews of BME Shakespeare Twelfth Night, Her Very Many Faces, A Midsummer Night's Dream, and our feature on BME Shakespeare)
What show do you wish more audiences had a chance to see?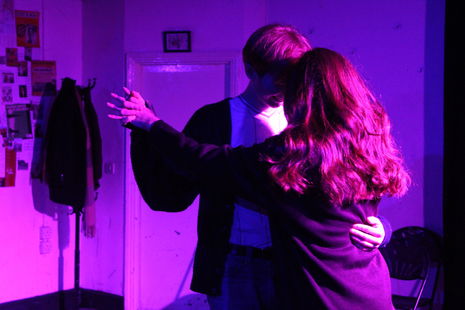 The Last Five Years was a truly incredible show. Both lead actors were so well in-tune with each other, each respectively an impressive solo singer, and their chemistry was palpable. The show ran astoundingly smoothly, especially given it was a Week 1 show, and there were many clever and inventive staging choices. The leads, Ben Mulley and Juliette Ball, were accompanied by a talented group of musicians, and were complimented by impressive lighting and creative costumes – no wonder it sold out the last few performances! GINA STOCK
The zany, ridiculous Scratch Me. Laurie Ward and Charli Cowgill's rollercoaster scratch-night-cum-new-writing-workshop-cum-fundraiser was excellently lit in neon pinks and blues by Edward De'Ath, who also figured into the show as a hilarious fourth-wall-breaking motif. Scratch Me is the theatre I wish I saw more of: its finger firmly on the pulse of our oversaturated cultural landscape, its voice wholly original, its sense of fun and conflict deeply complex, its audience at once complicit and entertained, its performance vocabulary melding cabaret and theatre of the absurd and body horror and much more to deliver a mind-blowing evening. I thought so much about the way the two make their theatre after the show that I wrote a whole profile on them. It's quite something to have one evening include performance art involving aubergines and custard, pipe-cleaner fingers and a mop as a man, lip syncing extravaganzas, audiences invited up to braid Cowgill's hair or cut the duct tape binding the two performers in order to let the show start or prove their mettle in an "Allyship Games" to find a "Spotlighted Ally to the Stars". The duo braid tenderness with provocation – a unique and special recipe of their own. THEO CHEN
I would have to say the ETG's production of Hamlet as it was among the best performances of Shakespeare I have seen recently, full stop. Every actor put on an impressive performance, notably the leading Jacob Benhayoun as Hamlet and Sarah Mulgrew as Ophelia. Being right at the beginning of term, it was easily missed, yet it offered something so memorable. POPPY GIBBS (Read our review of Hamlet and our feature on the ETG's Hamlet)
The Addenbrooke's Charity Pantomime Frozemide (The I.C.E. Queen) at the Mumford Theatre. This needs to start going on everyone's list of unmissable shows! It was the first show I reviewed in Lent term and yes, some of the medical jokes went slightly over my head, but I would so recommend non-medics going to see it next year. The cast was so fantastically talented, the sounds were hilarious and the whole production was so professional. Definitely one of the most overlooked shows of the term. JUDE CRAWLEY (Read our review of the Addenbrooke's Pantomime)
What performer would you like to see as the lead of a smash-hit star vehicle next term?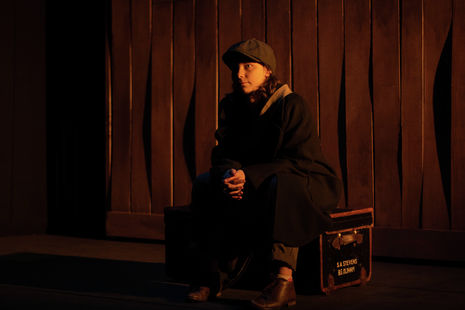 Judging from the crowds at Dragtime!, the Cambridge Theatre community was calling out for Derek Penny to hang up the techie coat, just once, and enter the fantastical drag world of Alice in Wonderland. Having said that, Dominika Wiatrowska has really stood out this term for me. She was phenomenal in Indecent and the Addenbrooke's Pantomime in totally juxtaposing roles. I was lucky enough to be reviewing both this term and, having not seen her on stage before, was blown away both times by her talent and range. JUDE CRAWLEY (Read our reviews of Dragtime! Presents: Curiouser and Curiouser, Indecent, and the Addenbrooke's Pantomime)
Hugo Robijns showed fabulous comedic timing in his role as Soldier/Alex in Sunday in the Park with George, the Week 3 ADC mainshow. Having subsequently heard his rich, powerful singing voice in a CUMTS bar night, I would say he is definitely one to watch! GINA STOCK (Read our review of Sunday in the Park with George)
Tabitha Tucker had an incredibly commanding stage presence as Desirée Armfeldt in A Little Night Music; an actress playing an actress – and a famously talented one in the show's metatheatre to boot – is a feat, and any lesser performer would have rendered Ms Armfeldt implausible. I could see Tucker's dignified and headstrong performance working beautifully in a period drama and I was delighted every time she was on stage. ALEXANDRA PICKEN (Read our review of A Little Night Music)
Blossom Durr's Camdram career is rising like the sun in the east. She chewed up the scenery in The 39 Steps and I can't wait to see what she does next. Another one is Fran Lees. She was superb in both Indecent and Charley's Aunt. They both have excellent physical comedy. Imagine they both showed up to an audition – it would get nasty. I don't know who would win! ZACH LONBERG (Read our reviews of The 39 Steps and Indecent)
What made you cry at the theatre this term?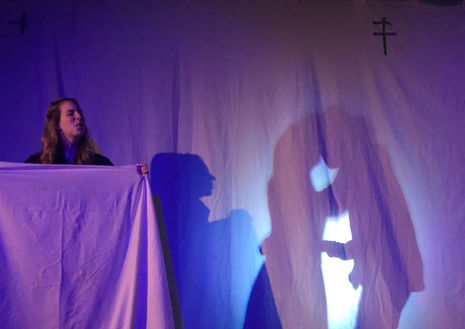 I often find myself crying at the theatre, but the ending of Electric Rosary had me bawling my eyes out to an embarrassing degree. My tears were set in motion by the stern Sister Constance's emotional change of heart toward the robot Sister Mary so much so that she was willing to give up her life for her – I couldn't look away from those two on stage. I thought Electric Rosary provided a beautiful take on womanhood, faith and female solidarity in a time of chaos, and this ending of an emotional bond between humans and AI technology touched me unexpectedly. POPPY GIBBS (Read our review of Electric Rosary and our interview with the director, Raffaella Sero)
Under Milk Wood was not an overtly sad show but it brought a few tears to my eyes. I wept with laughter as Polly Garter sang about "wee Willy wee". I pined after Mog Edwards along with Myfanwy Price, knowing they would never meet, their destiny enshrined by the script. I thought about my parents' birthplaces in Wales, its villages, the characters that you find up and down the country and everywhere else and my eyes went misty. Under Milk Wood cultivated such touchingly intimate familiarity with its audience members that I doubt I was the only one sniffling in the back row. ALEXANDRA PICKEN (Read our review of Under Milk Wood)
Basically the entire second act of Indecent had me sobbing. Having never read or seen the play before, I was totally immersed right from the start, but the second act was pretty emotionally devastating. Though there were many moments which actually triggered the tears, the general tension between the buoyant optimism of the company in the most tormenting circumstances had me close to crying from the interval onwards. JUDE CRAWLEY (Read our review of Indecent)
What will stay with you from this term of theatre?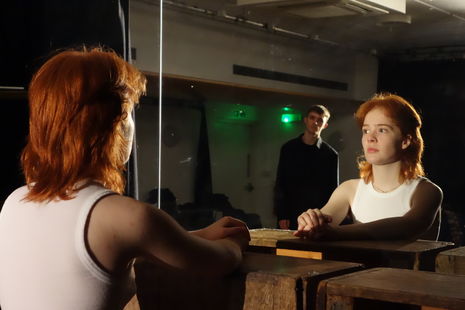 This term I've been most struck by the deep necessity of Cambridge Theatre not only as a creative realm, but one of therapeutic self-expression, especially in contrast to the hegemonic conformity of our academic lives. Many of the moments I've been most moved by, whether in drama, dance or standup, have been deeply intimate and confessional. There's a sense in which the stage provides a platform for emotionally relating to each other, for expressing our fears, our hopes, our secrets, which are so routinely sanitised in the bureaucratic machinery of lectures and libraries. Whether it's mirroring truths I quietly share or exposing the naked reality of experiences I couldn't imagine, student theatre as a confessional has never felt more important. ALEX PARNHAM-COPE
More generally, watching theatre this term has taught me that, when looking for exciting and often out-there theatre, Pembroke New Cellars is the place to go. This past term, some of the best performances I saw were put on by the Pembroke Players. An Intervention and #WomenSupportingWomen all offered powerful explorations into contemporary chaos with exciting staging and elements of non naturalism. So my advice for those wanting to see some more underground (literally) theatre in Cambridge, check out the New Cellars. POPPY GIBBS
One star? Five stars? Watching such a range of theatre this term, from Neve Kennedy's West End-worthy production of Parlour Song, to Evie Chandler's very personal and very funny Cow, and Ariel Hebditch's light-hearted sketch comedy As Seen as Possible, I've been having a reviewing identity crisis. University is the time for dramatic experimentation. We have less financial pressure with budgets, lower stakes and, in some ways, more freedom to be creative. The polished professionalism of Parlour Song and the ETG's Hamlet lend themselves well to reviewing, and often theatre-makers are looking for pull-quotes for their future careers. But I can't help but think that, for shows that don't want to take themselves too seriously, reviewing contributes to an unwelcome sense of competition in the arts … are we spoiling the fun? I don't have the answer, but as audiences and reviewers, we'd do well to take a show on its own terms. DANIEL PEREIRA (Read our reviews of Parlour Song, ETG's Hamlet, As Seen As Possible, and our feature on ETG Hamlet)
Alongside the hard-hitting artsy Cambridge theatre-darling shows, which have been great, I have been exposing myself to more of the comedy scene this term. Through this I've started to understand the artform that is standup comedy. Unlike sketch comedy, which is reliant on a funny concept and good performers, standup challenges the comic to both be an actor playing the charismatic, charming, funny man while remaining wholly true to themselves. Of course, in exposing myself to comedy I've seen some corkers and some total duds. But I have really admired the self-assurance of the performers to put themselves, so personally, in front of an audience. Also, through seeing some of the same comics a few times across the term, watching them hone their skill over this term has shown me what a difficult yet brilliant artform standup comedy is. JUDE CRAWLEY
What would some of your answers be? Let us know by emailing theatre@varsity.co.uk