Grace Prendergast is the best female rower in the world. At least according to Row2k's 2021 rankings. She is a fifteen-time national champion, four-time world champion, 2020 Olympic champion and, as of last month, a member of the Cambridge crew that won the Boat Race.
Sitting down with such a superwoman for coffee might seem scary, but when I do, early one Monday at the start of term, I quickly realise that Prendergast is impossibly down to earth.
When I ask Prendergast what the atmosphere was like on the day of the Boat Race – not only winning, but smashing the women's course record with a time of eighteen minutes and twenty two seconds – I expect an acknowledgement of quite how impressive this feat was. Instead, it becomes clear that her focus was on the people who were there with her.
"When you finish, it's quite hard to take in. It was nice just being able to catch up with everyone else after their races, regardless of whether they won or not. It's really nice to come together as a team again."
Only an hour after the women's victory, the Cambridge men lost their race to the dark blues, but Prendergast insists that this didn't take away from the occasion.
"It's always hard to watch your teammates lose, especially when you see all the work that they put into it throughout the season. But then I'm very realistic: that's the nature of sport. Especially in this race, you have a winner and a loser. Someone's going to lose. They gave it a really good shot, but unfortunately couldn't win."
In a career of such magnitude, I ask, was the Boat Race of particular significance?
"Before racing it, I don't know if I would have said that, but it's so unique, the tradition associated with it. It's so different to my other rowing experiences, which makes it quite special. Normally, when I come up to a World Championships or an Olympics I try to block out all the distractions, whereas I think the Boat Race is kind of about embracing them."
"My mum still collects everything that I'm in - every newspaper. They still find it a little bit surreal. So do I to be honest"
Having won for four consecutive years prior, there was certainly extra pressure on the women's crew to win. Prendergast, I imagined, was immune to this after years as a professional athlete.
"I'm pretty good at not worrying about it, but you always know what people are saying. Going into the Boat Race, I was very conscious that I didn't know how good Oxford was, and saw us as even, but knew that other people saw us as a favourite. You get so much pressure already from yourself. Added expectation takes away from the enjoyment of it all."
Do her family feel the weight of expectation too, I wonder. Have they adjusted yet to Prendergast's almost celebrity status?
"My mum still collects everything that I'm in - every newspaper. They still find it a little bit surreal. So do I to be honest."
I want to know how important these relationships are in the sport: friends, family, and crew members alike. I pose to Prendergast that having the right people around her must make all the difference in whether or not an athlete excels, and she agrees.
"In rowing, it's hugely important. Especially when you get into eights, the crew is made up of a lot of different personalities, a lot of different characters, but it was a strength of [the Boat Race] crew that we all had such varied experiences. We covered all bases. I think by the end of the Boat Race we had created a really strong bond."
Seeing the photos from the event and from the season beforehand, it seems that Prendergast has a special relationship with Ruby Tew. Both came out of the national rowing programme in New Zealand and are now at Queens, each studying for a master's degree.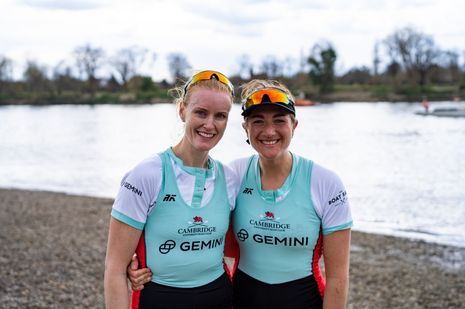 "It made the season so enjoyable, right from the start." Prendergast gushes. "Coming from the same rowing programme and having the same mindset about things gives you that person you can always turn to. [Tew] puts everything in perspective. If things aren't going that well or I'm getting a bit stressed about something, she's always very reliable. She makes you see things in a different light. When you're in Cambridge, it's nice to have that security, someone you can turn to in moments of panic. A sort of home comfort."
"Normally, when I come up to a World Championships or an Olympics I try to block out all the distractions, whereas I think the Boat Race is kind of about embracing them"
Looking to the future, I wonder if there is anything that Prendergast has yet to conquer.
"Is there anything you can't do?" I ask.
"In rowing, I've become really confident in what I do well. Over time, I've learnt to not stress too much about the things I don't do that well. Often you go into sport and you focus on all your weaknesses. There's so many things that I think I could be better at, but I have to keep going back to what I do well."
"One thing that scares me is a single [scull boat]," she laughs. "I still don't really do a single. I stay away from that."
I push to see if there is anything on dry land that she is afraid of.
"Coming over here, I've had to be a lot better at finding people and making new friends, socialising with people that aren't part of a sports bubble. I've slowly gotten over that, but I still have moments of panic."
What else does the future hold for Grace Prendergast? It's not easy to work that out when - as she puts it - "rowing is all I know."
What she has learnt, however, is what a path to success looks like, in whatever field she finds herself in next: "Things take time. You can look at someone getting success after success, but nobody actually takes notice of the five or ten years before that, where they might be struggling. You work away while nobody's noticing, and then it will click, and you'll get the rewards."
As always, the last thing I ask Prendergast for is the best advice she has ever been given.
"Someone once said to me: 'Make sure you actually know why you're good at something'. If there's something you do well, you have to be able to articulate why you're good at it. When things are going well, it's very easy just to coast along, but then things start going wrong and you don't know what you were doing right in the first place. If you sit down and think 'what am I doing to make this work' then you have a foundation to fall back on. You have to have something solid to come back to."
She's right. It's easier to diagnose why something is wrong if you know what 'right' looks like, in work, in sport, and in relationships. I am confident we'd all do well to approach life a little bit more like Grace Prendergast.