Sitting tight in the Caffè Nero queue ready to place my usual order, I catch a glimpse of Bethan Davies-Williams kitted out in her Cambridge University Mountaineering Club (CUMC) fleece, saving both of us from an awkward phone call as we try to put face to name for the first time. Armed with our coffees, we sit down at the table in the centre of the room to talk about the club she oversees as President, as well as her own roots in the sport of climbing.
Davies-Williams takes me back to her early childhood to mark the start of her experience in climbing, as she followed in the footsteps of her father who was also the President of his university's mountaineering club: "I got into climbing through him when I was eight years old," she remembers, but was soon forced into giving it up after making Team GB's junior trampolining squad. Not a bad alternative by any means.
"We had 33 females compete in Cuppers in Michaelmas term, and that was more than both sexes combined in my first year"
But upon coming to Cambridge just under three years ago, Davies-Williams rekindled her once rocky ties with the sport through CUMC's taster sessions. "I found the club really friendly, as I made lots of friends," she recalls, but also notes the lack of competitiveness: "It wasn't as competitive as it is now, like they struggled to get women into competitions."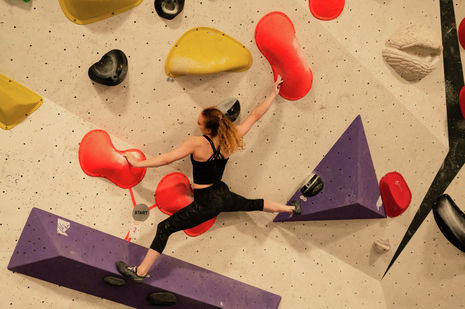 CUMC boasts a rich history, with English mountaineer George Mallory matriculating from Cambridge in 1905 and the club undertaking its first climbs in 1912. This is something that Davies-Williams is very attuned to in her efforts to boost CUMC's popularity and subscription, while also bringing the newer brand of sport climbing into dialogue with tradition to maximise the involvement of both male and female students. Needless to say, the club's efforts have been paying off, as Davies-Williams mentions changes to the local scene as reference for shifting attitudes: "Five years ago, there was only one climbing wall in Cambridge but now there's two, so the sport has been progressing over the years." On top of this, CUMC caters to a mailing list of over 1000 people and has a WhatsApp group chat that's reached its peak of 256 members.
"During this year of my presidency," Davies-Williams explains, "we're coming off the back of sport climbing making its debut in Tokyo, so I just wanted to put more of a focus on that whilst also keeping the roots of the club alive as well." In addressing the task of increasing female participation, Davies-Williams concedes that "there's still definitely a bias towards men in the club," but notes the alteration made by CUMC to the Cuppers scoring system: "In the past, it was just the top three scorers across colleges that contributed to a final score, and they wouldn't normally be women. But, we've now made it so that ranking affects the female Cuppers score", producing a more proportionate outcome in the competition. "We had 33 females compete in Cuppers in Michaelmas term, and that was more than both sexes combined in my first year," she says with a humble smile on her face.
"We're like the flattest place in the country, but I don't want people who enjoy climbing to not come to Cambridge!"
With graduation fast approaching this summer for Davies-Williams, this year marks her final stint of involvement in the club, which I sense strikes a glum chord in her but also mixes with an eagerness to break out of the Cambridge bubble. Before handing over the reins, however, Davies-Williams has a couple of tasks to tick off her to-do list: "What I'd really like is to get Blues status for the club, which I personally think would be a good legacy to leave at the club. I think the sport is in line with other sports that have such status, in terms of how competitive BUCS is and the fact that we're now an Olympic sport." To achieve the coveted status, CUMC will have to prove they take part in competitive events and put together numerous hours of training and, as for competition criteria, athletes will need to be in the top 3% at BUCS.
She continues: "In general, I'd like for climbing to be viewed by the wider Cambridge community as a sport. We're like the flattest place in the country, but I don't want people who enjoy climbing to not come to Cambridge!"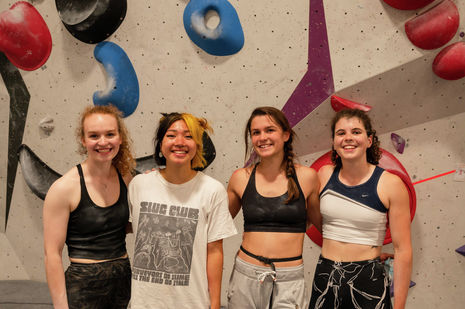 Yet, when it comes to finally handing over the reins, Davies-Williams has no worries, particularly with current Competitions Secretary and UCAPP athlete Matthew Fall and Social Secretary Holly Davis both in the committee mix: "I'll be leaving the club in safe hands to build on the work already made."
Looking ahead to CUMC's clash with Oxford tomorrow (06/03), Davies-Williams is not only confident but also stresses the beautiful accessibility of the Varsity match format, with the 'Open Round' welcoming climbers of all levels and giving them the chance to climb alongside experienced athletes: "Anybody of any ability can get involved in the competition," she emphasises, while also using this to springboard into CUMC's general ethos of availability. "The club is a way to access the outdoors. You can like one side of climbing and compete indoors, while we can also help facilitate you going outdoors to climb for the first time, so I think it's unique in the opportunities it can provide, especially given that it can be difficult to access the equipment for such climbing."
Cambridge go into this year's Varsity in good form. At BUCS on 19th February, CUMC's men came 4th out of 36 teams, ten points off the podium and quite a lot higher than their Dark Blue counterparts. Near the start of term, the mixed team also placed third in the London University Bouldering Event. Davies-Williams stands optimistic: "We're hoping to sweep all competitions, and I think we're on track to do that."
However, the Light Blues will be without the talented Holly Davis and potentially Juliana Kohl, who've both sustained injuries in the build up to the event, which could affect the women's hopes of bouncing back from two consecutive Varsity defeats. Although, having Hannah Zia on board, who suspectedly topped the BUCS scoring two weeks ago yet remains puzzlingly unconfirmed due to a lost scorecard, will be a big boost for Cambridge.
After twenty minutes of chatting through the tail-end of a sore throat, Davies-Williams lays out her plans to retreat home, tuck into some Shrove Tuesday pancakes, and enjoy a well-earned evening off. To save her voice box any further discomfort, concluding with the emailed words of Matthew Fall seems fitting: "Competitive climbing is just as valid a sport as any other, and it's evolved a lot since the dirtbag days."