Around one hundred students and members of the public gathered on King's Parade last Sunday (15/10), for a candlelight vigil to commemorate Israeli lives lost in the recent Hamas attacks.
The vigil was attended by Jewish and Israeli students at the university and members of the wider Jewish community in Cambridge, alongside supportive members of the student body.
Speeches, prayers and a minutes-silence were held in remembrance of the victims.
The October 7th unprecedented attack by Hamas, a Palestinian organisation of Islamist militants, killed at least 1,400 people in Israel and took almost 200 people hostage.
Hamas is designated a terrorist group by Israel, the United States, the EU, and the UK, as well as other powers.
Israel has since launched a retaliatory airstrike campaign in Gaza.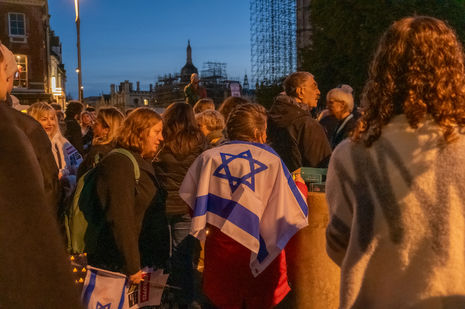 According to the UN, more than 3,000 Palestinians have died in Gaza since Hamas's assault.
Some attendees draped themselves in the flag of Israel, while others held signs saying "Stand with Israel".
Posters tied to lampposts and lining the pavements also depicted the faces and stories of those taken hostage.
A representative of the Cambridge University Jewish Society (JSoc) gave a speech, saying: "We're standing here to represent the Jewish society within the university, united with the residents, Jewish Israelis, and all our allies."
"We've lost over 1300 Jewish lives in Israel and our nation will not be complete until we have the safe return of those held hostage by Hamas", they continued.
The vigil, one of many across the country, was coordinated with the one held in London at Parliament Square.
The JSoc speaker went on to say: "We should feel that while we're standing here together we're one small piece of the puzzle, with thousands and thousands of Jews at similar gatherings across the globe."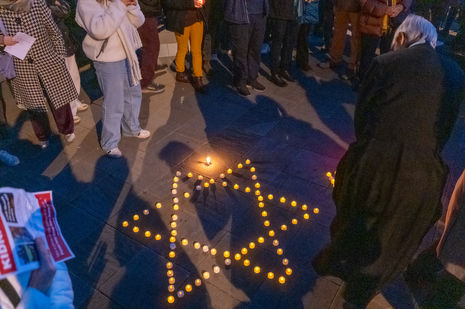 Commenting on a passage read from the Torah, the student urged attendees to have "a glimmer of hope" for "new beginnings for the Jewish people".
The student prayed for the "extinguishing of all the forces of evil and brutality in this world".
"May we have the strength, courage, and resilience as a people to take all our pain, anguish and sorrow and turn it into something greater, something of light, peace, and unity", they concluded.
After the speeches, attendees gathered around candles in the shape of the Star of David and sang traditional songs.
There was a small police presence at the vigil, with a number of officers standing by.
This comes after Vice-Chancellor Deborah Prentice announced last week that the University Security Section will be on "alert" in the coming days for "any activity that might make members of the Jewish community feel unsafe".