Most of us are familiar with festivals in the UK, whether that's revelling at Leeds or enjoying Glastonbury from your sofa. Festivals are an integral part of UK culture. But have you ever wondered what goes into producing a festival, especially those beyond our shores? If so, this article is for you, revealing what goes on in the lighting production of a festival abroad.
Our spotlight festival is Brazil's newest sensation, The Town. Held at São Paulo's Interlagos Circuit, it boasted six stages and hosted over 100,000 people daily during its two weekends last month.
However, before a festival of this scale can occur, an insane amount of preparation is required. The planning process for The Town started as early as 2019, with the layout organisation alone taking over a year.
"Before a festival of this scale can occur, an insane amount of preparation is required"
Surprisingly, The Town, despite its Brazilian ownership, entrusted its lighting to a British company, Woodroffe Bassett Design (WBD). The company is well-renowned, having designed the 2012 Olympics and worked with legends like Elton John and the Rolling Stones. WBD's Principal Designer, Terry Cook, oversaw the lighting design for 15 areas of The Town, including its six stages.
Cook explained that, once the general layout is decided, "the real fun can start". His initial focus was the stages, with the goal of making them "as user-friendly as possible" by creating a "bold, easy to understand" lighting rig. This stage of the process usually takes around three to four months, but due to the festival's frequent structural changes, the final drawing was confirmed only eight weeks before the festival's launch.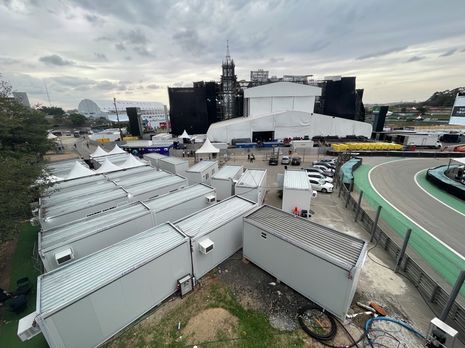 Once the design is largely finished, the focus shifts to its actualisation. Construction of the 40-metre high Skyline Stage commenced in May, with the structure taking shape on site in July. Three weeks before the opening night, Cook and his team finally received the go-ahead to install their gear.
This is where the production company comes in. For The Town, this was LPL, a Brazilian lighting company entrusted with executing The Town's lighting design alongside WBD. They managed 150 workers and installed a staggering 300 tonnes of equipment.
This arrangement benefits the festival as using a local crew and production company simplifies installation. However, the mixture of British and Brazilian companies poses the problem of language barriers as only around 5% of Brazilians speak English. This problem is mitigated by most of the chiefs and operators being fluent in English. Nonetheless, it still occasionally causes issues, primarily during rigging, where instructions may be misunderstood.
"Cook instead attributes his challenges to the cultural differences between the technical entertainment industry in the UK and Brazil"
Cook instead attributes his challenges to the cultural differences between the technical entertainment industry in the UK and Brazil, suggesting that UK culture "is different to most of the world". In Britain, Cook notes: "We work hard, we push no matter the weather, we start at 9am and finish late." However, abroad, you could "not meet a soul on site until post lunch". Although Cook considers this an obstacle, he also acknowledges: "When you get used to it … it's not a barrier and becomes the norm."
After three weeks of gruelling installation, The Town was finally ready to open. This was when "Front Of House" (FOH) leaped into action. FOH comprises one or two tents in the middle of the audience. These become the master control rooms for lighting, video and sound during the festival.
FOH at The Town contains a diverse mix of nationalities. As most of the headliners were western artists, they had western crews operating their shows. Consequently, FOH included both Brazilian and western lighting designers (LDs).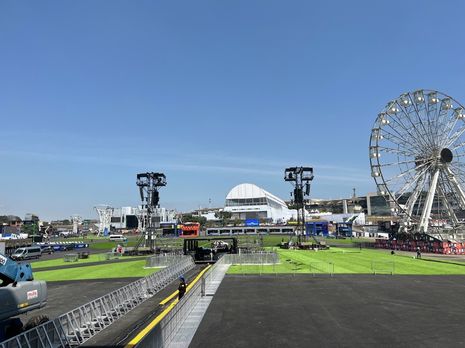 This is where WBD were involved during the festival. Their responsibilities extended beyond design to organisation, including supporting visiting LDs. They helped with load-ins, as most artists bring additional rigs to add to the festival's equipment. For instance, Bruno Mars, who played both weekends, doubled the number of lights on the rig. They also helped during the 12 to 24-hour windows LDs had to translate their touring shows onto the festival rig, focus all their lights and check everything worked.
Ensuring this process went smoothly required a huge amount of work from Cook and his crew. Cook's primary responsibility involved communicating with the artists' teams before the festival to see how much additional equipment and personnel he would need. Cook typically initiates this communication seven weeks before the festival and says he received over 4500 emails while preparing for The Town. He describes this process alone as "a full-time job", declaring communication "the most important element" of the festival-side of his role.
"No festival is without a little mayhem"
Thanks to the crew's hard work, the festival went relatively smoothly. However, no festival is without a little mayhem. First, you have your everyday chaos, my favourite being the downright treacherous journeys to FOH. The metal planks forming the walkway beneath the stage were littered with warning signs due to their tendency to flip if you stepped on them incorrectly. This, plus countless precariously hung wires, kept you constantly alert. Even journeys to other stages posed the danger of a golf buggy mowing you down.
Other chaotic moments included a zipwire structure collapsing just days before the festival. The site also experienced a shortage of drinking water, and several power cuts in one day (courtesy of diesel generators) ensured that none of the lights in VIP worked. Furthermore, attendees had to navigate around a hole being filled with concrete to stabilise a sponsor stand.
This chaos is one of the clearest differences between UK and overseas festivals. Evidently, not every UK festival avoids this kind of mayhem, nor does every festival abroad suffer similar problems. Nevertheless, the culture of UK festivals, shaped by their often expansive, remote locations and the unpredictable British weather, means that we escape much of this disorder, especially that which poses a safety risk, because we prepare for the worst.
Another difference between The Town and UK festivals is a greater emphasis on monetisation. The Town had over 140 sponsors, with many receiving their own "stand" (often the size of a small house). Furthermore, top-tier artists are paid millions of dollars to perform at The Town, whereas many musicians incur losses at UK festivals. Tickets cost 10% the average monthly salary in Brazil, similar to Glastonbury's 12%, but Glastonbury offers 5 days while The Town only sells one-night tickets.
Nevertheless, thanks to the efforts of the crew, The Town was a spectacular festival. Many involved worked 18-hour days, often through the night. While many in the industry would say their career was a mistake, I don't think they'd have it any other way. LPL's unofficial slogan is "Loucos por Luz" ("Crazy for Light"), which perfectly epitomises the field. These professionals are willing to work for weeks straight, only getting a few hours of sleep each night, because they are crazy about what they do.
Production crew work awfully hard to organise the concerts and festivals you enjoy so next time you watch a live performance, take some time to appreciate how it came together and the people pressing the buttons while you dance along.