What a year 2022 was musically: arguably it could be described as the year of the comeback. Kendrick Lamar released Mr. Morale & The Big Steppers after an arduous five year wait, while Beyoncé forayed into house music with her long awaited seventh studio album Renaissance. Naturally, Harry Styles demonstrated his passion for sushi and long drives on Harry's House, while Steve Lacy proceeded to break TikTok with his demonstration of a "Bad Habit", taken from the album Gemini Rights. With the sheer quantity of music content bursting out of 2022, a cross section of Varsity's Editors share their eclectic favourites as we welcome in 2023.
Daniel Hilton - Vulture Editor - Ants from Up Here - Black Country, New Road
Following the heights of 2021's glory, which included releases like Tyler, the Creator's Call Me If You Get Lost, Silk Sonic's An Evening with Silk Sonic, and Little Simz's Sometimes I Might Be Introvert, 2022 was a year plagued by boring releases from high-profile artists, such as Harry's House, The Car (Arctic Monkeys), and Midnights (Taylor Swift). While none of these were by any means bad albums, what they did demonstrate for me was a refusal to evolve, or at least an evolution that falls short of the mark.
"Black Country, New Road produce a unique sound that questions the status quo of modern music"
However, through the sea of mediocrity towards the lighthouse of greatness sailed Black Country, New Road's masterpiece Ants from Up There. With anxious and vulnerable lyrics (that prove song-writing can be poetry) underscored by genre-defying instrumentation ranging from free jazz to bread and butter rock and roll, Black Country, New Road produce a unique sound that questions the status quo of modern music.
A particular highlight of the album for me is "The Place Where He Inserted the Blade", a seven minute triumph that, like the emotional wound lead vocalist Isaac Wood sings about, constantly feels fresh. The song starts with dreamy piano, guitar and saxophone, which are then met by Wood's soft vocals. As the energy of the instrumentation increases, so too does the coarseness of the lyrics, until all the elements come together in the song's final act. Other highlights include "Good Will Hunting" with its refrain of "She had Billie Eilish Style/ Moving to Berlin for a little while/ Tryna find something to hold on to", and the operatic "Chaos Space Marine".
Black Country, New Road - 'The Place Where He Inserted the Blade' Black Country, New Road
Ants From Up Here was a bittersweet release for BCNR, as Wood departed the band mere days before the record's release. This hasn't stopped them, though: they are continuing touring and making music, with their EP of covers, Never Again Pt. 2, particularly showing that they are still one of the most exciting bands on the UK circuit right now (just have a listen to their version of Billie Eilish's "Happier Than Ever" and Regina Spektor's "Us").
Georgie Atkinson - Senior Music Editor - Actual Life 3 (January 1 – September 9 2022) - Fred again..
I can hear my friends (and more specifically Daniel Hilton) groan when I happily note that my album of 2022 is Fred again..'s Actual Life 3. The album is the DJ's euphoric and emotive climax to his Actual Life trilogy; a trilogy in which Fred Gibson (AKA Fred again..) creates an assimilation to an audio diary. This album was released towards the end of what was undoubtedly an exceptional year for the South London-based producer, following the establishment of his notoriety in 2021 with the now-festival and house party classic, "Marea (we've lost dancing)".
"The album's use of sampling provides particular comfort when struggling through a supervision essay or a lonely walk to the Seeley"
Perhaps a highlight of the year for me (and anyone who regularly wears a bucket hat unironically) was Fred again..'s Boiler Room set: in it, the Marlborough-educated DJ deployed not just his repertoire and crowd management skills but also teased fans with tracks taken from Actual Life 3.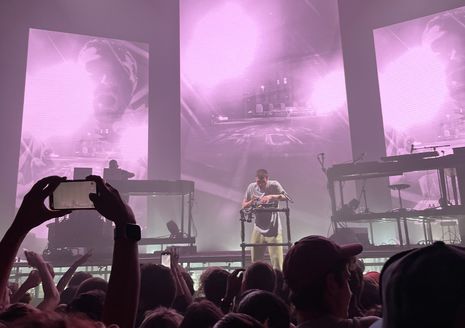 The album's most impactful track (and the one I would most urge anyone to listen to) would be "Nathan (still breathing)". The haunting tones of Nathan Archie enable the listener to lose themselves in the heavy bass that accompanies the track. The album's use of sampling and repetition of phrases such as "if you don't know, don't worry", "you are near the end of a nightmare", and "pull me out of this", provide particular comfort when struggling through a supervision essay or a lonely walk to the Seeley.
Spotify happily informed me that I spent 3,976 minutes listening to Fred again.. in 2022. I am more than aware that this is perhaps the only significant relationship that 2022 has left me with, but despite my co-dependency, Actual Life 3 does stand alone in its own right as a sublime album.
If you are reading this, and find yourself in your twenties or about to enter them, uncertain of what the future may hold, Fred again..'s work (especially Actual Life 3) is a soundtrack to guide you through these times.
Sabrina Carpenter - "Vicious" (Lyric Video)Sabrina Carpenter
Isabel Dempsey - Senior Fashion Editor - emails i can't send - Sabrina Carpenter
I like to pretend that I'm a cool indie girlie who only listens to cool indie music. But if I take a step back from all the Mitski and truly look at my Spotify Wrapped it reveals the horrible truth: I'm a pop girl (thanks Taylor Swift). However, I am more on the pro than anti side of the Midnights debate, and my award for best album of the year goes to Sabrina Carpenter's emails i can't send.
"Where have I heard that name before?", you might ask. This ex-Disney icon was famously (and unfortunately) the "other woman" in the Olivia Rodrigo versus Oliver Bassett drama. Telling her side of the story, Carpenter's "Because I Liked A Boy" is a soul-destroying account of how she experienced everything from online harassment to death threats, all because of this innocent fling. But that's nothing compared to the album's titular single: an unsent email to her father exploring her feelings about his adultery.
"Sabrina has a special talent for making you feel like you've got a regretful ex just desperate to get you back even if you very much don't"
Despite the beautiful lyrics and incredible vocals that make up these more gut-wrenching ballads, my favourite tracks are best defined by their fun. How anybody can listen to "Nonsense", "Read Your Mind", or "bet u wanna", without breaking out into dance is beyond me. Sabrina has a special talent for making you feel like you've got a regretful ex just desperate to get you back even if you very much don't. It's cheeky and cutting and the perfect middle finger to everyone who has wronged her over the past few years. "Vicious" – one of the album's most direct attacks – ingeniously uses the warped rock sound of Olivia Rodrigo's "good 4 u" in the bridge as she sings about how she should have known that she would be the next to take his love songs as a promise. It's the perfect act of female solidarity.
Alexander Brian - Deputy Music Editor - The Gods We Can Touch - Aurora
2022 got off to a tremendous start with the release of Aurora's much-anticipated third studio album, The Gods We Can Touch. While the Norwegian singer-songwriter launched her career in 2012, she is, for many, a recent discovery, having surged in popularity after her song, "Runaway", gained traction on TikTok. As a seasoned fan, I was delighted to see so many discover her unique blend of pop, folk and electronica. Hopefully, new fans will continue to support Aurora as she explores new avenues, whilst maintaining the eccentricity that makes her such an engaging artist.
Released on January 21, the album has accompanied me throughout my A-Levels and first few months of university. Its huge diversity, from the soothing 1920s-style ballad, "Exist for Love", to the groovy hit, "Cure for Me", has sustained its interest for me despite these huge life changes, leaving me content to describe the album as my favourite of 2022. Its optimistic messaging, in particular, provides an escape from negative news.
On "Everything Matters", Aurora implies that love and our links to nature mean that nothing is inconsequential. The record's accompaniment is truly eclectic, ranging from the accordion solo on "Artemis" to the tribal-like calls in "Blood in the Wine". The album lurches from tranquil folk tunes like "This Could Be a Dream" to festival anthems like "Giving in to the Love". Though one of the first albums of 2022, Aurora's distinctive vocal harmonies and unforgettable riffs catapult this record to the top of my yearly list.
Michael Hennessey - Senior News Editor - The Car - Arctic Monkeys
This is not the first time I have sprung to the defence of the Arctic Monkeys' seventh studio album. In fact, upon its release last term, I fought off allegations that The Car was a "wet paper bag" of an album in the pages of this very newspaper.
Over the subsequent weeks, my love and admiration for the Sheffield band's latest work has only increased. The album represents a dramatic shift away from not just the band's previous work, but also from the long history of British rock music as a whole. Old and new are combined to great effect, from the return of classic rock anthems (largely absent from their previous experimental record, Tranquility Base Hotel & Casino) in the form of the single "Body Paint", to the revolutionary introduction of strings, which elevate the whole album.
The album is representative of a band in flux, constantly changing, with one eye on the future. And the future looks bright: with an almost nailed on return to the coveted Glastonbury headliner slot (for the first time since 2013) running alongside an international stadium tour (which tantalisingly includes two homecoming dates in Sheffield's Hillsborough Park), it looks like 2023, like 2022, is going to be the year of the Arctic Monkeys.