It seems like several lifetimes ago when TikTok poster-girl Dixie D'Amelio opened the floodgates with her first venture into music, the infamous "Be Happy". With Dixie being the first major TikTok star to release a song, it was sure to be talked about – but "Be Happy", the peculiar mental health anthem with a vocal performance paradoxically devoid of emotion, sparked plenty of conversation about what makes a singer truly deserving of their platform. Dixie particularly turned heads for her incredibly unorthodox pronunciation of the word "but" – it's difficult to even translate into writing, though "BhUeSjYeS" is vaguely accurate. If this was intentionally nonsensical to draw attention to the song, then it was marketing genius: the song remains the second most-streamed song from a TikToker, with over 300 million listens.
As other TikTok stars' attempts at music came and went, usually in the form of diss tracks, Dixie made it clear that "Be Happy" wasn't a one-time thing. Despite it being ranked amongst the worst songs of the year on RateYourMusic (alongside 6ix9ine and Justin Bieber's "Yummy", no less), labels clearly saw the potential in pushing the music career of one of TikTok's most beloved stars, and soon enough Liam Payne and Wiz Khalifa were on board to offer features on her two follow-up singles. The latter, "One Whole Day", was a huge turning point in my perception of Dixie's potential. Despite the song's chorus refrain of "I was really, really, really, really sad" being clowned just as much as "Be Happy" was, I firmly believe that this song combines one of the stickiest pop melodies and snappiest guitar riffs of recent times. To this date, it remains my favourite Dixie song – proving sometimes elementary lyrics can be the most effective at getting their message across.
"One Whole Day", a kiss-off directed towards ex Griffin Johnson, is a masterclass in the effectiveness of a catchy hook
Whilst Dixie was foraying into the world of pop, other TikTok stars were entering a different musical realm: the revival of pop-punk. Both Sway House's Jaden Hossler and Hype House's Chase Hudson caught the attention of Blink-182 legend Travis Barker, and soon enough they were jxdn and LILHUDDY, two key figures in the genre's renaissance movement. jxdn's own brooding, hedonistic breakthrough single "Angels & Demons" truly felt like a statement from a musician, rather than a TikToker trying to make music, and people noticed that – the song sold over half a million units in the United States. Soon enough, jxdn was going from strength to strength, performing at Lollapalooza and working with Machine Gun Kelly and "Mood" hitmaker iann dior. Even despite these high-profile collabs, the song that really made waves was "la di die", a duet with soon-to-be girlfriend Nessa Barrett. Released shortly prior to one of TikTok's biggest scandals (both Jaden and Nessa were in relationships with other TikTok stars at the time), the song was the first TikToker single to receive a major promotional push, not only through the scandal, but with aggressively sweet performances on Jimmy Kimmel and The Ellen Show.
"Nessa's crossover appeal extended beyond any other TikTok star, and for good reason"
If "One Whole Day" is the acceptance stage of grief, "i hope ur miserable..." is the anger stage
Admittedly, I hadn't given much thought to Nessa's music that she had slowly been putting out up to that point, but "la di die" perfectly balanced a swaggering sense of coolness and despair all wrapped into one. It's a feeling I've wanted to get from a song for a while – something that I could listen to regardless of what mood I'm in and it would still seem fitting. And despite "la di die" being my most-played song this year, what I didn't expect was for Nessa to continue to release music that repeatedly nailed that dual-mood target, admirably balancing between sad and sexy. Delivered with a wink and a wry smile and armed with pummelling drums and fuzzy guitars, her EP's lead single "i hope ur miserable until ur dead" became the first song of hers to hit the Billboard Hot 100. Clearly, Nessa's crossover appeal extended beyond any other TikTok star, and for good reason. The EP (pretty poison) that followed was nothing short of a triumph. In just eighteen minutes, Nessa paints the picture of her breakup with Josh Richards, relationship with Jaden, and impact of both of these events on her mental state. Halfway through the EP is the story's pivotal track "grave", a devastating devotion to Jaden and how his love saved her. "Heart held on with glue / the only thing keeping me out of the grave is you", she whispers. The song breaks me like no other song can.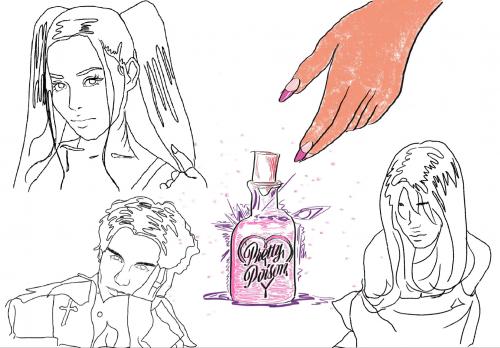 If Nessa's music was the turning point in proving that TikTokers most certainly can make great quality music, then the arrival of Bella Poarch proved that they can have worldwide success, too. Whilst other TikTokers had several stabs at music before finding their feet, Bella came right out the gate with "Build-a-Bitch", a song that transcended the TikTok realm and became a genuine global hit, complete with a killer music video that received a VMA nomination, and an appearance on the adored Just Dance game series. At just two minutes, the song capitalised on the short attention span of TikTok's very nature, and its lyrics served as a consideration of industry beauty standards ("This ain't build-a-bitch / you don't get to pick and choose") – a serious message enclosed in a song that, crucially, didn't take itself too seriously. "Build-a-Bitch" felt culturally significant like no other TikTok song did, as it finally felt like people were unashamedly enjoying the music, rather than approaching the song with a more-backhanded sense of "it's good, for a TikTok song."
The star-studded and SFX-laden video for "Build-a-Bitch" sits rightfully amongst the most viewed this year
In spite of these steps forward, there still seems to be a sense that TikToker music isn't something to be respected. Addison Rae's debut single "Obsessed", for example, was met with disdain from the public, despite it sounding like something that would fit perfectly on the last Selena Gomez album (and with uncannily similar vocals, too). The music purists on RateYourMusic continue to downvote the songs into oblivion just based on the artists themselves, completely ignoring the clear elevation in quality. YouTube critic Anthony Fantano quite unamusingly trolled LILHUDDY into believing his debut Teenage Heartbreak was his album-of-the-year, despite not even giving the project a listen. It's frustrating that there still seems to be a number of people who approach the musical contributions of these artists with undisguised mockery (do we really need another journalist offering a list of the so-called "worst" attempts at TikToker music?). But as they say, no publicity is bad publicity; Nessa perhaps summed it up best herself: "If my name is in your throat, you're mine to take, I hope you choke / In the end, I hope you know, I'm in your veins like pretty poison".