CN: Mentions of violence, death and racism. Brief mention of rape.
To mark the 50th anniversary of Glastonbury festival, the BBC released a fantastic array of recorded performances from the festival's history. If I had to pick just one to recommend, the choice would be clear: Fela Kuti and his band Egypt 80. Introduced on stage as "the one and only black president", Fela Kuti, his band and dancers give an unbeatable demonstration of the majesty of Afrobeat, the genre which Fela essentially created.
THE BIRTH OF AFROBEAT
Fela Kuti was born in Nigeria in 1938, when it was still under British Colonial rule. Fela fell quickly into music, starting off on piano but eventually wound-up playing trumpet at Trinity College in London. The music Fela and his early bands ('The Highlife Rankers' and 'Koola Lobitos') were playing was Highlife, a genre stemming primarily from Ghana, involving a combination of Akan, Caribbean and Latin musical structures played with western instruments. Fela sang primarily in his native Yoruba language about lighter topics. However, in 1969, Fela and his band embarked on a tour of America, a trip which would change the entire direction of Fela's life and Nigerian music.
"Tony Allen's polyrhythmic beats have become one of the most distinguishing features of Afrobeat"
It was in Los Angeles that Fela began to formulate both the musical structure and political messages of Afrobeat. He began to expand his political horizons through his relationship with Sandra Izsadore. A musician and civil rights activist, Sandra alerted Fela to the Black Power movement, introducing him to the works of Malcolm X and the embrace of African and African-American culture. Sandra would challenge his largely apolitical lyrical content (for instance, one song about the contents of a soup) and encouraged him to use his talents to draw people's attention to injustice. Musically, it was in Los Angeles that Fela and his band increased their experimentation, expanding Highlife, until he recorded "My Lady Frustration", a song that for Fela marked the inception of Afrobeat - an irresistible combination of Yoruba music and Highlife, fused with American Jazz, Funk and Soul rhythms.
Fela Kuti's 1984 Glastonbury performance is a majestic display of passion and musical talentYOUTUBE/ FELAKUTI
Any account of the inception of Afrobeat would be incomplete without referencing the monumental contribution of Tony Allen, Fela's drummer from 1964, without whom Fela said "there would have been no Afrobeat". Described by Brian Eno as "perhaps the greatest drummer who has ever lived", Tony Allen's polyrhythmic beats have become one of the most distinguishing features of Afrobeat. After Allen left Fela's band in 1979, Fela had to hire four separate drummers just to create the same complexity of sound that Allen could produce on his own.
BACK IN NIGERIA – FELA RISES
Back in a now independent Nigeria, Fela began to write songs to "move people to dance, but also to think", with hits like "Jeun Ko Ku (Chop 'n Quench)" poking fun at the gluttony of Nigerian elites. Pan-African themes showed up increasingly in his music, with Fela even changing the name of the band from Nigeria 70 to Africa 70 to reflect his view of the fundamental unity of African people. His lyrics were anticolonial, especially in hit song "Teacher Don't Teach Me Nonsense" which criticised the intellectual and cultural impacts of colonialism in Africa, and unfairness of the Nigerian electoral system. Fela even set up his own commune, the 'Kalakuta Republic' and declared it independent from government rule. His main venue 'Afrika Shrine' became a popular hub for Afrobeat, political discussion and displays of Yoruba culture. In the late 70s, Paul McCartney visited the Shrine and described his experience as "one of the greatest music moments of my life".
"Fela and his band were repeatedly harassed and beaten by state forces... [but] they refused to be intimidated"
Fela's attacks on elite corruption drew the ire of the Nigerian military government. Fela and his band were repeatedly harassed and beaten by state forces, and Kalakuta repeatedly raided. They refused to be intimidated by this, writing what would come to be one of his most famous albums, the provocative Zombie. This album sees Fela painting the Nigerian army as "zombies" mockingly commanding them to "Go and kill...go and die". Listening to this song first got me into Afrobeat. It seemed a new type of protest music that I'd never encountered before, and the power, drive and anger of this song remain cataclysmically striking.
Unfortunately, it was also this song that proved the last straw for the Nigerian government. In 1974, the army launched a full scale attack on the commune, burning it to the ground, as well as beating and raping the people they found inside. Fela's mother, Funmilayo Anikulapo-Kuti, an anti-colonial and women's rights activist, later died from her injuries. Despite the hardships, the music did not stop, with Fela writing a stream of songs, including "Coffin for Head of State" which put the blame for his mother's death squarely at the feet of the Nigerian government. Throughout the 80s, Fela continued to be a harsh critic of the government that continually jailed him and he released more music, including the 1989 anti-apartheid "Beasts of No Nation", until his death in 1997.
CELEBRATION AND LEGACY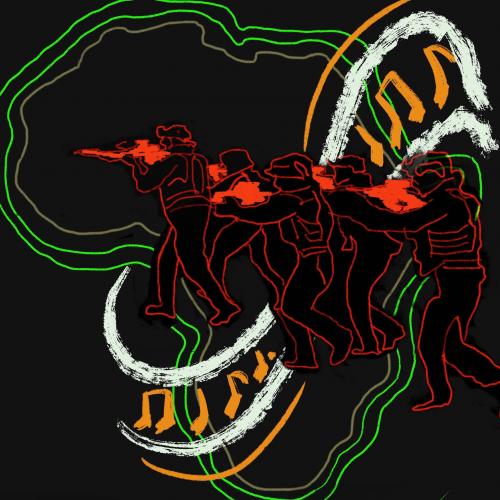 Fela's entire band deserves to be celebrated, from keyboard players like Dele Sosimi, to dancers like Laide Babayale, who were instrumental to the dynamism of the band's performance. Even if he'd stayed apolitical, Fela should be regarded for his leadership and musical talent. Barring Tony Allen's drum patterns, Fela wrote all the musical parts for his band, which included a full brass section, singers, and generally two bass and guitar players. He had a keen eye for talent and how his band were performing, with one member Lekan Animashaun stating that "you could not make a mistake that Fela didn't notice". The ability of Fela and the band to sustain such energy throughout 45 minute songs, (Fela was pushed by producers to shorten his songs to which he reportedly replied "I am playing African Classical music... you wouldn't mess with Tchaikovsky"), is something truly amazing.
Although Fela was a polarising figure, his songs had a huge impact in Nigeria and across Africa. Today, Nigerian artists like Burna Boy and Wizkid (who recently performed at a renovated Afrika Shrine club) continue to use Afrobeat in their work. Tony Allen, after leaving Africa 70, formed several of his own bands and collaborated with artists, including on rising Malian superstar Fatoumata Diawara's 2009 album Fatou, which I can't recommend enough. New Wave bands of the 70s and 80s are hugely indebted to Afrobeat, with Talking Heads even titling a track on their seminal album Remain in the Light "Fela's Riff". Artists continue to draw attention to the connection between Afrobeat and the Black Power Movement, with Beyoncé performing "Zombie" during her ground-breaking set at Coachella.
Today, Fela and Tony Allen must be celebrated for the creation of a new genre of music, for Fela's ability as a band leader and performer, and for his demonstration of the power of good music against oppression.