When she was only 18 years old, Cornwall-based singer and musician Molly Hocking was crowned winner of The Voice UK in front of millions of viewers. Entering the show with a spellbinding performance of "You Take My Breath Away", which turned the chairs of Olly Murs, Tom Jones and Jennifer Hudson, her winning single "I'll Never Love Again" instantly hit number one on iTunes. Signed to a record deal with Polydor Records, Hocking returned to the musical stage in full force last November with a stunning debut single, "After The Night Before".
We talk about her journey to musical success; Hocking's talent for music and performing originated at a very young age, having played Mary in her school nativity play at just six years old. "During the performance, I just remember thinking that I didn't ever want to get off the stage again," she remembers, "From that perspective, I was lucky in that I knew what I wanted to do since I was young. That was never the issue – I've always known that I wanted to be a performer."
After years of doing gigs in her hometown, singing in local pubs and small venues to build her confidence, Hocking's fierce determination to make it in the music world led her to audition for The Voice. I can't help but ask what we've all wondered when watching the world-famous talent show: what was it really like to be on The Voice? Hocking elaborates on her experience: "I went in as a very shy 17-year-old girl. I'd never really been to London by myself and I had no clue how to hail a cab or even use the tube. So I just found myself asking, 'what in God's name am I doing up here?' But as soon as I got into the studio, the whole team was lovely and it was a wonderful experience backstage."
"...if I pushed myself to write songs every day [in lockdown], I would have fallen out of love with music"
With Olly Murs as her mentor, Hocking blew the judges away with breathtaking performances of a range of pop hits, including "Stars" and "With You". Collaborating with the pop star was a definite highlight for Hocking: "It was amazing. I actually went to his concert when he was touring in 2013 and I was the biggest fangirl ever. I never thought I would ever be onstage with him and I am so glad that I have the opportunity to speak to him whenever I need to. We got on very well, like brother and sister, and he was so supportive and fun to be around."
I ask whether any one of her performances particularly stood out for her: "I always thought "Human" because I went in thinking that I couldn't belt or sing in that style. I think that was more of a mental barrier, saying that I was too scared and everyone else was better at belting than I was. But Olly encouraged me and said that I needed to show people the voice I had inside me. I think that was the moment when my mindset changed and I thought that I could really do this."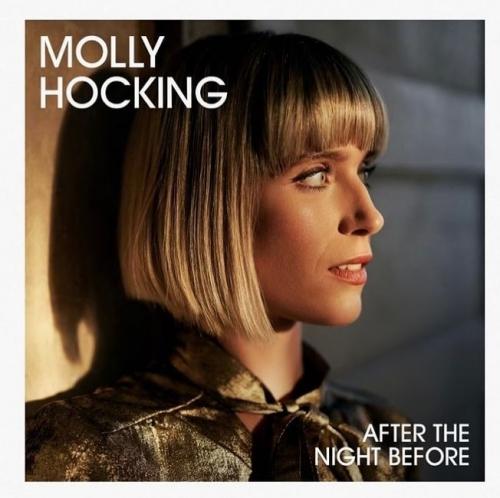 "I evolved so much during my time on The Voice," she continues. "My confidence came on leaps and bounds. I can feel it now every time I step on stage – I don't freak out: I want to be there. That's what The Voice gave me, the confidence to know that I can be in my own element when performing."
After winning the competition, Hocking went on to be a support act for Celine Dion at Hyde Park and was booked to perform on a Caribbean cruise at the start of 2020. But when lockdown hit, her plans – as well as those of most musicians – were forced to change. "I'm not going to lie, I found it very difficult," she admits. "I didn't really do very much during the first lockdown because I couldn't find the inspiration for it and I think that's absolutely fine, just to have a break. I needed it, because if I pushed myself to write songs every day, I would have fallen out of love with music. I came out of my break knowing what I wanted to do more than when I went in. I have finally got back into the spark, going back up to London and writing songs. It's really good."
She made a swift return to live performing after the first lockdown as a guest in the semi-final of The Voice UK. "It was the best feeling in the world. I left The Voice as a contestant, but I came back feeling a part of the family." she says, "It was an unreal experience to perform live for the first time for an audience in nine months."
"It's not all about dressing up and looking good. It's about being real on stage"
We move on to discuss the release of her debut single, "After the Night Before", a mystical ballad combining a delicate piano accompaniment with emotive, heartfelt vocals to reflect upon love's fragile, ephemeral qualities. "I was over the moon to finally release the song, because I wrote it about a year before it was released. It's a bit of a cliché – I wrote it about a break-up – but I also wanted it to be relatable to everyone who was listening to it. I wanted to focus it on the theme of timing, there's certain phrasing in the song that talks about being in the right place at the right time, so that's what I really wanted to portray."
"The highlight of the process was honestly just going into studios with different producers and trying to find my own sound as an artist," continues Hocking, "I've been in the studios with so many different people and it's so nice when you finally click with someone – you can write a song in about an hour. I'm excited to evolve more as an artist and actually find my true sound, because I don't think I've truly found it yet. I'm still experimenting and hopefully I'll get to a place where I'll realise what I want to be known as as an artist. Ultimately, I'm still learning every day."
Hocking cites her main musical inspiration as Eva Cassidy. "I love her style and what she stands for as an artist, wholesome and real," she says, "I've got music coming out that takes the route of Lana Del Rey a bit more too, the style that I want to graft myself into as an artist." Hocking takes the opportunity to elaborate upon the music industry as a whole: "It's progressing and evolving every second. I guess I'd just like to see more support for smaller artists within major record deals. I also want to bring realness back, it's not all about dressing up and looking good. It's about being real on stage, having a bit of fun. That's what life's ultimately about – having fun and relating to people."
This year, Hocking is planning on bringing out more music – having recently released the powerful single "We Can Have the World Tonight" – and going on tour with Olly Murs. "The only feeling I've really got for this tour is excitement – I haven't been on a festival stage for over 18 months," she says, "I'm so excited for people to finally be able to appreciate live music again. That's really it for now – learning as I grow, seeing where this lockdown takes me. Hopefully I'll do a mixture of both performing and song-writing, I love all aspects of music and so many different doors open up, just when you're not expecting them to."
With her new EP in sight and more performance opportunities surfacing with looser restrictions, Hocking continues to grow from her success at The Voice, and consistently expands her horizons as a sensational and soul-stirring music artist.