We live in an age where the global music scene is arguably more diverse than at any other point in our history. Although this is something to be celebrated, it can also make it easy to neglect some of the current issues that we face. For example, the very fact that music as a whole is so diverse often masks how individual genres tend to be lacking in diversity. Rock music is one such example, as for many of us the number of black rock artists can seem to be of little significance due to the popularity of hip-hop, just as the lack of female artists is somewhat mitigated by their prevalence in pop music. However, discussing the origins of rock music – and the cultural appropriation that established it as a major western genre – should perhaps encourage us to reconsider the significance of its limited diversity, and what this means for both the music industry and society as a whole
"Given that rock music's history is almost paradoxically based in both the simultaneous appropriation of black culture and the exclusion of black people, its current lack of black artists is perhaps of little surprise."
Background
Throughout the 20th century there were numerous examples of cultural appropriation in the West, with music and the other arts being particularly affected. In her 1973 essay Ripping off Black Music, Margo Jefferson discusses the social implications of rock music while also analysing the historical practices that paved the way for its appropriation. Jefferson and her fellow historians attribute many of the problems with rock music to the practice of minstrelsy which began in the early 19th century: this involved white performers such as Al Jolson and George Chisholm using blackface to mimic and deprecate black people as a form of entertainment for white audiences. The practice continued over the course of more than a century, with even the BBC having its own blackface programme entitled The Black and White Minstrel Show, which only stopped airing in 1978. As a result, minstrelsy in the West normalised both the appropriation of black culture for white audiences and the image of 'black' performers entertaining these audiences, despite the fact that black people were entirely excluded from these events.
The beginning of a new genre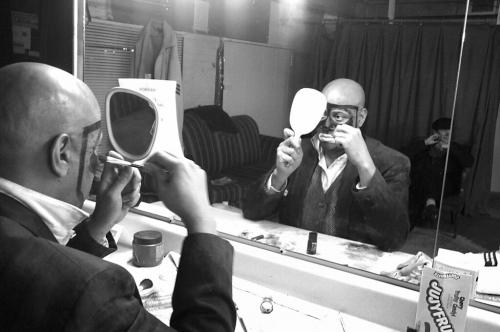 The birth of rock 'n' roll in the 1950s came as a direct result of both minstrelsy and the increasing popularity of rhythm and blues, which was regarded as a 'black genre'. As segregation laws were still in effect, the musicians, producers, managers and audiences were nearly all African American, however the lack of wealth and resources in their communities meant that they had limited access to radio broadcasting. Nonetheless, the music found its way to young white audiences through live shows and some recordings, prompting a reaction from white-owned radio stations and producers: the creation of rock 'n' roll. Driven by the commercial incentive, the new genre was manufactured by appropriating the musical features of rhythm and blues and repurposing them for white audiences. The success and popularity of rock 'n' roll surpassed those of rhythm and blues within a matter of years due to its exploitation of a much richer community, and soon the first rock stars such as Elvis Presley, Buddy Holly and the Beatles gained extreme wealth and fame. At its inception there were also a number of prevalent African American rock artists such as Little Richard and Chuck Berry who also enjoyed commercial success, however, this was in fact another direct link to minstrelsy. On the one hand, all rock 'n' roll artists performing for white audiences were arguably continuing the practice by appropriating the music of rhythm and blues artists, but in addition to this, the black rock 'n' roll artists themselves could be seen as another incarnation of the minstrel by performing for exclusively white audiences.
Jefferson labelled Elvis as the "greatest minstrel America ever spawned", due to the irony of him embodying the sentiment of minstrelsy without ever being formally recognised as one. Elvis allegedly never used blackface, openly denounced black people or proudly stated his cultural appropriation as a 'traditional' minstrel would, and yet he profited from black culture more than any minstrel before or after him. During his lifetime questions were raised about his authenticity and the extent to which he was exploiting black music, but this had little impact on his popularity or commercial success, and by the time of his death Elvis had almost become deified by the white audiences of the mid-20th century.
"A little over two decades after the process of appropriation began, rock had now engulfed the commercial space of rhythm and blues, forcing the original genre to evolve"
The death of rhythm and blues
By contrast, Jimi Hendrix was rebuked by his own people for playing rock music: in 1969 he was heckled at a concert which he performed in Harlem specifically for local African Americans, weeks after being idolised by thousands of white Americans at Woodstock festival. Hendrix strongly believed in diversity and racial equality, hoping that music could be used as a medium for achieving this, however many in the African American community viewed him as a traitor and a minstrel, with his race actually making him worse than the likes of Al Jolson in their eyes. When he was interviewed about the Harlem concert, he declared "I want to show them that music is universal, that there is no white rock or black rock" – a sentiment which aligned strongly with those of the civil rights movement of the time, but proved significantly less popular within the context of the music industry. Furthermore, this statement could be seen in many ways to signify the death of rhythm and blues as a musical and racial antithesis to rock music. A little over two decades after the process of appropriation began, rock had now engulfed the commercial space of rhythm and blues, forcing the original genre to evolve into R&B, a blanket term for soul and funk.
Given that rock music's history is almost paradoxically based in both the simultaneous appropriation of black culture and the exclusion of black people, its current lack of black artists is perhaps of little surprise. From AC/DC and Queen to the likes of Foo Fighters and Led Zeppelin, the genre is filled with examples of white musicians who in many ways follow the precedent set by Elvis and his contemporaries 70 years ago. On the other hand, the examples of Tom Morello from Rage Against the Machine and Tosin Abasi ofAnimals as Leaders) are proof that contemporary black musicians can still be successful rock artists, but it is evident that they are decreasing every year, opting instead to pursue careers in genres more commonly associated with black communities. Furthermore this is not unique to rock music or even music as a whole, with the appropriation of black culture being seen in various other areas of society, whether it be in fashion, dance, food or even language. The extent to which black culture has been appropriated in this context however, means that rock music provides one of the starkest warnings of how we must not allow aspects of our social and cultural heritage to be erased from history.