In April this year, the last thing I felt like doing was writing a happy, uplifting song. Lockdown was in full swing, bringing with it uncomfortable memories of the last time I spent months isolating – when I was treated for stage 4 blood cancer in 2019. Despite this, I ended up being involved in a project that came to define my lockdown experience: 9 young cancer survivors came together from around the country to write a song for the children's cancer charity CLIC Sargent. 
CLIC runs a residential music programme every year to help patients in remission regain a sense of confidence and enjoyment in their lives, through performances, song-writing workshops and special guests. When I took part in August 2019 it was one of the most enjoyable and important weeks of my life, ultimately giving me that final boost in confidence to get started on my music degree. Once we realised COVID would considerably reduce patient support, the 9 of us set out our aims: to show what could be achieved through the music programme, give some hope to current patients, and hopefully use the song to raise funds for the charity. 
Writing sessions started over video call, a medium that is not entirely conducive to creative collaboration nor the free-flowing sharing of ideas. Everything on a video call can feel like a business meeting, and writing music in real time is near impossible with people speaking simultaneously. It often results in muted awkwardness or anarchy. But slowly, a song formed. Instead of meeting minutes, each week I grabbed people's ideas and stitched them together into a rudimental demo.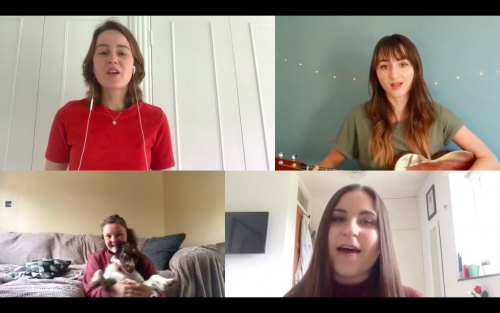 Our lyrics began to centre on our shared experiences of cancer - how we felt, being yet again the "vulnerable" members of society with many of us shielding.  We wrote directly to people diagnosed this year (on average 7 people aged 16-25 are diagnosed every day), trying to find some positivity in the small things – "I know you're under the weather, we can be alone together". There were points where I felt we were drifting dangerously close to the dreaded "cheese", but is that really avoidable when writing a song that's meant to be inspiring and comforting, created in the midst of these unprecedented times? The concept of strangeness has in itself become a cliché and perhaps lyrics are not cheesy if they come from a genuine place. From the writing sessions we had, it became clear that everyone was being remarkably honest about how they felt. 
Whilst musicians of all abilities were coming together (one of my favourite aspects of the project), it created a variety of recording experiences. Being the accidentally self-appointed producer of the track, I tried to make the task as easy as possible for everyone to make a good recording. I sent multiple backing tracks with different balances of instrumentals, clicks and my own guide vocals, but we had to persevere with the equipment available. Some used home studios with professional condenser mics and beautiful preamps, whilst others used iPhones in a noisy house (singing softly to avoid their family hearing). 
A huge amount of work went into post-production on the vocals, including; hundreds of tiny cuts and adjustments to make the group choruses sound well-rehearsed, more noise reduction than I thought was possible, and liberal amounts of compression and reverb. A top tip for producers – get remote vocalists to record dry and add similar reverb to everyone – it can add a much needed sense of continuity!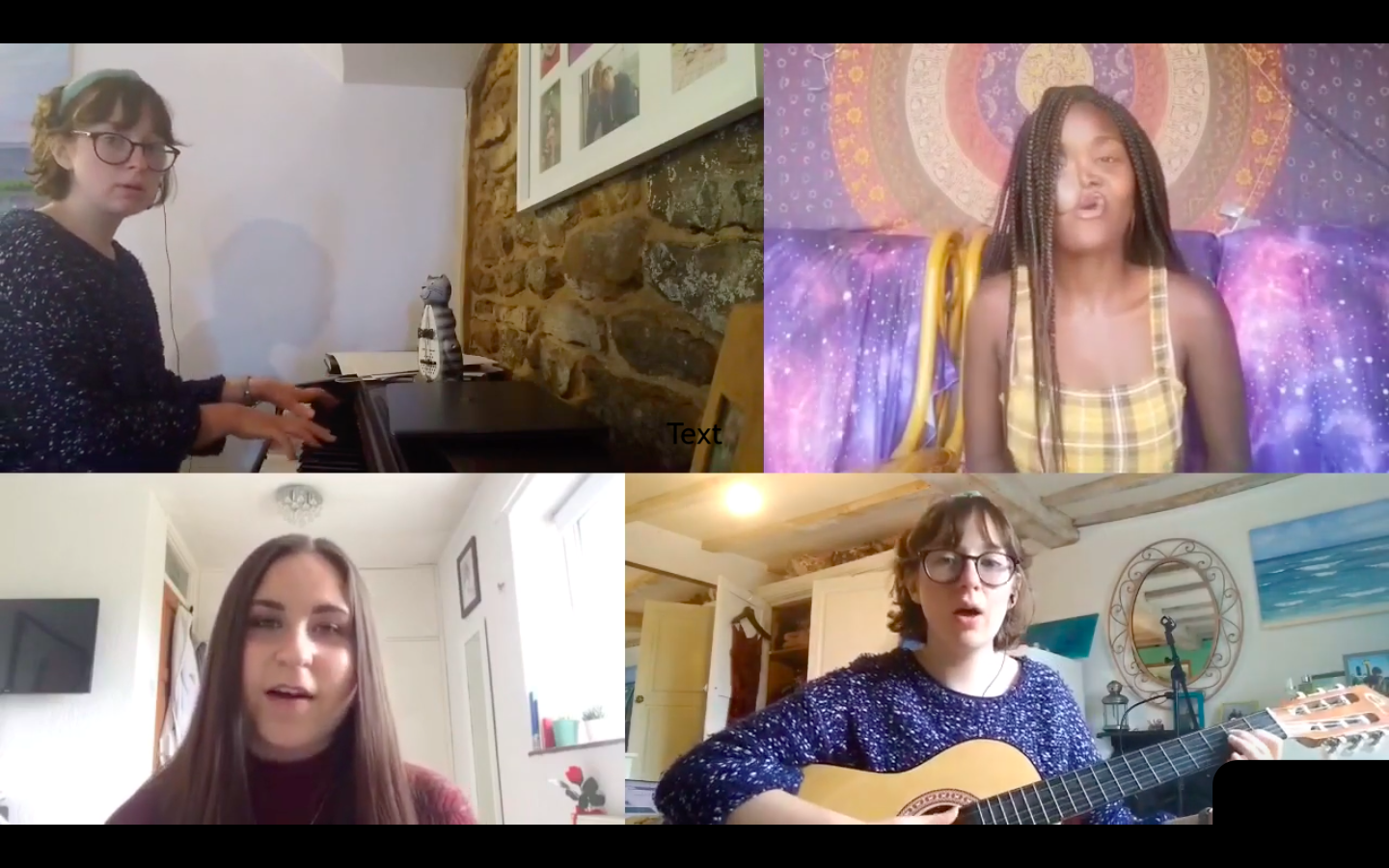 Whilst this track was never about sounding professional or perfect, it felt important to let everyone's singing shine in the best way it could. I felt a sense of responsibility as the producer; people were handing me work that they'd spend weeks writing, and if I didn't value that work, I'd be letting them down at the last hurdle. This track was unlike anything I'd worked on before; the sheer level of personal reflection and expression found within everyone's writing, the shared experiences of our past and the fact that they were my friends, all made it difficult to feel satisfied with the work. As the list of tracks in my Cubase session grew longer, I found it difficult to detach myself from the process. Several mornings in a row I woke up at 5am, wriggled my laptop onto my lap, remained stationary all morning and remained dissatisfied by lunchtime. Eventually, things seemed to fall into place, and suddenly it was done.
It was around this time that group motivation was at its lowest – just like lockdown, the project seemed to stretch on forever. When we heard the news that CLIC Sargent's music project had been suspended and its staff furloughed, we could no longer see an end point. We'd started this project to raise awareness and funds for the programme; now that it was gone, why finish it? I felt myself fall into a slump, unable to bring myself to open that project file one more time, or even check the group chat. 
"The people in this song are truly some of the most resilient people I've ever met"
Only when I thought about writing this article did I go back and listen to the song again, bringing with it a host of bitter-sweet emotions. The people in this song are truly some of the most resilient people I've ever met, I'm constantly in awe of them and feel lucky to count myself amongst them. But hearing this track is also a reminder of two years of recovery and rehabilitation, of lockdown anxiety and a time of loneliness. Listening to this track plays on my insecurities as an artist and producer – will people think it sounds awful? Should I go back and re-mix it?
I am proud to be sharing the song finally, so long after its completion. It's a difficult project to revisit but I believe it helped everyone involved to explain what it means to be a cancer survivor during a pandemic. Health and music have always been combined in my mind and it was no coincidence I dropped music for many months whilst on chemotherapy. Completing this project felt like a milestone in my recovery, and a chance to celebrate the recovery of others. I hope it can mean something to others going through their own health struggles now. 
Sources and links
https://www.cancerresearchuk.org/health-professional/cancer-statistics/statistics-by-cancer-type/young-peoples-cancers#heading-Zero
Here is a link to Clic Sargent's Music Programme:
https://www.clicsargent.org.uk/what-we-do/for-teens-and-young-adults/clic-sargents-music-programme/
And the song:
https://www.youtube.com/watch?v=xt3lITwjS3c&feature=youtu.be&fbclid=IwAR0-pJTHsb8064548A3NrDwQJTl5hgnXxhMGIw5m-3fdNw9X9DSs81JvqCo