Pets mean a lot to us all at the best of times and often, at the worst of times, they mean even more. That is why Lifestyle has put together a selection of student statements on what their pets have meant to them in this past, and often very trying, year.
Jack & Bella
"This is Bella, my Jug! With all of the cuteness of a Pug and the typical temperament and mental characteristics of a Jack Russell, she really is a 'man's best friend', though she is also very open to being the best friend of any person of any gender!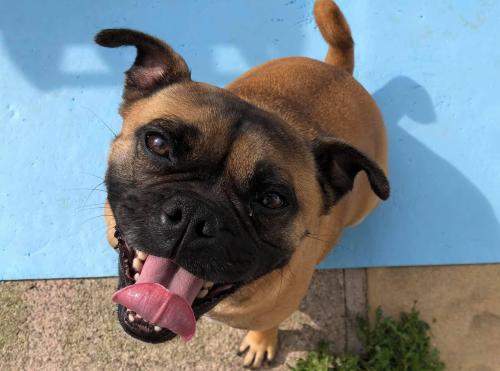 Bella is a beautiful and adorable dog who is very loving and (at times) intelligent. She is beyond affectionate (read: needy and attention-seeking) and loves nothing more than an indulgent fuss and tickle session, especially on her chest and tummy. A particular favourite of Bella's, in this regard, is her habit to just flop onto her back with her paws tucked up to her chin. No amount of time spent indulging Bella is enough though, and cessation of this cosseting will almost immediately be met with cries and barks as she stares you down in a stand-off, demanding further tickles! I must admit however, that Bella is often the victor of these stand-offs. She has cracked me — and made a dog lover of a person who once never wanted a dog.
When I'm in Cambridge, there are few things I look forward to more than seeing her irresistible excitement as I walk through the door, spinning in little circles before ultimately flopping onto her back. As the weeks go by, I know that it can't be long until I'm taking her out for walks again. Though she can be annoying, running between and through your legs like an adversarial shadow, constantly begging, and having moments where she seems to take complete leave of her senses, Bella is my best friend and I love her." — Jack Bailey
Jessa & JJ
"The pandemic has brought about so much uncertainty in our lives. But if there was one thing that I was most sure about this year, it was that my pet was there for me no matter what.
"This meant having a fun companion during the times that we were not even allowed to hang out with our friends and family"
JJ is a little over two years old. He is a Chocolate Labrador who sometimes thinks that he is a lap dog, his silliest attribute when we go on car rides. We would go out on adventures such as hiking and swimming at the beach during the lockdowns, which he loves so much. This meant having a fun companion during the times that we were not even allowed to hang out with our friends and family.
As I had to fly to Cambridge for my degree, I had to leave JJ at home with my husband. However, this has not stopped JJ's role in putting a smile on my face despite the distance. JJ will always be put on video call for me during finishing my assessments and getting through course work — which pretty much means every day!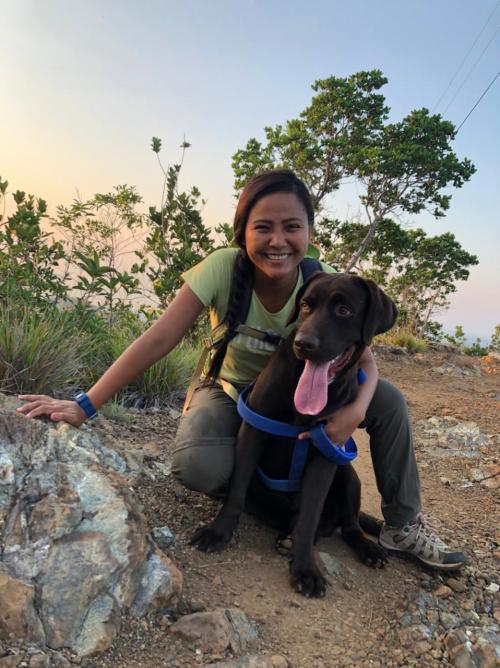 This year would have been unimaginable without JJ in our lives. We always reflect on how lucky we are to have a goofball by our side during the most challenging periods we have faced. His tail wagging at us makes us feel that we can give love and be loved back, and this is important, especially when we are so remote and detached from most of the world!" — Jessa Garibay-Yayen
Cameron & Miranda
"Just before I was offered the opportunity to contribute to this article, a friend of mine sent me a picture on WhatsApp live from IKEA of a mug emblazoned with the message 'Ask me about my dog please', which gives you an idea perhaps of how much I talk about my canine companion on a daily basis. Without further ado, I present you Miranda (pictured above). I would love to give you an idyllic etymological description of how I named her after the Latin verb miror (to wonder at), and indeed she is an object of much awe and amazement, but the truth is I named her after Miranda Hart's character in the eponymous early 2010's BBC comedy. And to be honest, I'm not even sure why. I think the possibility of a Cocker Spaniel having that name was just too absurd to pass up.
She is five and a half years old, a very good girl, and my lockdown hero. During the slightly unsettling times of remote study in Easter last year and Lent just gone, she was always there to keep spirits high and make me laugh, rolling on her back for a belly rub almost on cue every time I entered the same room. Whether it's her first time chest control when I play football with her (a skill which I've never quite seen another dog exhibit); her barking in search of shoulder massages; her constant post-walk smiling and tail-wagging; or her attempts to somehow hide treats in the living room in plain sight; her idiosyncrasies are one in a million.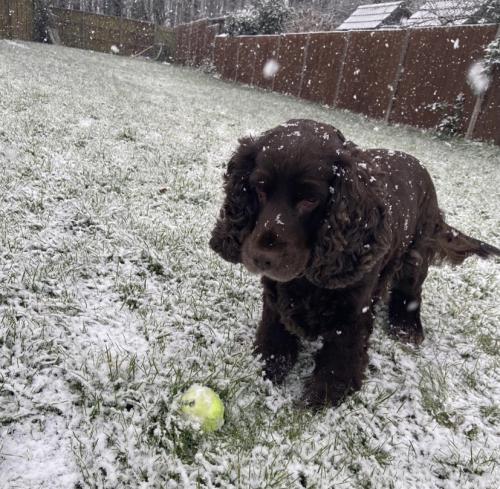 However, what makes her particularly special to me is that I bought her just after the passing of my dog-loving and beloved grandma in 2015, and she filled a great void in my later teenage life: I cannot think of a better way to honour her memory than with one of the purest dogs to ever roam Earth (not that I'm biased or anything). Regardless of whether I'm sitting on the sofa next to a curled-up snoring Miranda at home, glancing at her on my lock screen from Cambridge or watching her on FaceTime from afar, she's precious and spreads joy to everyone who meets her. " — Cameron White
Sean and Peewee
"The swirling uncertainty of the early pandemic days also brought a little extra joy into my life: my partner moved into the house I was sharing with a few housemates, bringing her dog Peewee along with her. I had already seen the ways Peewee was such a support to her, and quickly found out for myself how special he was to have around on a daily basis.
Peewee quickly became a integral part of that pandemic family, offering a daily dose of uplifting stories about his escapades chasing squirrels in the backyard (among other such silliness) that we could share with each other, all his endearing little quirks, and an unlimited supply of snuggles.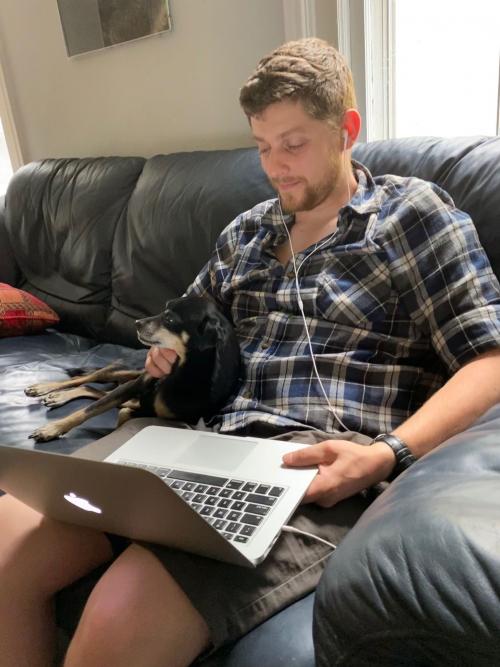 Having that weird, crazy, cute little dog lifted all of our spirits in a way that's hard to capture in words, and transformed each day trapped inside into something to be genuinely looked forward to." — Sean O'Hare