Scrolling through Instagram is a daily habit for many, as is a feeling of being overwhelmed by the sheer amount of content the platform offers. It is no wonder that the Instagram influencer has become a coveted job, yet it can be difficult to distinguish different content creators from each other amidst a constant stream of similar photography. That's why when I came across Camille Yolaine's account (@camilleyolaine) in my routine search for fashion inspiration, I immediately found myself immersed in a quaint curation of Paris, filled with picturesque locations like the Luxembourg Gardens or the Maison du Balzac. More striking was her effortless, Parisian style, consisting of pastels, florals and classically worn-in red lips. Completely intrigued, I spoke to Camille about her influences, life in Paris, and her desire to break away from the unrealistic standards often portrayed by influencer culture.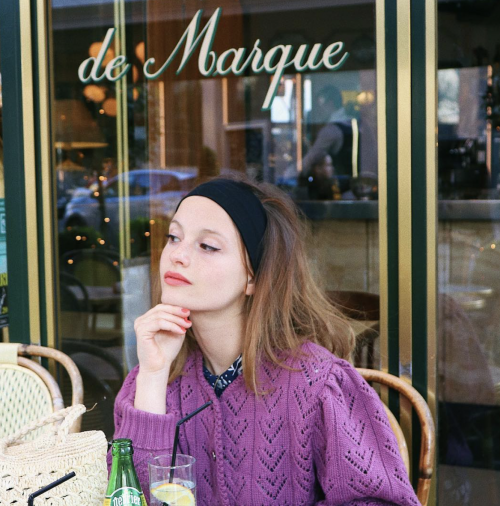 "I've been living in Paris for eight years now, and I do have to say this city is the very essence of French style", says Yolaine as we begin to discuss the influence of Paris on her personal style, "I come from Alsace, in the east of France, where the relationship to fashion is very different (even if it has changed a bit now with social networks and everything) and I started dreaming of living in Paris in my teenage years". It's impossible to not dream of living in Paris, especially if you're immersed in the fashion world: the couture-filled windows that grace Avenue Montaigne, as well as its globally-watched runway shows make Paris the beating heart of fashion in France. "I was fascinated by the aura Paris had and was certainly not disappointed when I moved here", remembers Yolaine, "there's something about Paris that makes you feel like you're constantly in a movie - when you dress up it's almost as if you were wearing a costume". Certainly, the attitude towards fashion feels different in Paris, and Yolaine notes that this struck her when first coming to Paris. "They were mixing vintage pieces with haute couture, and looked like they didn't care about their outfits but actually did more than they thought. It was very new to me at first but then I went with the flow and do the same now!"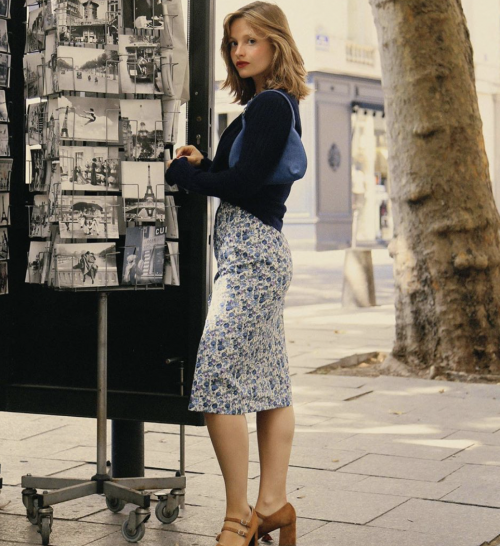 There's much discussion surrounding French fashion and style: notorious designers from the likes of Christian Dior to Nicolas Ghesquière have cultivated an image of intricate craftsmanship, timeless silhouettes and an enduring sense of style. Yet, there's something unique to Paris in particular, as a fascination with Parisian style has developed a cultural icon of the Parisienne. "It's funny because I actually wrote my master thesis on the myth of La Parisienne", recalls Yolaine, "doing my research I realised this fascination people have for the Parisian woman is way older than icons such as BB, Françoise Hardy and Nouvelle Vagues actresses". I learnt from Camille that "people have been influenced by Parisian courtisanes and French queens (Marie-Antoinette, obviously) back in the days, and what was so interesting for other women (and men!) about the Parisienne was that she was considered a very driven, hence erotic, hence free woman". There is a paradoxical element to the Parisienne: whilst many attempt to recreate this style by following specific trends like the classic red lip or by keeping it focused on the effortless basics, Parisian women rarely have to try as hard to achieve the same look. " I realise that the Parisienne being an embodiment of freedom still exists nowadays; we talk about the famous effortless chic Parisian look, and it's fascinating to think that Parisian women are trendy precisely because they do not follow trends".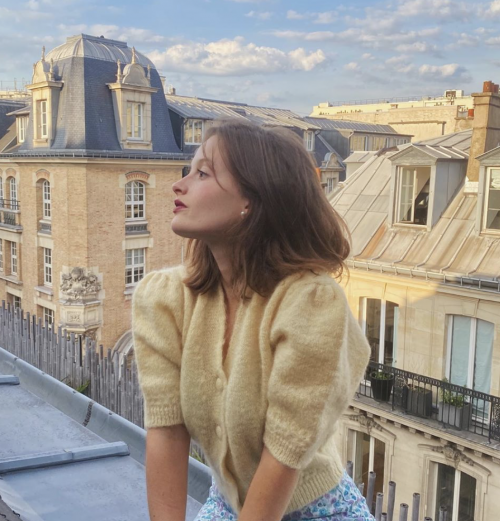 Whilst looking back at classical influences, the women of the Nouvelle Vague, such as Catherine Deneuve (who was once married to famous English photographer David Bailey, no less), certainly are the crux of the Parisienne. Women like Deneuve built up an 'aura of mystery', and their liberating approaches to style were one of the elements that made them a new model of the modern, free woman. Yolaine echoes this sentiment, saying "the story and success of Brigitte Bardot are deeply linked to the fact that she was one of the first women to live freely; her character in And God... Created Woman started a big debate when the film came out because she was a sexy young woman who lived by her rules and dated many men, which was revolutionary at the time". It's hard to believe that "her mambo dance scene created a revolution at the time. It was censored in many countries and people in the US burnt theatres in protest because of it", yet Yolaine strikes a chord within contemporary women in saying this: aspiring to dress like a Parisienne means acknowledging that it wasn't always an accepted mode. "So yes, I do think that self-confidence and femininity play a big part in the image of the Parisian woman", concludes Yolaine. "She's daring and playing by her own rules, which is inspiring for women all around the world". 
"To me, it's much more than fashion" says Yolaine of the Parisienne. "Of course we have brilliant créateurs in Paris who define fashion, but the Parisian woman is more than just a beautiful woman (not to mention the fact that even if there is the cliché of the Parisienne rocking a fringe and Breton too, there are so many different women who are Parisian in their own way)". It's a two-fold concept, consisting of attitude and intellectual independence. The attitude is "something between breeziness, sexiness and carelessness that is very hard to define but characterises Parisian women", observes Yolaine. Most importantly to Yolaine, however, is that "she's deeply linked to arts, culture and feminism". "We had Simone de Beauvoir, Françoise Sagan, Colette, Sarah Bernhardt... [they] represent the French woman before all the fashion icons, and being proud of this cultural background is part of French style". That's why "the Parisienne being independent and not needing a man to be famous and stand for herself is key", believes Yolaine.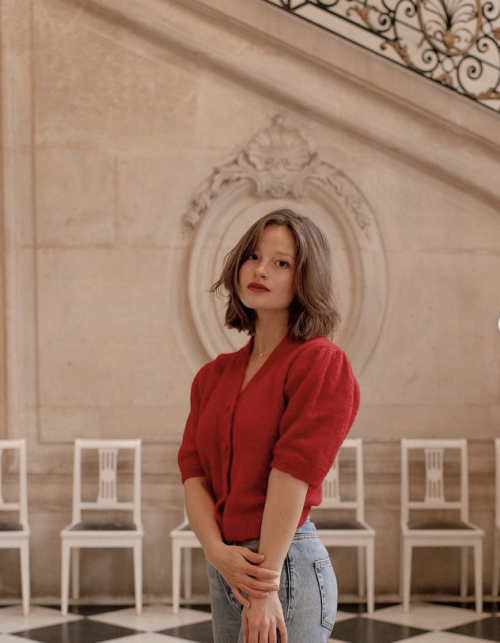 This weaves into Yolaine's own personal sense of style. "Of course I'm fascinated by Nouvelle Vague icons - who isn't?", she remarks with a breeziness. "When I watched And God... Created Woman for the first time I fell in love with Brigitte's confidence. She's moody, she's selfish, she's fussy, she knows her looks are a weapon and doesn't care about using them". It's an unapologetically raw and confident attitude that most women would aspire to, regardless of originating from France or not. Getting personal, Yolaine admits "I'm the very opposite of her character (shy, with body issues) so obviously I love her in that film because a part of me longs to be a bit more like this sometimes". 
Touching the surface of her issues with self confidence, Yolaine's rise to Instagram fame wasn't something she initially aspired to. "It wasn't calculated", she says. "I started modelling for a small Instagram vintage shop and all my pictures were shared by big Parisian influence accounts". This led her to gain a mass following: "I quickly gained 2000, 10000, 50000, 150000 followers in a year only". It's a massive achievement, yet Yolaine comments that "it's crazy because I never thought it would happen to me (again, self confidence problems), but I'm very grateful it did, because it helped me create content that I'm proud of". She goes on to speak of some of her work from the past year (recently shooting for Creadose magazine), saying "I've been meeting and working with amazing photographers and brands in the past year thanks to that". There's certainly something to be admired when it comes to Yolaine's photography: from taking her own photos to using film, there's a constant editorial, slightly vintage feel that's special.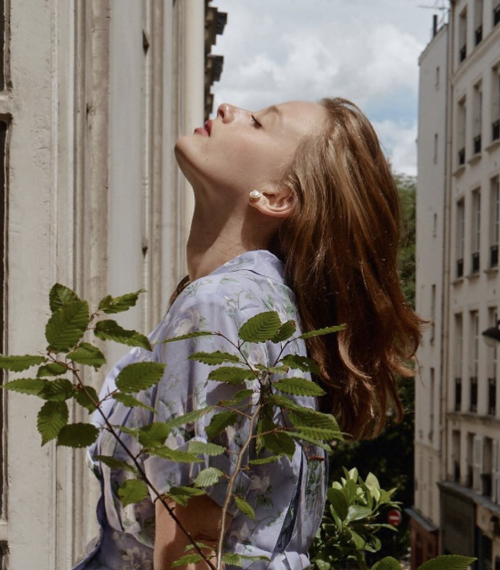 Whilst it "still feels like a dream", to Yolaine "it's also pretty hard to deal with sometimes". That feels perfectly summative of the world of the social media influencer: it can be hard to strike a balance between reality and seeking to satisfy unrealistic beauty standards, which is something Yolaine struggles with. "As a petite, not skinny girl, I sometimes do feel like I don't fit in", she says. "All the Parisian influencers have legs to die for, gorgeous hair, model bodies, and I'm just sitting here cropping my pictures because I don't like how my thighs look". As a follower, I can certainly say that I find myself aspiring to Camille's aesthetic, yet her openness shows just how widespread body insecurities can be. " I've always had body issues and at first it was very difficult for me to realise that I would never reach the standards of the Parisian woman (cliché wise)", she admits, but notes that this perception has changed over time. "I've realised it's also a strength, and that I shouldn't hide who I am. Which is difficult when you receive pictures from photo shoots and realise the photographers have used Photoshop on your legs to make them look thinner and longer even though you didn't ask for it". 
One thing's certain: Camille Yolaine is an influencer that's ushering in a wave of change in the industry. "Sometimes people want to make you fit in standards. I hope I can change them a bit": it's a powerful statement that's summative of the changes that need to be made to social media content. It's time we started valuing creators for more than their aesthetics, which Yolaine feels passionately about. "As I'm into arts and literature, I'd like to show more of this side of me on Instagram. Yes, I have a cute face, but I hope I can bring more than just pretty pictures and start sharing cultural content that will make people know more about who I am as a person, not just an image".