About 10 minutes into the documentary A Crack in the Mountain, the camera cuts to a shot of Vietnam's Sơn Ɖoòng caves. Light streams in from a hole in the roof, a person walks up to it on a rock that pokes above the water. Seeing the shot in motion as the camera draws back, cutting between different angles as the person walks toward the light is nothing if not breathtaking.
"Breathtaking" is a word that comes up a lot in A Crack in the Mountain, and, as I sat down with (or, more accurately, talked via Zoom with) director Alastair Evans, he echoed that sentiment. "I always come back to what one of the guests says: 'it is a cliched phrase but it truly takes your breath away.' You do struggle to breathe at points because it's just this vista running off into the distance."
Evans first travelled to Sơn Ɖoòng in 2017. On this early trip he told me he was, "just trying to do this sort of innocuous 20 minute nature documentary about this cave but it was such an amazing experience I wanted to do something bigger." The film became a 40 minute short film, then a triptych which would describe the cave through the perspective of a local, a tourist, and a guide. But, in 2019, Evans said he "realised the bigger story was not so much the cave but the impact the cave had on the local community."
A Crack in the Mountain ended up, then, as a documentary about the battle between different perspectives on how (or if) Sơn Ɖoòng should be developed. The film is full of different voices - expats, local people, developers, tourists, tour guides, and activists - each with, expectedly, different opinions but all with a strong connection to the cave.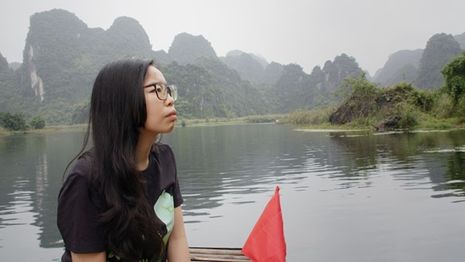 Possibly my favourite subject of the documentary is the very cool Huong Nguyen. Nguyen is the founder of Save Sơn Ɖoòng, a campaign that aims to preserve the cave from increased tourism. As with most of his subjects, Alastair spoke highly of Nguyen, but he also illuminated some of the struggles of being an activist in Vietnam: "Huong, I filmed over many many years. If you actually watch really closely she actually doesn't say really anything controversial at all. She speaks in terms of facts, she doesn't really offer personal opinion, she's very clear to say that her campaign is not a political campaign, it is an environmental campaign."
After we meet Huong, the documentary guides us through her methods of protest. She had begun a placard campaign a few years prior and, in an attempt to capture that effect, Evans decided to create a time lapse, showing Huong's friend "holding a sign in different parts of Ho Chi Minh for about five or ten minutes" at a time. This did not go down particularly well: "they all went 'yeah… not sure about that,' and I went 'No I'm sure it'll be fine.'" As usual, the locals were right: "We started by this very innocuous road and within ten minutes this undercover cop had shown up." There is a palpable anxiety to the shot Evans managed to capture here, as Nguyen nervously admits to the camera that circumstances like this are all too commonplace.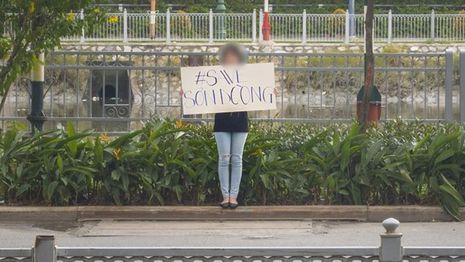 This was early on in the almost five-year project and Evans was inexperienced; he described the moment as an "eye opener". "I didn't realise how high the stakes were," he admitted. It prompted a change in the direction for the film beyond the ecological piece he had originally conceived – it also became "a dense excavation of the socio-political situation in Vietnam."
This political situation is situated in Phong Nha, the town surrounding the cave, one particularly struck by poverty and a frequent bombing site during the Vietnam War. For some in the town, the promise of increased tourism to the Sơn Ɖoòng cave is a welcome one, regardless of its disputed sustainability. The suggested building works would destabilise the millenia-old habitats within the cave and the threat of increased human activity would massively disturb the, until now, entirely preserved wildlife.
A Crack in the Mountain approaches this unbalanced area with delicacy. It would be all too easy for Alastair to come in and offer a solution, but instead he lets the people that live there talk for themselves. The expats and the natives converse onscreen and, over their voices, Evans has interspersed clips of the caves' natural beauty. "I didn't want to make an argument," Evans told me. For him, making the documentary was about telling stories and "letting the audience decide." The finished project ends up feeling deeply empathetic to the people of Phong Nha.
Rather fondly, Evans recounted "three very boozy hours" spent with some Phong Nha locals. "There are no town halls, there is no public forum of any sorts, no one takes what they think into account. They're just told by the local government what is going to happen. So, again, I really wanted to give them a voice in the film." The problem, though, lies in the censorship of the Vietnamese government. Those three boozy hours had to be cut down to avoid consequences: "at best they would have been fired from their jobs, at worst they might have been put in prison."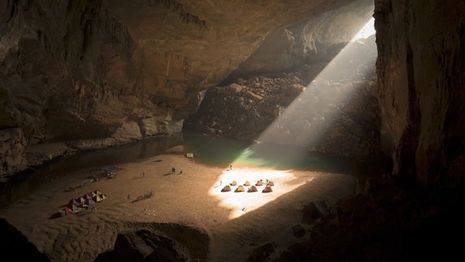 What was conceived by a traveller in 2017 as some pretty shots for YouTube has become a feature-length documentary that offers nuanced insight into the problems of balancing sustainability and socio-economic struggles. A Crack in the Mountain doesn't try to solve that debate – instead, it simply offers the stories of the people living on that very frontier. And, as Alastair learnt on the side of a Vietnamese road – maybe we should listen to the locals.
A Crack in the Mountain is previewing, along with a live Q&A from Alastair Evans, at the Arts Picturehouse on the 1st of June.