Mr Burns from The Simpsons
Mr Burns from The Simpsons (1989-present) must go down as one of TV's greatest ever villains. Sitting upon hordes of money while his nuclear power plant falls apart, poisoning the local area and only functioning because he bribes local safety inspectors, Mr Burns is avarice incarnate. However, it is his emotional and physical weaknesses that make him such an interesting character, an almost bathetic rendering of 'The Man'. The only thing he hates more than a union is being without his teddy bear, Bobo. This wild juxtaposition is what makes him so… as he would say… excellent…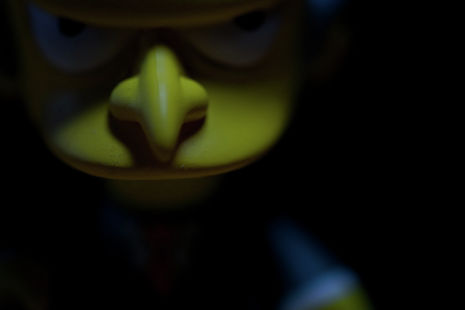 Available to watch on: Disney+
Lewis Andrews - Theatre Editor
Kilgrave from Jessica Jones
Is there anything David Tennant can't do? My pick for top TV villain is his character Kilgrave, from Marvel's series Jessica Jones (2015-19). Sycophantic-romantic-gone-psycho, Kilgrave as a villain deserves a 5-star rating for all round 'evilness': he is quite literally awful. What makes him such an exceptional villain, however, is the charisma and empathy with which Tennant plays him; it's almost like his lovable Doctor Who has an evil twin. He is terrible and does terrible things — don't get me wrong — and yet he carries the series, as his love-hate (but mostly hate) tension with lead Jessica Jones (Krysten Ritter) crackles excitingly across the screen. That, and you could also go as far as saying that he doesn't need his super villain power of mind-control when he looks that good in an all purple suit…
Available to watch on: Apple TV, Amazon Prime Video, Disney+
Lotte Brundle - Vulture Editor
Judge Claude Frollo from The Hunchback of Notre Dame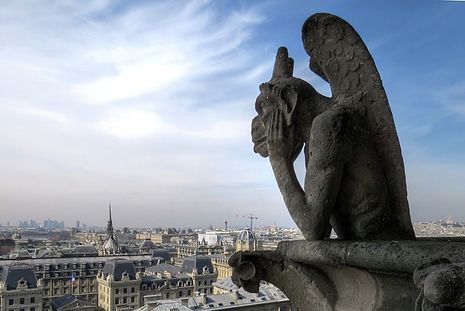 Despite its fairly forgotten legacy, The Hunchback of Notre Dame (1996) boasts a brilliantly evil antagonist. Frollo's menacing nature lies in the fact that he is not a queer-coded outcast, much like all the other Disney villains. Instead, he is the face of authority itself. You can keep your 'Be Prepared' and 'Poor Unfortunate Souls' because 'Hellfire' is the pièce de résistance of Disney villain songs, and it takes Victor Hugo's novel to a new dimension. As the triumphant bell ringing switches into the minor key, Frollo questions his Christianity and victim-blames Esmeralda for seducing him while giant, hooded figures chant "mea culpa". It's excessively heavy, but it teaches children that the leaders of society are not always as righteous as they may seem.
Available to watch on: Disney+
Catrin Osborne - Film and TV Editor
The villagers of Saint-Robin from Le Corbeau 
What could possibly be better than one classically evil villain? Multiple classically evil villains. This is exactly what you get with each one of the dastardly villagers in Le Corbeau (1943), none of whom are completely free from blame. Someone has been sending poison-pen letters signed by 'le Corbeau' (the Raven), revealing the villagers' secrets to one another — abortions, affairs, cancer diagnoses… The blinding light of suspicion sweeps over every suspect. But it could never be as simple as the first suspect: an austere nurse pursued through the streets by an angry mob, her black habit flapping like the wings of a raven. Slowly, the village's anger mounts along with threats of reprisals to a bloody climax. A five-foot-something mother slays the Raven before stalking off down a sunlit street, dressed in yet another raven-esque black dress. Hypocritical, moralising and mistrustful, the villagers are the epitome of the villain in us all.
Available to watch on: Amazon Prime Video
Nadia Sorabji Stewart - Film and TV Editor
Ursula from The Little Mermaid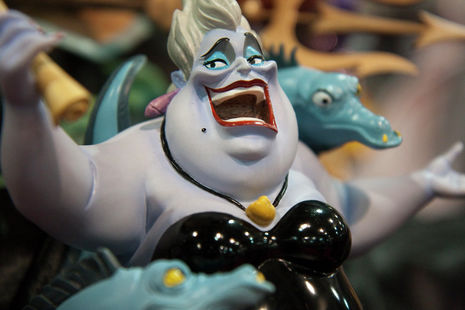 There is something utterly bombastic and camp in Ursula, the glamorous, tentacular under-water villain of Disney's The Little Mermaid (1989). She's a bodacious baddy who, in her quest to get even with the man who stole her kingdom from her, uses every trick in the book in order to get her way, including, but not limited to, "Body language". Not afraid to exploit the male gaze for her own gain, Ursula is definitely the animated villain that's stolen my heart. This interpretation of her, however, does make me wonder why villains are so frequently made not only camp, but also given purple as their signature colour? Maybe we should be asking why animated Disney villains in particular are so often queer-coded, and what this tells us about the traits Disney characterizes as 'evil'...
Available to watch on: Disney+
Lotte Brundle - Vulture Editor