When striving for peace is punished, courage must prevail. Peter Biar Ajak, a peace activist and PhD student at the University of Cambridge, was contending for peace and youth leadership in his native South Sudan when he was arrested at Juba Airport on July 28th, 2018. Since being taken into custody at the notorious South Sudanese prison known as the Blue House, Peter has been held without receiving formal charges, delaying his right to legal representation and any attempts at release.
Peter was one of more than 20,000 children who became known as the "lost boys" after being separated from their families and fleeing their villages during Sudan's civil war. After walking a thousand miles to reach Kenyan refugee camps, during which more than half of the children died, almost 4,000 boys were resettled to the US in 2001. Peter was one of them.
Peter retained his South Sudanese citizenship even after living in the US for many years. "It speaks to what his character is like", Dr Stephanie Diepeveen remarks, as Peter chose to retain the bond with his country of origin which he has continued to uphold for all his life. After receiving a Bachelor of Arts in Economics at La Salle University, Peter went on to become a Public Service Fellow and attain a Master's degree at Harvard University, before studying towards his PhD at Cambridge's Department of Politics and International Studies.
I spoke to two of Peter's colleagues and friends, Dr Stephanie Diepeveen, the deputy director at the Centre of Governance and Human Rights, and Halimatou Hima Moussa Dioula, a PhD candidate at the Centre of Development Studies and former president of the African Society. Both emphasised the profound impact Peter has made on his community at Cambridge.
"His detainment is part of a much bigger human rights issue"
The youngest nation in the world, South Sudan was established in 2011 following several decades of internal conflict. The possibility of peace envisioned through the establishment of an autonomous state was short-lived, however, with a new civil war breaking out in 2013 and devastating the country ever since. According to the annual World Report, the civil war has caused the internal displacement of over 2 million people and the refuge of a further 2 million to neighbouring countries. Diepeveen points out that his detainment is "part of a much bigger human rights issue", which has been devastating South Sudan. Amnesty International reports the detainment of hundreds of individuals since 2013, held in various detention facilities across the capital city of Juba. A recent investigation by Amnesty reports the poor conditions of the detention centres, with a deterioration of the health of the captives, who are frequently beaten during interrogation, forced to sleep on the floor, and denied access to adequate health care.
As an active commentator on South Sudan's policies, Peter has written for publications including the New York Times, BBC, Al Jazeera and CNN. Since 2013, conflicts have been widespread in previously peaceful regions, partially triggered by disagreements between the parties of President Salva Kiir and former Vice President Riek Machar. In a country with over sixty indigenous groups and eighty linguistic partitions, Peter urged the importance of building a constitutional government that reflects South Sudan's ethnic diversity, and the promotion of a "common understanding of national identity."
Dioula points out that because South Sudan is "a country in the making", the youth play a crucial role in "building their nation". As a founder and chairman of the South Sudanese Youth Forum, Peter was at the forefront of a vision promoting peace for a new generation. Citing its main goals as being to "mobilise, inspire and bring together young leaders from across South Sudan and its diaspora", the Forum has united members from various ethnic and political backgrounds in a representation of South Sudan's demographic diversity.
"We need more young people like Peter, especially in countries where such voices are direly needed", Dioula says, "We need people who are brave enough to speak out in a way that furthers the common good.
"Peter has managed to do this in a very peaceful way, being a regular commentator in the media of both South Sudan and Kenya. He has a very keen understanding of the various social and geopolitical dynamics in both the country and entire region. Beyond that, I think the fact that he has managed to bring both the diaspora and the young people in South Sudan together on a common platform could be perceived as a threat by the government."
Peter's actions may encourage our own engagement within a volatile political climate: "Recognising and supporting what Peter is doing within South Sudan is important if we are concerned with our own politics," Diepeveen says. "Peter cares about the country that he's from and has created a campaign around peace that brings people together." It is important to recognise that all over the world we are facing a similar challenge, and "that there is space to act, space to have a voice, and that inaction can be detrimental. Using Peter's example not just to support him but also to see what it could look like to be an activist for a better future in our own countries."
"Peter's involvement has always focused on the promotion of peace and, in his own words, a way out of war and fragility"
Peter was on his way to attend a youth forum in Aweil when he was arrested at Juba airport. The motives behind Peter's imprisonment remain uncertain. Neither the National Security Service (NSS) nor the government have released a statement specifying the circumstances of the arrest, and remain unresponsive to the petitions and appeals made by institutions, including the open letters released by the University. In recent months, as part of a peace deal, President Kiir has announced the pardoning of political detainees. "What's interesting is that they're releasing people for crimes in civil war, but the status of Peter, who is in prison for peace activism, remains unchanged," Diepeveen says. Peter's involvement has always focused on the promotion of peace and, in his own words, "a way out of war and fragility".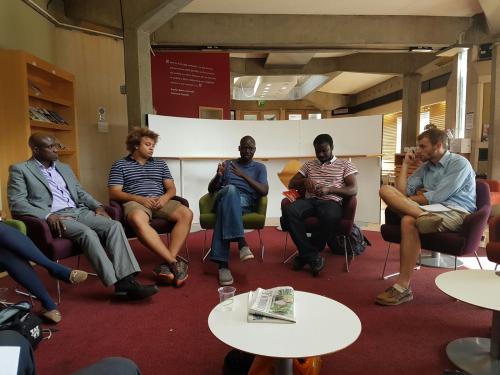 As Dioula emphasises, "all of his statements speak to a process that would build a more peaceful South Sudan, a process that has been ongoing." Peter can be considered a "prisoner of conscience," a representation of how the promotion of peace is punished in today's political climate.
Whilst student-led marches have been held in New York, Washington and Boston, comparatively little action has been taken in Cambridge, with less awareness of Peter's campaign circulating throughout the student community. Peter's status as a PhD student, and the structural difference between the undergraduate and postgraduate community may have contributed to this lack of recognition.
"The nature of student body culture around the UK is different in the US," Diepeveen says. "Whilst undergraduates here are located around their departments and colleges, the postgraduate community revolves around the department but oftentimes doesn't have the same extended network of support."
Peter's arrest at the end of July meant that the majority of students were also not present on campus, hindering the spreading of campaign awareness. Whereas the early start of US institutions meant that marches could begin to be organised in September, the Cambridge term starts much later. As a PhD student spending a lot of time undertaking research in South Sudan, many of Peter's peers have also graduated.
"Whilst he is a known figure within the African Society, and is deeply rooted in activities around the University, he might not be known personally by individuals who are here at the moment," Dioula concludes.
Despite not organising physical protests, some of the very first statements campaigning for Peter's release were issued by the Cambridge community. The Centre of Governance and Human Rights made immediate contact with South Sudan's Inter-Parliamentary Group, and arranged for petitions to be signed by the House of Lords and members of parliament. "That was a moment where the actions of students were great," Diepeveen recalls. "We were emailing and calling members of parliament, receiving direct responses that MPs had added their signatures because of the students."
Dioula adds that "the initial petition released from Cambridge was signed by hundreds of scholars, not just from Cambridge, but also from Harvard University, like Samantha Powers, the former US ambassador to the UN, and several US senators."
The action and initial response stimulated at the beginning of Peter's capture did not simply dissipate on their own - South Sudan's political climate has had its own particular role in their fading. "We need to understand that Peter's situation is situated within a larger, complex issue in South Sudan itself. We would not want our engagement to be detrimental to the process of Peter's release or at least bringing charges to him", Dioula says, charges which would be productive because they would enable judicial action to take place. A hesitance or resistance within the student body to speak out against issues and to demonstrate may further contribute to the little awareness surrounding Peter's campaign.
It is difficult to assess whether this reluctance to act is rooted within a larger tendency of today's youth towards being compliant. "A university like Cambridge is often a stressful place to be a student," Diepeveen remarks. "The desire to achieve can create an insular focus, where your own issues can seem so big and so stressful on their own, that we can forget that our voice matters. Being part of or speaking out against something is important, because we are trying to contribute to the world we want to live in. If everyone believes that, then in numbers we can have an impact."
Dioula adds: "Maybe what might look like a lack of active engagement from the student community is really a lack of awareness. As much as everyone is busy with their own lives and issues, people tend to speak out when its something that matters. This is one of those situations.
"Peter's experiences particularly speak to international students, who may choose to go back home and make a difference in their own communities. Many people talk about it, but Peter hasn't just been talking about it. He has been actively doing it for many years".
In a sense, Peter's endeavours offer a counter-point to tendencies towards compliance, yet his pursuits also highlight the delicate boundary activists have to tread, between protecting themselves and promoting a greater cause. "Part of the challenge of this area of research is that we have made a choice that we do not want to remove ourselves, and believe that knowledge production in these areas of the world is crucially important to being a global citizen and a good scholar," Diepeveen says. "Not everyone needs to do that, but that is what Peter was doing, and I think it is vital that we at the University support him."
The question of whether Peter voiced active concern during his studies about the political situation in South Sudan, and the dangers he would be facing in travelling there, might be raised. "While caring for the politics of his country, he was a peace and youth activist, and he was very careful in how he presented himself and what he pushed for. He was always pushing for a better and more peaceful South Sudan."
Although Peter's citizenship of South Sudan restricts the extent to which foreign institutions and governments like the UK can demand his release, Peter is still a registered student at the University. "It seems to be felt that the University has a moral obligation to their students," Diepeveen says.
"Since the beginning there has been a lot of concern and involvement within Trinity College." The concern felt within Peter's college and the department have motivated the issuing of statements for Peter's release, in communication with the Vice Chancellor's office. "If Peter had not been a student or an alumnus, I think it would be much more difficult to push for official action."
As Peter's arrest occurred without official charges, it has been difficult to supply legal council, delaying the process of providing lawyers by several months. In an updated response, a team of four lawyers has been recruited to investigate Peter's case and the potentiality of his release. To support the travelling and administrative expenses of the legal services, a Gofundme campaign has been launched by two of Peter's friends, raising USD $30,000 within three days.
"I think that speaks to the kind of person that Peter is," Dioula says. "The fact that people really do care, not just about him as an individual, but also about what he represents. The fact that he's a young man pushing for positive, peaceful change in his country." Currently over USD $37,000 have been raised, "and we're still hoping to raise more," she adds.
Whether Peter's release would stimulate a wider response in the release of South Sudan's detainees remains undetermined. Peter's case is "particular because he is a public figure", says Dioula. "I don't think his release as an individual will necessarily trigger a wave of change in the way prisoners are being treated, but I think the type of things he calls for – a change towards a peaceful process, towards institutions that work – is what would bring about that type of change".
"There are many opportunities to show support for Peter's campaign this term"
Throughout his time at Cambridge Peter was an active member of the African Society, and was pivotal in promoting an understanding of the political environment in African countries within the student community. During an Africa Over Coffee discussion in 2016, he spoke on South Sudan's political environment, and what he envisions for progressing the country into the future. "That was a very positive, insightful conversation," Dioula recollects. "The discussion we had with Peter had the most attendants over the last two years. So many people came, not just to hear what was happening in South Sudan, but to hear about how Peter, as a peace activist and a peer from the University of Cambridge, is contributing to bringing change in an African country."
In September 2018, Vice-Chancellor Stephen Toope made an appeal for Peter's release, in conjunction with a formal request sent by the University to the UN Working Group on Arbitrary Detention, to mediate the allegations made against Peter "as a matter of urgency". Since then, CUSU has released an emergency motion in support of the 'Free Peter Biar' campaign, resolving to heighten the visibility and advocacy of Peter's case throughout the university community.
There are many opportunities to show support for Peter's campaign this term. Cambridge University Amnesty International and the African Society have joined together to raise awareness for Peter's campaign. CUAI has issued an open letter calling for Peter's release and expressing the solidarity of the student community. On Friday February 1st, from 12.30 to 1.30pm, the Free Peter Biar March will be held, starting at Trinity College and walking towards Senate House, where Sandile Mtetwa, the president of the African Society, and Tiffany Hui, the chair of CUAI, will give a speech. Everyone is welcome to join in showing support for Peter's campaign. It is urgent that we, as a body of students, come together to support the appeal for Peter's freedom.
It is palpable what a profound impact Peter has had on the community that he was, and is, a part of at Cambridge. "The last time I saw Peter was in June, with his wife," Dioula recalls. "That was just a month before his arrest. I think most of us go through our colleges, and we pass by. Peter didn't just pass by, so many people knew him. You can really feel that he had his place in the college community." It is clear how deeply valued Peter is on both a personal and professional level, and the urgent concern felt for his well-being.
"As his friend I am concerned and hope that he will be released very soon," Dioula says.
"What Peter stands for is important, and we need role models like him." Respectfully thinking of Peter's wife, and his two children, every voice of support is a step towards Peter's safe return.
To sign the CUAI open letter calling for Peter's release, please follow the link below.
https://docs.google.com/document/d/11yiXeRgsD9XGO6zPDs2XN9KJVUiT7RErU5ZffPousWo/edit?usp=sharing
*Please note that you do not have to be a student to add your signature.
To learn more about Peter's campaign, please see the links below.
https://www.facebook.com/freepeterbiar/
https://www.change.org/p/freedom-for-peter-biar-ajak
https://www.facebook.com/camuniamnesty/
To contribute to donations for Peter's campaign, please follow the link below.
https://www.gofundme.com/free-peter-biar-ajak
Note: This piece has been amended to refer to Dr Diepeveen by her full title