The season of love is upon us. Romance is in the air, birds are chirping, and sweet nothings are getting written into Crushbridge. For those braving the Cambridge dating scene, the excitement and nervousness of a first date is enough to handle without the dreadfully daunting task of figuring out what to possibly wear. Although Valentine's Day is usually visually awash with dainty red hearts, lacey frills, and plenty of pink bows, your Pinterest board probably isn't a good indicator of your actual date fits. Partaking in some very serious investigative journalism, we explored what Cambridge students are wearing in their romantic pursuits by setting them up on some incredibly fake first dates. Sparks are flying (or hopelessly sputtering?) and many a cosy knit is being worn: here's how Cambridge dresses for affairs of the heart.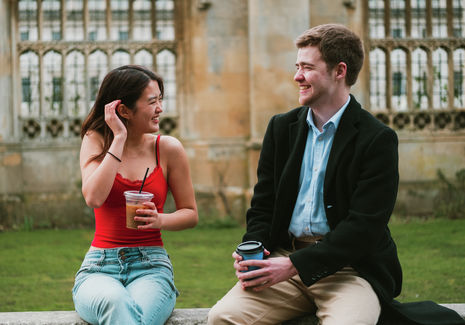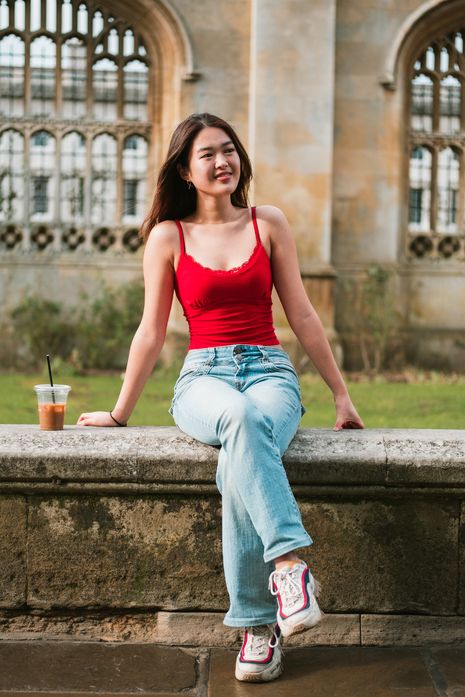 Joining his fake date for a coffee on Kings' Parade, Elliot tells us "my logic is to dress up a bit more than just jeans because I think everyone likes to feel like they've had an effort made for them on the first date". Opting for chinos, a shirt and a long coat, he keeps it smart, but adds interest with his "Keith Haring high top shoes with matching socks" and his astronaut pendant necklace (not an Among Us charm as his date, Audrey, originally feared). Audrey has a similar approach but is more cautious of the long-game implications saying "I do want to look my best, but not too extra because then they're only going to see me looking worse from then on". We appreciate the realism. Breaking Elliot's no jean rule, she opted for the classic "nice top and jeans" combo, sporting a red cami vest with lace detailing along with a gold necklace for a cute Valentine's touch.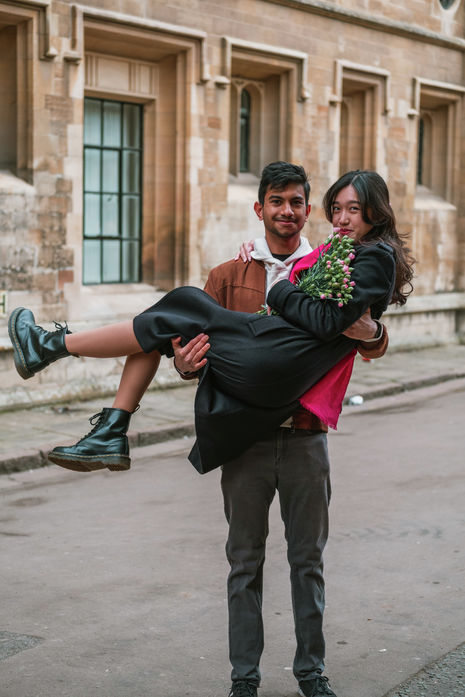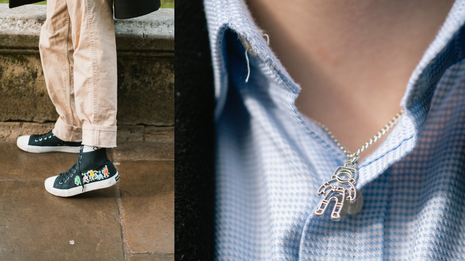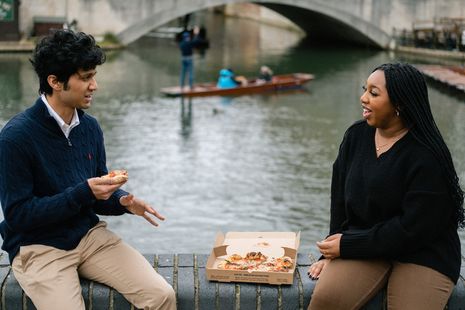 Other daters favoured these similarly more casual looks, such as Yuval, whose approach was "effortfully trying to be effortless" or Kayinsola who goes "quite casual on the first date", with "makeup and jewellery to accentuate". On his "romantic" stroll around Cam (bouquet of half-bloomed Mainsbury's flowers in hand) Azim revealed how he chooses to take effortless chic to the next - worrying low - level. Wearing a jumper that was "the first thing in my wardrobe" he says his criteria for a first date outfit is "if it's not sweaty and it's been washed recently". At least he's being honest - what more did we expect from a mathmo?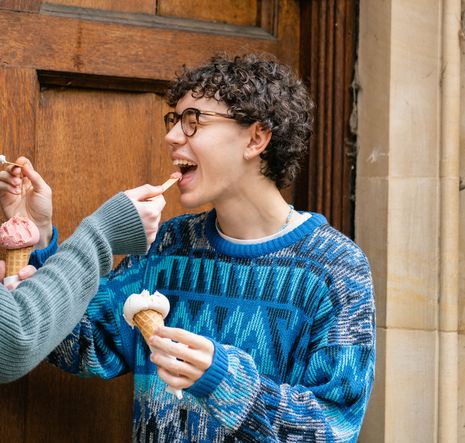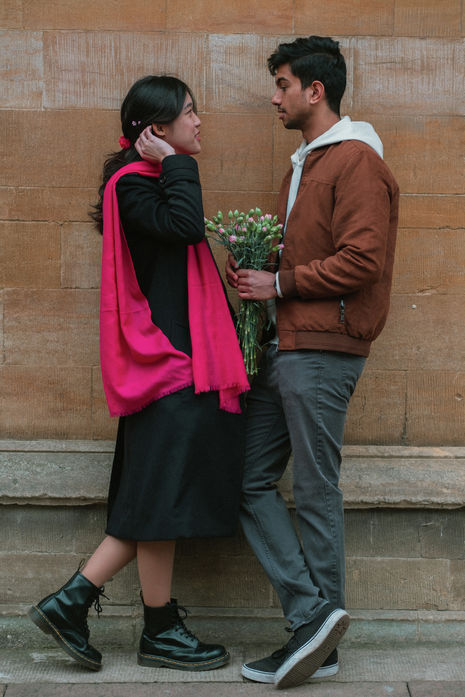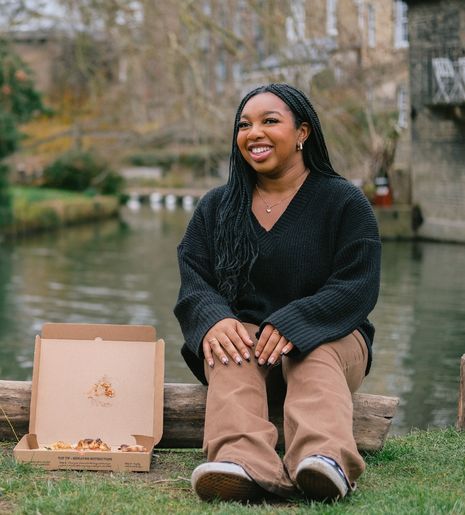 Discussing this mathmo stereotype on his riverside pizza date, Varun argues "we mathmos are not likely to be showy – especially not in a rare interaction in the real world with a member of the opposite sex". For many, dressing for a first date is about being true to yourself and expressing your personality. For vegan Varun, it was important for his outfit to be "entirely vegan and cruelty-free". In this same vein of self-expression, Jade made an effort to stay true to her personal style with her accessories: "I am known in my friend group to always have hair accessories, so I thought I was very true to my character" she says showing off the delicate pink gems and flowers dotted around her hair. However, it's also important to flatter your best features too. Ed reveals between bites of ice-cream that he chose his jumper because he "was once told that green brings out my eyes so I thought that was a good decision to make." Wise choice on his part.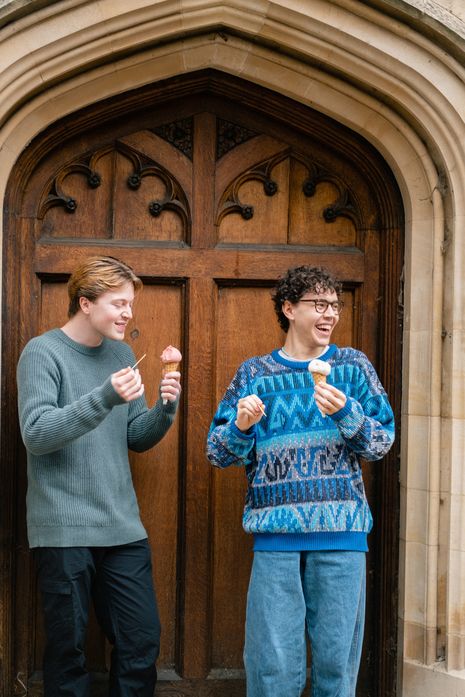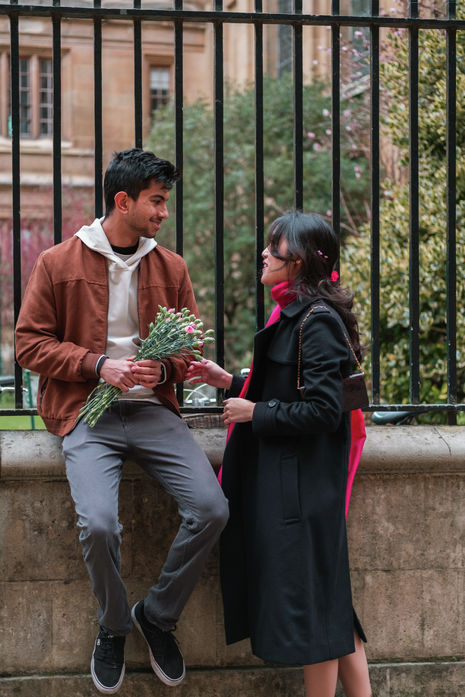 Others went more daring in their self-expression, really rejoicing in the spirit of the Valentine's vibes. Beatrice gave us plenty of pastels and (in her words) a "ridiculously short skirt" in her look. She tells us she has "a complicated relationship with my body. So I always try to show it off wherever I can just because I've worked really hard for it and spent a lot of money on it" she quips. Discussing her pansexuality she says she'll usually consider "who's the person and what are they into? Like, if it's a guy I will usually dress differently than if it's a girl or a non-binary person." Also explaining how their sexuality affects their style, her fake date Quinn jokes about how much of their outfit from the "turtleneck" and "odd socks" to the "cuff jeans" and pride flag "gummy bear earrings" is due to their gay and trans identity.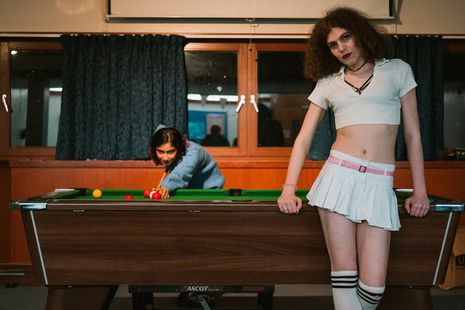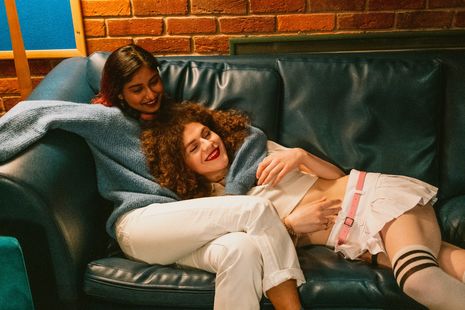 The most important rule for any dating experience is to be true to yourself - and that includes your style. However, in the same way you might not choose to reveal your Pokemon card collection for the first few dates, you might want to amp up your average fits a little more than usual. And maybe (just maybe) consider putting in a tad more thought than pulling your first non-sweaty jumper off the bedroom floor.