The Met Gala: the world's most extravagant dinner party that many of us could only ever dream of getting invited to. That is, of course, unless Rihanna mysteriously declined her invite. In which case, as the humble student writers that constitute Varsity's fashion team, we took it upon ourselves to prepare for the occasion.
This year's theme, 'In America: An Anthology of Fashion', unveiled the second part of The Met's two-part exhibition celebrating American contributions to fashion. A white tie affair with an extravagant dress code of 'Gilded Glamour', this year's Gala paid homage to one of America's most iconically opulent eras: the Gilded Age of New York. So, while we wait patiently for our future invites from Anna Wintour, sit back, relax, and take a look at how Varsity Fashion would have taken to the Met Gala 2022.
For the history buffs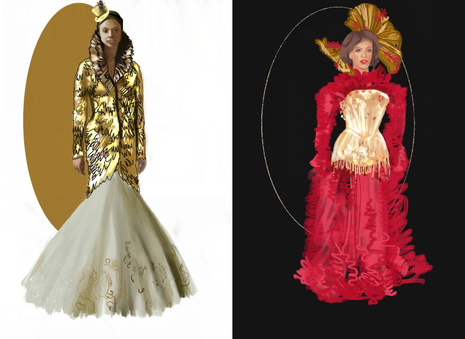 Left: Emily Kelly (Fashion Editor)
'Gilded Glamour' references New York's Gilded Age of 1870-1900, so my look aims for a modern take on 19th-century high fashion. The dress and coat are inspired by this look from Alexander McQueen's Fall 2010 ready-to-wear collection. While the collection was primarily inspired by Medieval art, the coat also recalls the 19th-century fashion for high collars. The feathers nod to America's iconic bald eagle, tying in with the overall theme of 'In America: An Anthology of Fashion'. A top hat completes the look as an emblem of luxury 19th-century fashion. To round off the American theme, I would accessorise with jewellery from New York's quintessential upper-crust jeweller, Tiffany's, and this pair of Tom Ford shoes.
Right: Amy Reid (Staff Writer)
While creating my look, I had three things in mind. One, the opera; two, gold, because I like shiny things too much to dig deeper into an alternative interpretation of 'gilded'; and three, excess. The centrepiece of this look is the vintage bejewelled Mugler corset. It's excessive and completely decadent which I felt captured the essence of the theme in historical terms. Trapped in the corset's grasp is a Valentino explosion of fluffy red tulle, a fabric which debuted at the end of the 19th-century. And of course there's no way I wouldn't wear a headpiece—this vintage one by John Galliano is reminiscent of the popular feather headpieces worn by the women of the period during outings to the opera.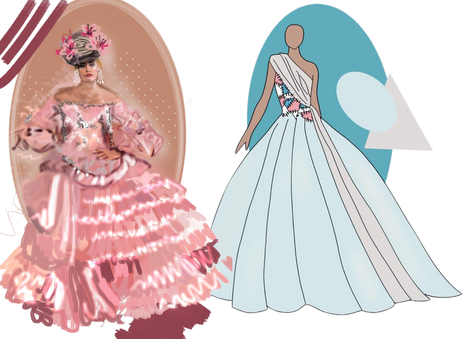 Left: Sarah Abbas (Fashion Editor)
'Gilded Glamour' calls for a Little-Women-meets-Hunger-Games-Capitol aesthetic. I felt that Christian Dior's Fall 2007 couture collection embodied this style, so I picked a dress with a classic Gilded-era silhouette, fused with bold details and a quirky headpiece. Hardly shy of ruffles and jewels, this look truly puts the 'Gilded' into 'Gilded Glamour'. However, I didn't want to revisit the Gilded age with rose-tinted glasses. I therefore opted for a gorgeous pair of diamond chandelier earrings from Vanleles, the first female-founded African high jewellery house, to acknowledge the racial injustice that has and continues to take place in America.
Right: Lily Kemp (Staff Writer)
For me, it's impossible to think of the history of American fashion without Hollywood Glamour. I'd therefore opt for a large blue ball gown with a white sash, inspired by the likes of Zendaya at the 2019 Gala. The top section of the dress, however, would be patchwork, made from red, white and blue patches of silk, hand-stitched together using traditional quilting techniques brought to use in the Civil War. This reflects America's divided past, present and future. Raw edge seams would be used as a homage to America's roughness, coexisting with its Hollywood Glamour.
All that glitters is not gold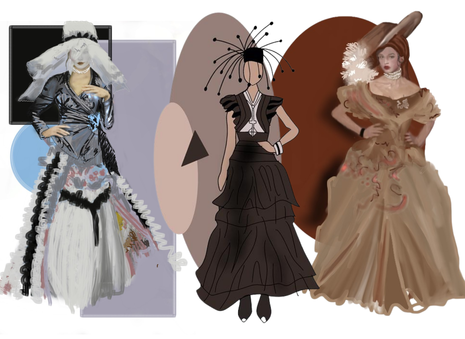 Left: Alicia Powell (Staff Writer)
Coined by Mark Twain, the term 'Gilded Age' refers to a period that was glittering on the surface but corrupt underneath. For the elite, fashion became maximal. The busyness of this Vivienne Westwood Fall 1995 ready-to-wear gown—its lace trimmings, glittering upper section, and floral details— replicates that maximalism. However, ornamentation and glamour existed as aesthetic distractions from the corruption that Twain refers to, which saw the fortunes of industrialists and real estate magnates ascend to staggering heights. I selected the veil, therefore, to symbolise that the richness of this period's fashion shrouded certain underlying truths.
Centre: Kasia Truscott (Fashion Editor)
I think the 'Gilded Age' of New York was an aspirational fantasy more than anything else. A city of dichotomies, its urban society developed an opulent exterior that cast a thin veil over its unsettling socio-political and economic realities. I turned to Christian Lacroix 1994 Spring Couture for inspiration, drawn to the high-class, dark feminine glamour of this gown's silhouette. The haziness of its black chiffon details and its revealing, opened bodice ignite notions of rupture and disguise. Paired with this surreal headpiece from Schiaparelli Spring 2022 Couture that drapes over the head, but not quite enough to fully disguise it, this look was about portraying the futility of the 'Gilded Glamour' fantasy.
Right: Nafisa Mahmood (Staff Writer)
The pomp and excess of Galliano's Fall 2007 collection for Dior make it the perfect caricature of the American epoch being staged at the Met Gala this year. Yet to consider it an 'epoch' relegates an age of the upper echelons parading their wealth in the face of extreme inequality to a time long gone-by—ironic, given the event itself. So, if you're thinking of recoiling into "Let them eat!" at the cake-like frivolity of this dress (and those like it at the Met Gala), you probably should. It is a garishly eternal reminder that all that glitters in society is really just very thinly gilded.
The odes to America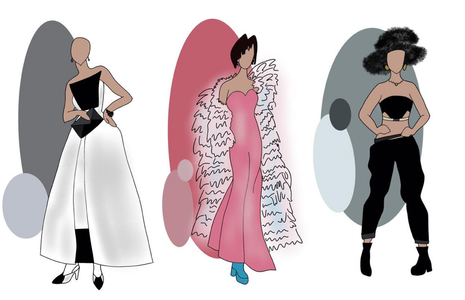 Left: Beth Baljak (Staff Writer)
My Met Gala look reflects how the American definition of glamour has developed over time. Tiffany & Co. pearls pay homage to a traditional idea of American luxury that is associated with mid-century style icon Audrey Hepburn, where Yeohlee Teng's minimalist 1992 "Keats" dress represents a more modern definition of glamour that focuses on the importance of fashion as an art form. I have included shoes by Yves Saint Laurent and accessories by Vivienne Westwood to highlight the long-standing inclusion of European luxury designers in American fashion trends, thereby influencing the definition of glamour in the US along the way.
Centre: Anna Chan (Fashion Editor)
My inspiration is a little anachronistic— think Marilyn, Barbie and Paris, Texas (1984)—but I'm interested in American glamour and how it's built upon industry and capital. The Gilded Age saw opulence built upon commodities, production, immigrants and labour. I seek to blend these aesthetics in this look, taking from the surface glamour of Jane in Paris, Texas at a peep-show in the desert. I love the undertones of blue denim - an American workwear staple - in this 'fur' coat, and the glossy pink dress alludes to plastic, another American commodity. Add these stunning denim platforms and Harry Winston earrings and the look is complete.
Right: Layo Akinola (Staff Writer)
Fashion is cyclical, meaning trends from earlier periods tend to constantly rear their heads again, often decades after their initial appearance. I wanted to capture this in my Met Gala look, which is subtly inspired by the nineties. Seeing as this year's theme is centred around anthologized American fashion, I thought a movement of fashion which has had stylistic primacy in two distinct eras (the 90s and now), would be fitting. This outfit is inspired by the cropped, baggy looks popularised by 90s girl bands like Destiny's Child, with a sprinkling of Matrix sleekness. The bucket hat adds that extravagant Met Gala feel, and is definitely the outfit's centrepiece.