Like the ultra skinny jean, the September issue has come close to extinction with no sign of return. Once holding influence and prestige in the fashion world, the media frenzy it previously inspired has now become trampled on by Billie Eilish going blonde or Bennifer holidaying in Portofino. Don't bother marking your calendars in September, there will be no mourning for this outdated tradition.
And yet, the hallowed grounds of Vogue have blissfully ignored this memo, clutching onto the September issue as a watershed in the fashion schedule. Plastering a well-received celebrity on the front cover of a magazine, however, does not necessarily guarantee its entry into the canon (even if that said celebrity is Beyoncé. Merely typing that felt blasphemous).
To revive the September Issue, the executives at Conde Nast introduced a shared theme across all editions. The universal concept of 'new beginnings' purports to be the beginning of a dawn on fashion's new world, imprinting a powerful message of hope and unity as we begin to navigate a post-pandemic life. As Anna Wintour reflects, it speaks to the way "the industry is becoming more sustainable, more inclusive, and more global" and how Vogue is thrilled to champion that.
However, doubts can be cast over the authority that Vogue — a brand emblematic of fashion — continues to command and, more importantly, if their attempt to collectively celebrate diversity and inclusivity is enough to save the September Issue. As many contemporary publications have chartered their own fashion schedule, we investigate whether the doyens of fashion are justified in maintaining this tradition.
Allow us to present our unadulterated verdicts of the covers slated for September. We hope Ms Wintour does not mind.
AMERICAN VOGUE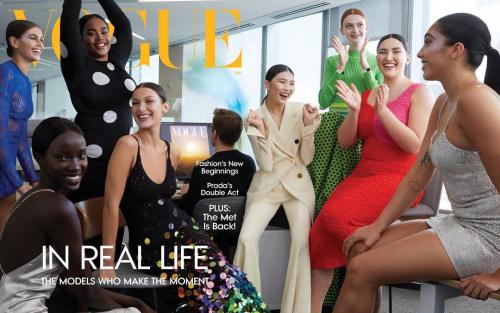 Any model hoping to have their time in an undivided spotlight for American Vogue's September cover will have been disappointed — and yet disappointment is not what the eight models of the cover seem to be exhibiting. Instead, joyful sisterhood bubbles and fizzes from the extended, landscape cover. It is rare that a smile greets us from the cover page of famously polished, editorial Vogue, so it is refreshing to see evident laughter, applause, and celebration. It feels relaxed, a behind-the-scenes photo from a shoot where models collaborate and support as friends, rather than compete and back-stab as rivals. Likewise, a broad range of designers are worn on the cover, an apparent union of fashion as a whole.
It seems the beginning of a dawn on fashion's new world — a nod, perhaps, to the back-to-school feeling that lingers after the last dregs of summer.
BRITISH VOGUE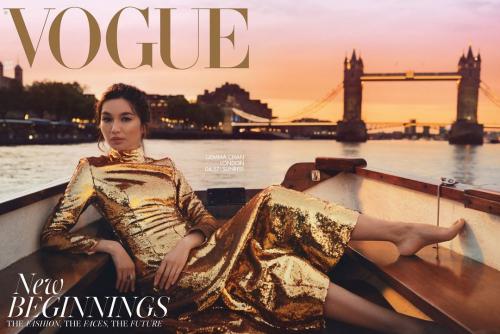 There is no telling Edward Enninful's next move. His covers have featured Hollywood veterans, upcoming models and Royal Highnesses. So when the cover of Gemma Chan looking radiant by the River Thames at sunrise was released, it would be wrong to say we were not surprised. But choosing Gemma as his cover star also seemed startlingly obvious.
She symbolises what British Vogue has come to be known for under Enninful's tenure: unrivalled beauty in all of its forms, genuine diversity, and the future of fashion. An English rose, Gemma graces the movie screens with the wit and intelligence customary of British starlets. However, the choice of coverstar seemed to hold a greater social and cultural significance. It was not lost upon us that a British-Asian actress was chosen to grace the most coveted issue of the year.
As always, Enninful answers the question of whether fashion can be political with a vehement 'yes' through the choice of his cover stars. Malala Yousafzai and Marcus Rashford have both graced editions of British Vogue. So it is no coincidence that Gemma was featured at a time when anti-Asian hate has skyrocketed. Her interview includes discussions on the rising hate crimes against the British-Asian community, and the steps she has taken to tackle the issue.
Enninful knows that British Vogue is at its best when diversity is shown with the utmost sincerity, when voices are amplified and uplifted, rather than spoken for. We could not agree more.
VOGUE SCANDINAVIA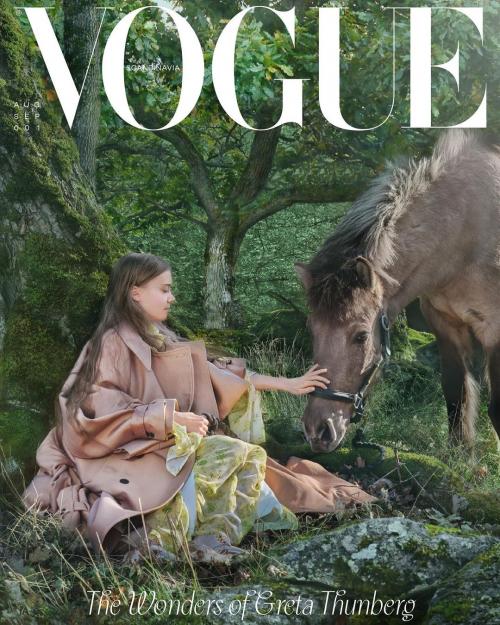 Vogue Scandinavia, a brand-new imprint of the fashion mag superpower, enters the market with a cover that very much aligns with stereotypical ideas of Scandi culture — relaxed, muted, unostentatious. Greta Thunberg kneels in the Swedish wilderness, swathed in blush pink and sage green — and while it's nice to see her in a more editorial shoot, it's just not very Vogue. It looks more like the cover of a fairy story than a lauded fashion magazine. The cover has been divisive, some praising the faith to the unpretentious mythical Scandi ideal, and others complaining of cliché which does not target the traditional audience of Vogue. Either way, the cover is pretty to look at, but forgettable, certainly fading into the background in comparison to the covers of its counterparts. For the first ever issue of Vogue Scandinavia, we can't help but feel it is something of a let-down.
VOGUE CHINA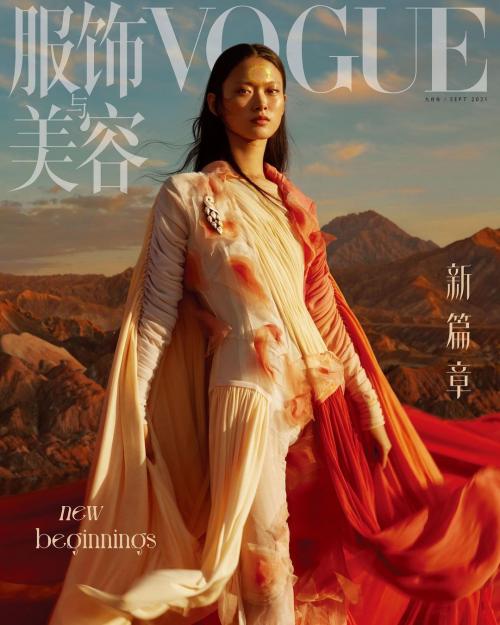 All eyes were on Margaret Zhang as she released her first cover as Editor-in-Chief of Vogue China. Her recent appointment as the youngest creative to head the magazine was a bold choice for Conde Naste, but one that makes perfect sense after looking at her decorated career. She started her blog at sixteen years old, pursuing fashion as a hobby as she read law at the University of Sydney. After building a loyal following, she used her platform to venture into other creative pursuits: screenwriting, photography, styling. Margaret's career is emblematic of what it means to be a 21st century multi-hyphenate, straddling the worlds of fashion, technology and art.
Her debut was a tribute to the young, emerging talent that China has to offer, and perhaps even a response to the statistics-obsession her counterparts at Vogue have fallen victim to. Deviating from convention, her covergirl was Jing Han Fan, a dance student with an Instagram of only 433 followers. 
While the cover is undoubtedly beautiful — Jing Han stands tall before the mountains of Zhangye Danxia at dawn — it is plain and straightforward nonetheless. Though we could not think of a better way to celebrate new beginnings than to turn to the younger generation, we wished for more creativity from Margaret Zhang's new beginning at Vogue China.
​​VOGUE AUSTRALIA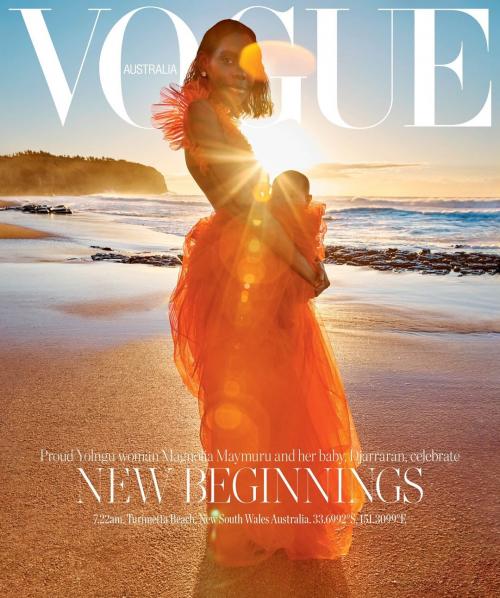 "So raw and so stunning, full of meaning, and pointing to new beginnings, which are calling us all", says editor-in-chief of Vogue Australia, Edwina McCann, of the September cover, perfectly encapsulating the feeling transmitted by the beautiful cover. In the light of a golden Australian sunrise, Yolngu actress and model Magnolia Maymuru cradles her baby, reconfiguring the idea of new beginnings into its most personal and poignant context. The cover is warm, striking, and deeply moving, photographer Charles Dennington having palpably captured the radiant love of a new mother. It depicts womanhood at its most effervescent, juxtaposing the beauty of fashion, landscape, nature, and family simultaneously. It tells a story through its fashion and photography which, ultimately, is the objective of any successful cover. As McCann suggests, it can mean so many different things to so many different people, and will confidently find its place at the front of every Australian magazine stand.