In a world of increasingly elusive boundaries between the real and the digital, locating the roots of 'influence' is near impossible. Yet there is no denying, the rise of influencers transcending bureaucratic red tape of brands and carefully crafted campaigns has irreversibly influenced fashion. Propelled forward by the pandemic where our only contact with others was online, the trend towards online creators taking control of content and clout within fashion has accelerated. The privileging of personality and eroding dominance of magazines as social media aesthetics steer trends has disrupted digital fashion without doubt. As part of a two piece series 'Digital Disruptors' I spoke to influencers, models and photographers Sophia and Cinzia, Dazhané Leah, Mathilde Mellor, Joyce Cisse, Jessicah Davies and Ayron Irving about why young people have consciously cast aside traditional mediums of fashions and their role as digital disruptors shaking up the industry.
SOPHIA AND CINZIA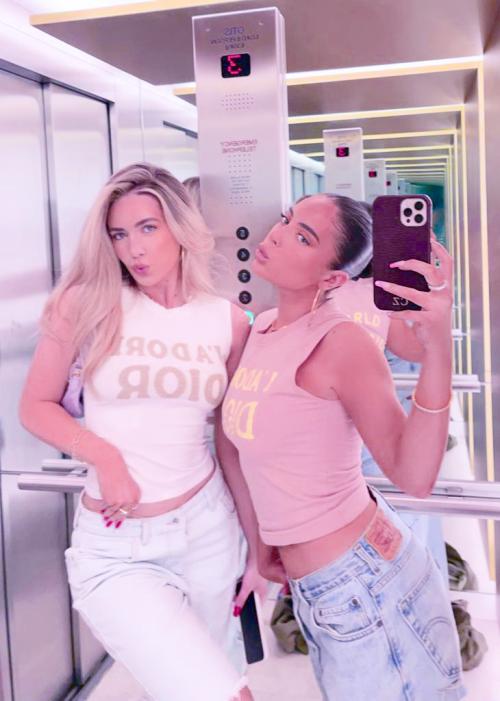 Sophia Tuxford and Cinzia Baylis-Zullo are the Nottingham-born duo taking over digital fashion and social media by storm, with their podcast 'The Girls Bathroom' achieving 10 million listeners, over 370,000 subscribers on Youtube and they've already sold out 3 of their 7 night UK tour
Why do you think young people are increasingly drawn to Instagram for fashion inspiration, and how do you hope to inspire such an audience through clothing?
We find Instagram to be a more instant and personal platform… you can really get to know the person behind the outfit. Fashion is all about having fun for us, so on our Instagram we love to experiment with new looks. In doing so, we hope to inspire our audience to do the same!
After a year lockdowns, many have adapted their style to become more comfortable or alternatively more experimental within the walls of their home. How has your style evolved?
Coming out of the pandemic we definitely feel like we have a new lease of life when it comes to our wardrobes! Having spent a lot of last year in our comfies, it's so much more fun now to be experimenting with our new style and trying new things.
You have a podcast called 'The Girls Bathroom' where you discuss all things fashion, dating and self-confidence. You have just reached 10 million listeners, congratulations! How do you feel about hitting such a milestone?
We are so grateful for the weekly listeners and the consistent love and support they show our podcast. We feel like we have built such a strong, incredibly community that we love checking in with every Wednesday!
What are the main things you want all your listeners to learn from your podcast?
We want people to listen to the podcast and feel comforted that they are not alone in their insecurities and dilemmas – we are all in this together! We want to remind our listeners that what might seem like the end of the world right now is really just a little bump in the road when looking at the bigger picture.
You have launched apparel for The Girls Bathroom ranging from 'His Loss' hoodies to 'Don't Call Me' sets. How do you want people to feel when they wear your apparel?
The themes for the Girls' Bathroom drops are always designed to be fun and uplifting! We want everyone to feel super confident and cool which is always a priority with fashion.
DAZHANÉ LEAH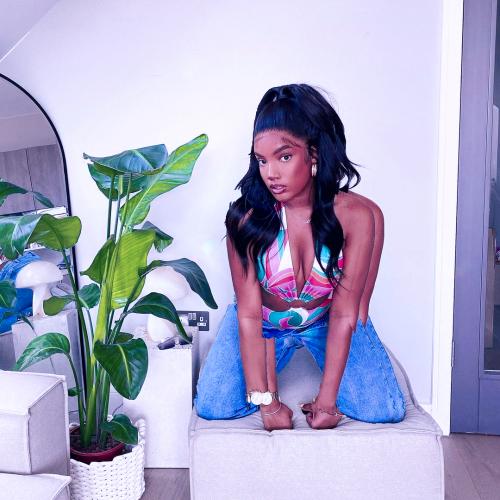 Dazhané Leah's perfectly coordinated bright fits and beautifully raw photography celebrating the female form has achieved 132,000 followers on Instagram
I'd love to start with how you first got into the fashion industry. What drew you to fashion as a creative outlet?
I began working at American Apparel when I was 17 having always loved the way the workers dressed to express themselves. The store gave me a monthly wage to pick things from the store which I had to wear. I couldn't afford clothes like that – a pair of jeans was around £80– so it was a great resource to get creative with my fashion. I took mirror selfies of all my outfits because I was so proud of my styling! Social media came naturally after that. People focus on the negatives of social media, but you can control the content you're exposed to. This makes it an exciting place!
"Having so many ideals on social media is amazing because you can pick and choose what inspires you and combine it to make something unique"
The fashion industry has shifted from rigid and clearly defined beauty ideals within the pages of magazines to never-ending ideals, aesthetics and influences. How have you found this change?
I've always championed people's individual styles as so much more interesting than following the crowd. Having so many ideals on social media is amazing because you can pick and choose what inspires you and combine it to make something unique! Although there is pressure on social media, people respond positively to those who don't care about judgement.
MATHILDE MELLOR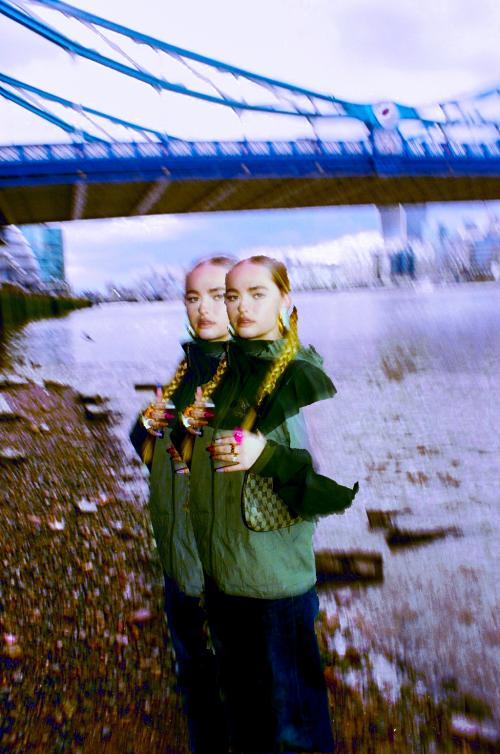 Fashion model Mathilde Mellor's boldly unique sense of self and style shines through on TikTok, Instagram and Youtube
How has fashion helped you explore and express your identity in a hyper-filtered social media age?
With my fashion, I try to find rare pieces that haven't been worn before which is why I shop vintage, so each outfit expresses my individual style. It's refreshing to see outfits that don't conform to trends or norms: it encourages younger people to be unique and challenge beauty ideals within the fashion industry!
What is something you've learnt about yourself from the creative process of modelling?
Modelling has taught me patience and acceptance. When I started modelling I found myself disheartened whenever I didn't get a job that I had a casting for especially as I'm a perfectionist, always striving for the best. It's good to acknowledge that a job doesn't determine your worth: being rejected doesn't mean you're ugly or unworthy!
You are a model, Youtuber and content creator: do you find having a high following impacts your content in a positive or negative way, or both?
I try not to focus on numbers as it's easy to get into toxic habits this way. Yet I do feel pressure to produce content to the standard of people I follow and admire. I'm learning to look at social media in a different way realising it's only a highlight reel of people's lives! I shouldn't be putting pressure on myself to look or dress a certain way that is unrealistic and fake.
Why do you think young people are increasingly drawn to TikTok and Instagram as fashion inspiration, rather than traditional magazines?
The accessibility of modern fashion makes it so appealing. I love how expansive and inclusive the fashion community has become: the digitised form of fashion makes it accessible to anyone and its welcoming environment supports all styles! Yet although I love social media and the fashion world amongst it, it saddens me to realise authenticity has been lost along the way and transformed into a simpler, less genuine form of art with filters and photoshop!
"It saddens me to realise authenticity has been lost along the way and transformed into a simpler, less genuine form of art with filters and photoshop"
JOYCE CISSE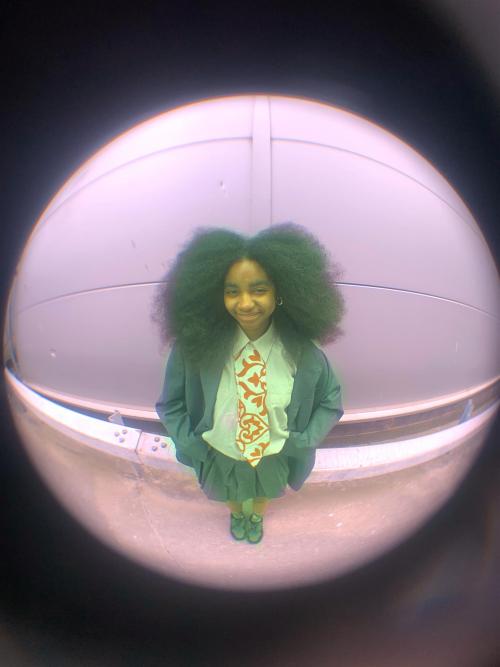 Talented musician, Gucci model and content creator Joyce Cisse's unapologetic confidence and self-love permeates through her new EP 'Think Flower' and her fabulous fashion
How has fashion and social media been a positive force in your life?
I love how you said positive force because I am an optimistic person and really find the digital fashion industry a welcoming place! For me, I don't believe in a beauty standard, so fashion and social media is something I always love. I believe and project that you as yourself IS beauty and you should accept that.
You have rejected labelling yourself as an influencer: a label which many argue holds many stigmas! Why do you think you don't fit the stereotyped influencer label?
I don't see myself as fitting one label or somebody who can be labelled at all. I'm at once a model, a musician, a creator, a stylist and more. Through social media, fashion and my music, I'm able to create my own universe for people to visibly see or to listen to. I am really taking full control of my digital self-expression every time I post a photo or release music, which to me means more than 'influencing' others. It makes a statement.
"Your existence is POWER, and you as yourself IS beauty"
What would you like people to learn from your fashion, content creating and music?
I want people to feel my confidence through the screen, hear the passion in my music and realise that your existence is POWER, and you as yourself IS beauty. I want others to learn that you do not need to rely on the opinions of others. Make sure you hang out with yourself enough so that you know you can sit with your identity ALL the time. From that kind of confidence naturally follows self-expression through fashion, music and social media.
JESSICAH DAVIES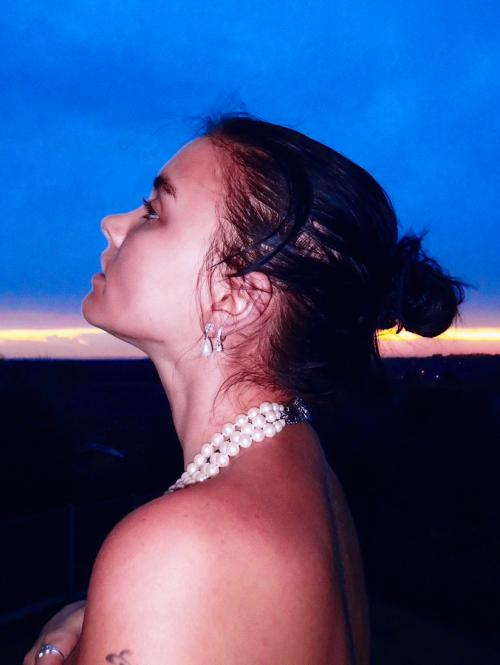 Revolt model and photographer Jessicah Davies challenges dominant ideas surrounding fashionable feminine beauty through celebrating individuality and unfiltered realness
How does fashion in a social media age impact your mood and your sense of self?
Fashion gives me security. When I wear something I think is really cool I felt more stable in myself as a person, yet I love how I still can't pin-point my style. Some days I'll be dressed in streetwear, and the next I'll be wearing a corset and a long skirts with vintage long necklaces. It has become fashionable to hop from trend to trend and dip your toes in all aesthetics without having to claim you are one thing which is so cool!
I'd love to talk about how you are taking control of content as you are at once a model, influencer and photographer. Where do you find inspiration for your photography?
I like how the digital fashion industry is blurring the boundaries between models and content creators… it feels so much more personal and expressive than commodified models in magazines! My photography has always been inspired by film more than anything. Every shoot I've ever done is all about storytelling in any way that it can.  I love when others look at a photo and deconstruct the meanings and stories I've put within it.
"If I have styled an outfit on myself or the model I've photographed and there's a nipple out, or some public hair showing, I am just trying to normalise something everyday people deal with"
As a model, content creator and photographer, what are you seeking to disrupt within the fashion industry?
My content and photography ALWAYS seeks to disrupt the opinions placed upon the female form. A lot of people are offended by what I put out into the world of social media, but my goal is never explicitly to shock them. If I have styled an outfit on myself or the model I've photographed and there's a nipple out, or some public hair showing, I am just trying to normalise something everyday people deal with. You don't see the same in carefully thought out fashion campaigns!
AYRON IRVING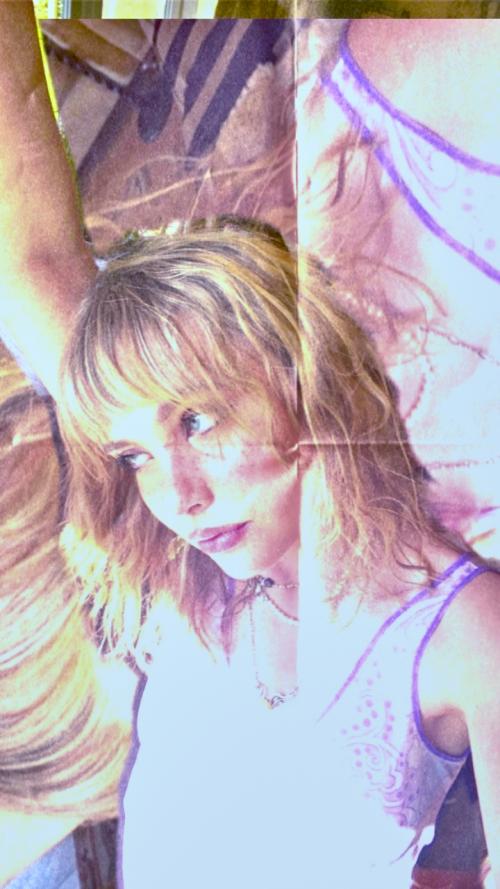 Revolt model and content creator Ayron Irving's distinctive yet constantly changing style proves fashion must never be static as in the pages of magazines but always shifting
How do you think the fashion industry has changed since migrating primarily online and do you think this is a positive development?
I think it is liberating because online fashion has so many different aesthetics and inspiration points allowing you to explore many personalities at once through fashion. I'm not one compound, but made up of many identities, so it is great to see a more progressive online fashion world that accommodates that!
Alike to magazines, Instagram is still censoring the female body. Do you think the sexualisation of the female form by social media companies is holding back digital fashion?
It is holding back not just digital fashion but artistic expression entirely. It is so frustrating that a medium for fashion posed as progressive constantly sexualises the female body. The outfits I wear and posts I put up are not there to be sexualised but are part of art. For centuries, the female body was celebrated in paintings so why are social media companies suddenly sexualising my body?
On Self-Confidence
What advice would you give to your former self and young people about dressing for you only, and how to navigate social media?
Sophia & Cinzia: We'd tell our younger selves and our audience that you should always wear what you feel most comfortable in! People will always have their opinions but the only one that matters is yours.
Dazhané Leah: You shouldn't care about what other people are going to say because they're just going to copy the outfit you wear two years later! Just make social media and fashion your own world to explore whatever brings out creativity.
Joyce Cisse: I would tell my former self there is no need to care about external opinions because you live for you. Why would you wear or do what others want, when you can just feel good for yourself? My advice for navigating social media is to focus on where you're going. Successes that were supposed to happen and didn't were clearly not best for you. Social media is always changing so the opportunities are endless!
Mathilde Mellor: Some advice that my dad once told me is that no matter how you dress or act online, there are always going to be people that will dislike you. If people are going to judge you regardless, you might as well dress how you like and wear what you feel confident because the only person you should be pleasing is yourself!
On Disrupting Digital Fashion
Looking to the future, what are some changes you hope will happen within the digital fashion industry?
Dazhané Leah: My generation and the next generation after me, are FAR more vocal when it comes to the change we need. Diversity and inclusion have come a long way since I was sixteen as I'm able to be an influencer and I do see more representation than before. That being said, there is SO much more to be done and it should not just be people like me speaking out on this. Everyone must resist being complacent and make fashion inclusive of all.
Joyce Cisse: I want nobody to believe in a 'standard'. I like how we're starting to see more diverse representation particularly for LGBTQ+ people in modelling but we want more of that… I want to see that EVERYWHERE. I also want to see women in the fashion and music industries doing ALL the roles with ALL the titles!
Mathilde Mellor: My wish is for people to stop glamorising brands that endorse unethical ways of work. My TikTok is filled of influencers with millions of followers promoting brands that sell items for as little as under £1. Showing a new top you got for 50p is simply glamorising inhumane industries that use child labour and pay their workers little to none! 
Jessicah Davies: I would love for the digital fashion industry to FINALLY get away from fast fashion. I hope we can get rid of everyone wearing the same top because it is trending. We need to remember that what you choose to wear should be about YOU – whether that's dressing as a pirate, or a spice girl, or in drag - and NOT about status. No more copy and paste outfits from Pretty Little Thing! 
Ayron Irving: I want true representation in the fashion industry. We need to see more non-binary and transgender models and people of all colours and shapes. Everyone looks different so it is so unhealthy to see  unattainable ideals when you should see people that look like you! Fashion is getting more progressive so I'd like to think the industry will want to make people feel more comfortable by representing everyone.