Lockdown is weird and I wish I were back in Cambridge – to friends, to a quiet place to study, to the buzz of college life. That said, there are ways to lift the spirits from home; I have been cheering myself up through clothes.
Clothes are a wonderful means of self-expression, a way to wear who you are (or want to be) and how you feel inside. I love the creativity of putting together an outfit, playing with colours, textures, shapes and accessories to bring a little bit of playfulness to my day. In lockdown, it's so easy to live in pyjamas, and I do go through fazes of that, but there's something about putting together an outfit that changes my mood and makes me feel empowered.
"life is for living and I do what I want"
Something I have been doing recently is taking pictures of outfits that I like. I'm building a portfolio of outfit ideas for when I'm feeling uninspired and like I have 'nothing to wear'. It helps me appreciate the clothes I have so I don't just buy more of them, and feel special and dressed up with very little effort. You'll see from the following examples that when I'm at home I usually don't wear makeup or things that are seasonally appropriate, because life is for living and I do what I want.
For my first look, I present to you my purple floral extravaganza! The skirt (Monki) is high-waisted, calf-length and has two deep pockets – a gift from the feminist gods. I'm also wearing a short-sleeved second-hand lavender knit from Depop, and two necklaces: one with alternating purple, white and golden beads, and the other pearls. I love this outfit because it feels very coordinated and extra, but it's so comfortable that you can slump about the house in it as if you were wearing pyjamas.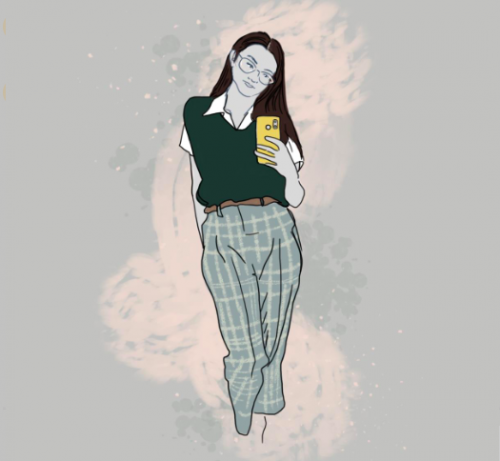 I had a lot of fun wearing this. My dark mossy-green sweater-vest (Depop £8) is layered over a short-sleeved cream-white blouse (also Depop) and paired with these green plaid trousers that I got for Christmas (Monki). My belt is a piece of brown fabric that's actually the belt of another pair of trousers, just threaded through the belt-loops and tied at the back. My jewellery is gold and teal. I was going for 'dark academia' vibes and ended up the colours of the UL, which made me miss Cambridge.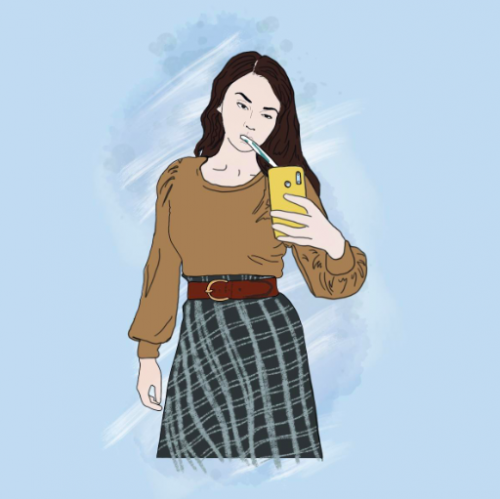 Yes, I took this photo while brushing my teeth, and no, I won't explain why. This outfit consists of a mid-length circle skirt paired with a yellow top (Monki) and a belt. The skirt has a grey and yellow-beige plaid pattern, it's second-hand (Depop) and too big at the waist, so I always wear it with a belt. One day I'll alter it, but for now I'm happy pulling it in with this brown and gold croc-patterned belt. I adore the silhouette of this outfit, especially the sleeves – it feels like it's harkening back to a vague era of a blurry past. (Can you tell I study history?)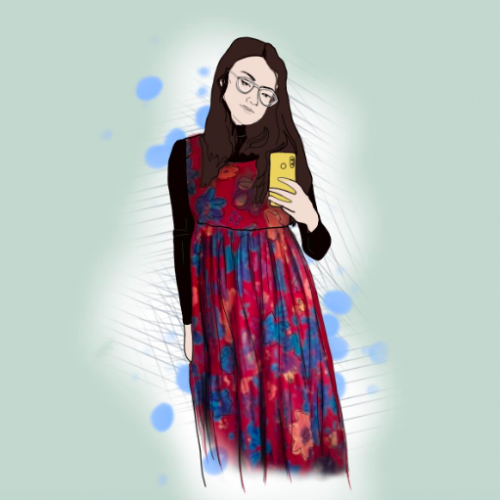 Some days call for a red floral dress. Not exactly January attire, I layered it over a black turtleneck (and later a red jumper), but this floor length four-tiered gown made me feel like a princess – or rather, a four-year-old dressing up as a princess. This dress was bought from Monsoon by my mum a few years before I was born. Its skirt is so full that it's noticeably heavy and brought a lot of swirling to my day. I would never have worn this in winter in Cambridge, but I had fun wearing it around my house and I guess that's one of the perks of lockdown.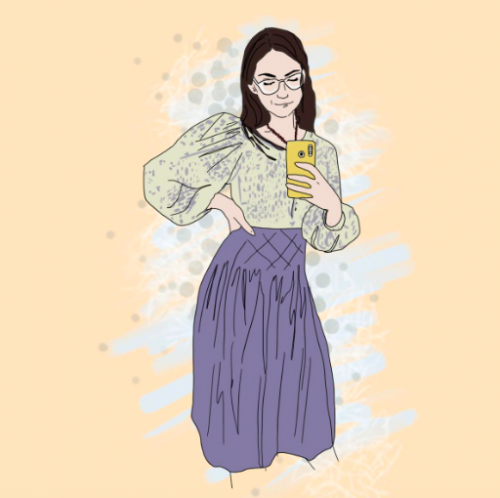 This was the day I channelled 'cottage core' as best as I could, with an old purple skirt and a top I got for Christmas. The skirt used to be my mum's and was a little worse for wear with a couple of buttons missing, so I sewed some new ones on. It's very high-waisted (my favourite) and its hem comes to just below the knees. The top is from Monki and has enormous sleeves which are so dramatic and beautiful, I'm slightly in love. Its pattern has little purple flowers and my necklace is purple too, because why not?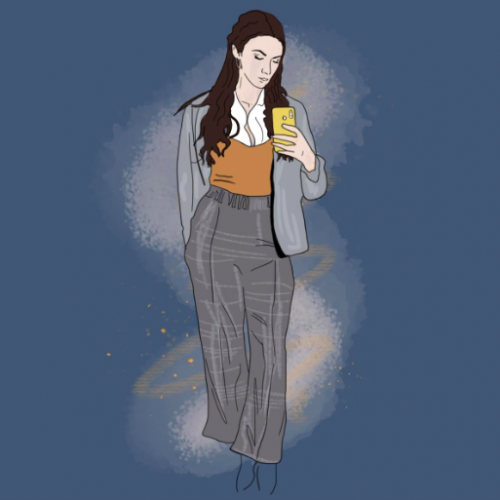 This is what I imagine myself wearing if I became a high-powered businesswoman striding importantly through London on the phone talking about vague business things and getting paid a lot of money. My blouse (the same one from earlier) is layered underneath a mustard-yellow crocheted vest-top that I bought from Depop this summer. You can't tell from this picture (I'm not a great photographer) but I'm wearing shoes and earrings of the same colour. My trousers have a small houndstooth pattern on them and are gloriously high-waisted, and the beige blazer makes me feel like I should be in an office.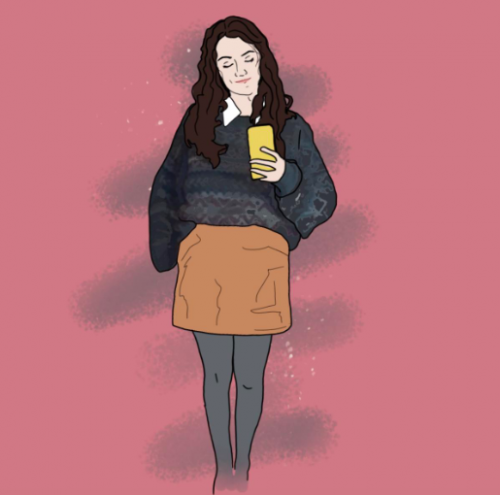 This was maybe the snuggliest outfit of them all and it consisted of the least amount of clothes from my wardrobe; the faux-leather skirt is my sister's and the jumper is my dad's. The latter is very old, scratchy, far too big for me, and there's a hole in it (hidden behind my hand). Still, it's so warm and snuggly and, paired with this blouse and skirt, makes me feel like an autumnal Pinterest board.
I look forward to being back in Cambridge and accessorising with bags, scarves, hats, and coats – all that will have to wait. For now, my skirt-twirling will continue at home.