A dizzying blur of colour and action, a dazzling abundance of glitter and sequins, and pure, unadulterated spectacle...it must be a Baz Luhrmann film. Both devotees and sceptics alike can often agree on one thing: he has a flair for showmanship, a fact hardly surprising given his upbringing around ballroom dance. Packed full of allusions to pop culture, Hollywood icons and the '90s, the pastiche style of his films is equally reflected in the wardrobes. Many of his films are adaptations of period pieces, and although they pay tribute to period elements, are a melting pot of anachronistic cultural references and symbolism. The wardrobes, overseen by his wife and longtime collaborator Catherine Martin, involve a conscious reinterpretation of the idea of 'costume' - everyone is, of course, in costume, but the narratives use performance, theatre and dress-up to establish when even the characters themselves are playing a part.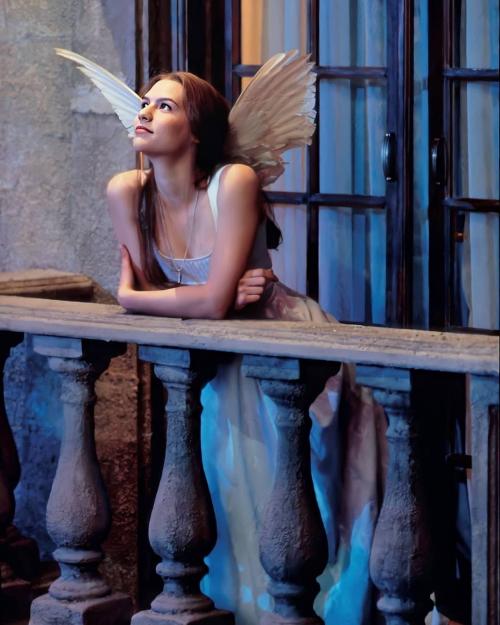 Surely Luhrmann's best-known and best-loved film, Romeo + Juliet's unforgettable '90s visuals have earned the film a firm cult following. You'd barely believe that the Montague boys' exuberant Hawaiian shirts, utility trousers, Chuck Taylors and pastel-pink hair dye occupy the same shots as the Capulet clan's all-black, matador-meets-mafia leather gilets and holsters, thick belts, cuban-heel boots and chunky cross chains. The groups' identities are polar opposites, and yet both manage to embody the film's spirit of rebellion in equal measure. The very designers called upon to create the costumes exemplify the generational clash of youth and conservatism, defiance and tradition: Prada and Dolce & Gabbana were behind the Montague and Capulet boys' uniforms respectively, while YSL designed the parents' outfits. A personal favourite detail is Tybalt's Christ-emblazoned vest with Virgin Mary-embossed Glock - iconography which wouldn't have been out of place in Dolce & Gabbana's 2018 Renaissance-inspired Alta Moda collection.
"It's Elizabethan English for the MTV era."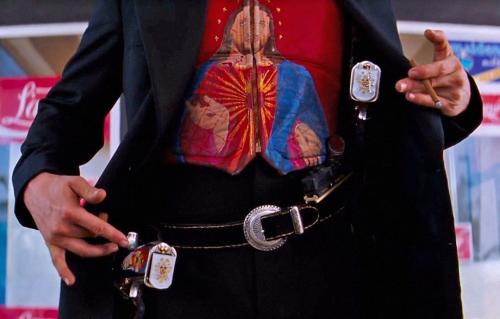 The protagonists exist apart from this vibrancy, donning some of the most pared-down and minimalist, yet still hugely symbolic, outfits in Luhrmann's films. Romeo first appears to us to the unmistakable sound of Radiohead's guitar chords, looking rather unkempt in a Gucci jacket with shirt unbuttoned, later donning a navy Prada suit for his wedding, complete with a floral tie as a nod to the Montague boys' signature print. Juliet, too, has a colour palette of almost exclusively white, sporting a demure white satin wedding dress, an oversized white T-shirt and her now-iconic angel party costume. During the party scene Luhrmann lets loose with his love of performance and spectacle, as well as his penchant for sequins. With Romeo-as-knight, Tybalt-as-devil and Lady Capulet-as-Cleopatra, the dress code truly is Wear Your Personality On Your Sleeve. Mercutio steals the show in drag, sporting a silver sequined two-piece, to the tune of 'Young Hearts Run Free'. It's Elizabethan English for the MTV era.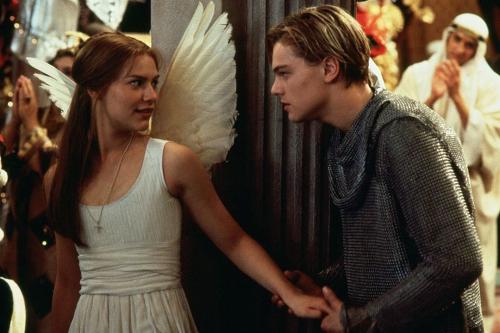 Miuccia Prada has since returned to the Hawaiian shirt for her spring/summer 2014 and autumn/winter 2016 menswear collections. Romeo was also in some ways a pioneer of Prada menswear itself, which was only launched three years before the film's release. The Montague boys' infamous ensembles have also found fans elsewhere, with Hawaiian shirts brought to the Saint Laurent runway by Hedi Slimane for his spring/summer 2016 show in LA, and spotted since on the spring/summer 2018 runways of Balenciaga and Louis Vuitton. 'The Hawaiian shirt as fashion will wax and wane in its relative cultural coolness at any given moment', Luhrmann explains in an interview with Opening Ceremony. 'But there will always be — if we're lucky — some lingering symbolic palimpsest of Romeo as that young boy in the Hawaiian shirt, who literally 'wore' paradise on his back.'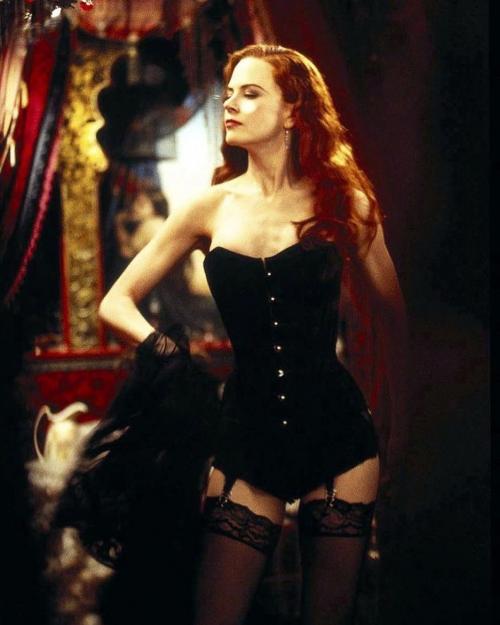 'Oh my God, we're making a can-can movie, Baz! This is a hideous and revolting thing! How are we going to do it?' Martin recalls telling her husband before they started work on Moulin Rouge!. Like Romeo + Juliet, it's a film in which the relative minimalism of the protagonists' wardrobes stands out against a landscape of kitsch and camp (Kylie Minogue appears as a fairy singing the Sound of Music over the rooftops of fin-de-siècle Paris, to give you an idea). The Moulin Rouge! dancers, for whom over 400 costumes were created, don all manner of gaudy colours, fabrics and silhouettes - think feather trains, billowing tulle skirts, tartan stockings, elaborate headdresses. Combined with Luhrmann's frenetic editing, this renders the big party scenes visually arresting and at times overwhelming. 'Where am I looking?' you wonder.
"Satine's change of status from desirable starlet to vulnerable young girl is reflected in her wardrobe."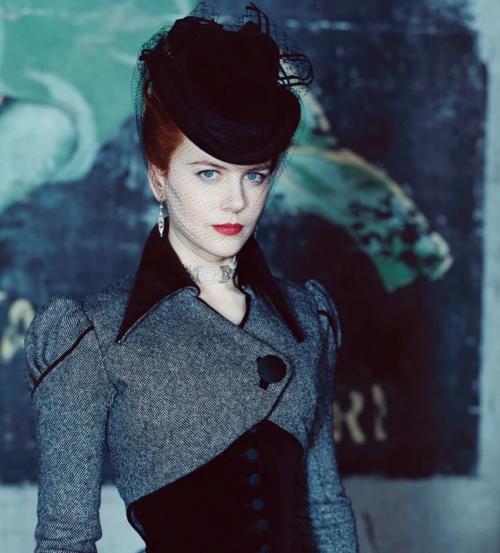 When dancer and courtesan Satine appears, there's no longer any doubt. She is literally the 'Sparkling Diamond', in a glittering silver corset and black top hat. Her showgirl costumes have noticeably less colour, fewer accessories, more simple hair and makeup and more structured silhouettes than the other dancers. As the viewer ceases to be a member of Satine's cabaret audience and becomes her confidant, Satine's change of status from desirable starlet to vulnerable young girl is reflected in her wardrobe. She loses the stage costumes and sequins, donning a series of more austere, yet equally striking, off-duty ensembles: a white skirt suit with matching beret, a grey skirt suit with corset bodice and black fascinator hat. Martin cites '40s Hollywood divas like Marlene Dietrich, Rita Hayworth and Joan Crawford as Satine's style inspiration, as well as musical dramas like Cabaret. When the soundtrack of Belle Époque Paris is Bowie and The Beatles, this suddenly makes total sense.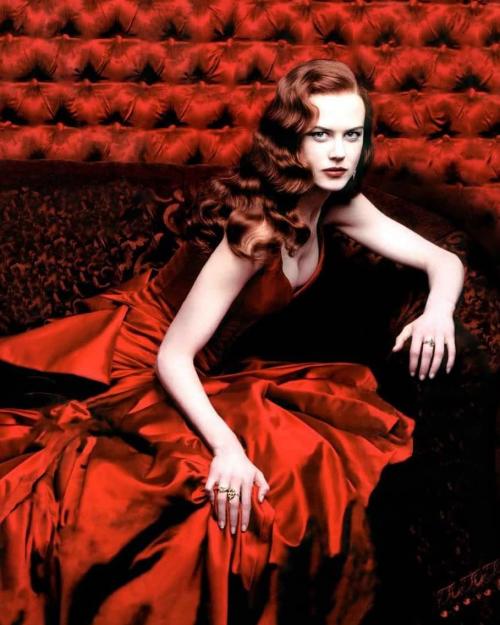 Nicole Kidman landed Vogue's December 2000 cover wearing Satine's now-iconic red satin dress. The film garnered quick renown for its abundance of corsets, incorporated into every one of Satine's outfits in some form. Sure enough, bustiers and tulle skirts dominated 2001 runways and high streets; 'You can even buy a corset in Topshop now, for heaven's sake', declared Hadley Freeman in The Guardian at the time. Fast forward to autumn/winter 2019 runways and Burberry, Saint Laurent and Dolce & Gabbana were among those who once again looked to Satine's signature corsets. Their appeal? 'I think these clothes have more of an ironic kind of sexiness than being naked under a bias-cut slip dress. Wearing a corset [...] is more amusing, more confrontationally deliberate', Martin mused in 2001.
"It ticked the boxes for the era-defining style that we view with such nostalgia today: fringed flapper dresses, beaded headpieces, fur stoles, slick bobs."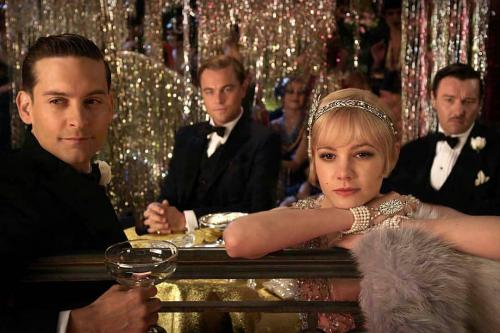 When Luhrmann's hotly anticipated The Great Gatsby adaptation was released in 2013, the general wording of the headlines surrounding the film read something like: 'The Great Gatsby: Try Again, Old Sport' (The New Yorker) and 'The Great Gatsby's Fabulous Betrayal of 1920s Fashion' (The Atlantic). No one was under any illusion about the fact that the costumes were historically inaccurate, apparently including Luhrmann himself: 'You have to find an unexpected fresh way of seeing it. I don't want to see people swinging pearls and twirling their feather boas,' he told Martin. In that way, the film delivered both the predictable and the unpredictable when it came to Jazz Age fashion. It ticked the boxes for the era-defining style that we view with such nostalgia today: fringed flapper dresses, beaded headpieces, fur stoles, slick bobs. It paid homage to Gatsby's most infamous look: the pink linen suit, designed for DiCaprio by Brooks Brothers, who teamed up with Prada to create the film's wardrobe. And yet, as fashion historian Deirdre Clemente points out, a character like Jordan Baker wearing palazzo pants in the '20s is unlikely, if not mere fantasy. It is, however, she goes on to note, a clear sartorial marker of Jordan's unorthodox athleticism, cynicism and avant-garde edge.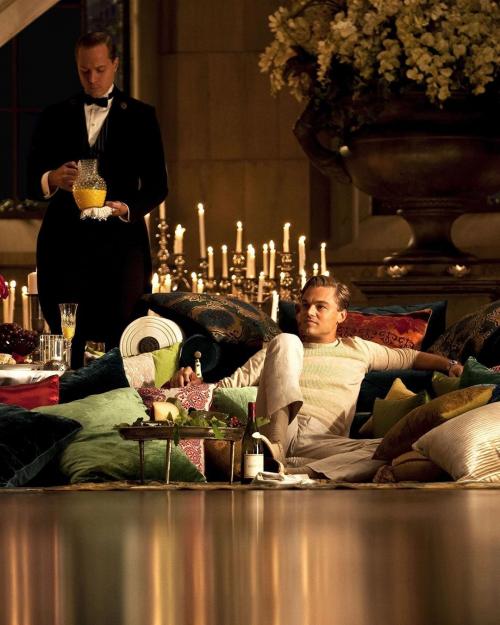 The costumes in Luhrmann's films embody the very stories they tell: tales of youth, beauty, freedom and excess. In a 1990 essay, Jane Gaines argues that while costume often speaks to a character's psychological state, the character is at their most believable when their costume is able to blend seamlessly into ordinary clothes. This is a transition that Luhrmann engineers expertly, building up and stripping away his characters' façades to create portraits of authentic humans against a background of hedonistic indulgence and frivolity. And he does it without compromising on any of his trademark glitz and glamour.