We are all aware that we are living in "unprecedented times" of global turmoil. And so, what is the role of "fashion" at this time?
When we are "CASTAWAY" from normality, how do we stabilize ourselves? How do we find our "new normal"?
In this series, Isabella Martin, speaks to individuals about how they are filling their time in lockdown and what they are wearing whilst doing so.
Meet Tiger. Creative director of the Cambridge University Charity Fashion show. Comedian. Actor. Queen of dress-up. But most importantly, our latest #CREATIVECASTAWAY.
How have you been finding lockdown?
I feel, like most people, it's constantly changing. Everyday I go through the same cycles: feeling enthused by my new amount of free time, to "this is the worst thing ever why can't I stop crying."
How are you finding your new 'normal'?
I'm taking each day as it comes. The days seem to be blurring into each other. 
Me and timetables have never been good pals. I never knew my timetable at school, and I still never know my schedule at uni either. I tried to make my own because I was inspired by my brother who is so self-disciplined, but it didn't work at all.
I think that is my routine; not having any routine.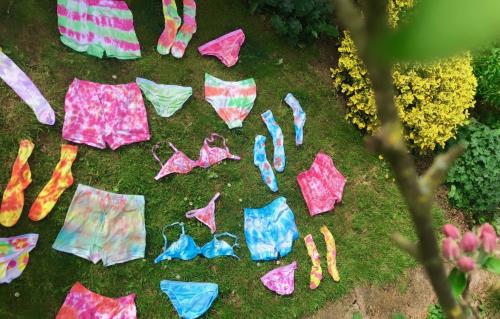 What kind of things do you have more time for now?
At Cambridge, it's easy to do creative projects like a society or a show, but it's not necessarily just for yourself. In lockdown I've had more time to do things for myself. Me and my sister have tie dyed loads of clothes; underwear, tights and shorts.
For ages we've wanted to make this dress out of tiles of laminated pressed flowers, inspired by designer Paco Rabanne's 60s mini dresses. We collected lots of flowers on a walk, and pressed and dried them. Then, we put them through a laminator and cut them into little tiles, which we pierced together with nose-rings. I think it looks like armour.
I'll only do something if I'm suddenly in the mood. Whereas at uni you wouldn't just necessarily follow those impulses. You have an indefinite amount of time to indulge any creative urge. 
You can think more about what you actually want to do – which is really rewarding, waking up and thinking what shall I do today, what should I fill my time with? Although, I definitely don't feel creative everyday.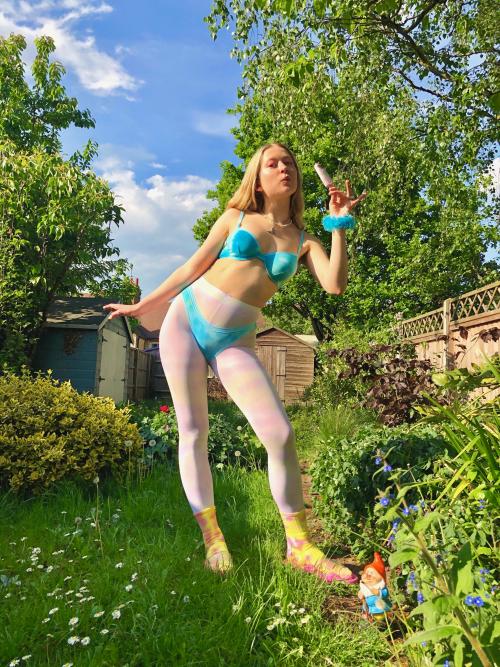 How have you been getting dressed?
It's great having freedom to wear whatever you like in lockdown. There's no social standards of being too dressed up or under dressed.
I know that if I stay in my pyjamas all day I'll feel rubbish. Even if its putting on a skirt or a t-shirt that I like, I'll feel a lot better. 
How are you relaxing?
I've been doing what most people have been doing – pretending I can bake, and I've watched every single episode of Sex In The City. 
I've been obsessed with watching Grayson Perry's Art Club on every week on Channel 4. He hosts it from his studio, interviewing other famous artists and celebrities about how they are spending their time in isolation. He also hosts master classes to help teach us all how to create art.
That's definitely one positive side to lockdown; is artists reaching out and interacting with the general public.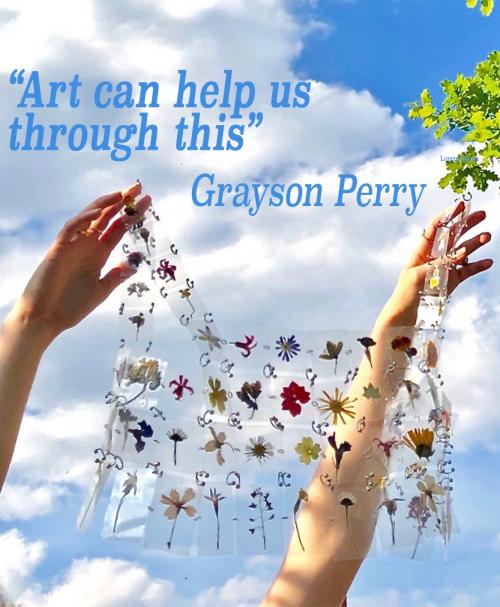 Is fashion in your family?
My grandma is definitely my fashion icon. She's so glamourous, and definitely the reason why I got interested in clothes in the first place. She always wears the best colours, like bright pink and orange together at the same time. She's got the best bling too. Grandma's always do.
My sister and I share all our clothes. We've never fought about it; we're used to it. We just have one massive wardrobe.
My sister runs an online shop, on Instagram (@shopscruff) and Depop (@scruff), which just opened its first physical outpost in Peckham. The dream is that one day my sister and I could have a shop together. But that's not really realistic right now…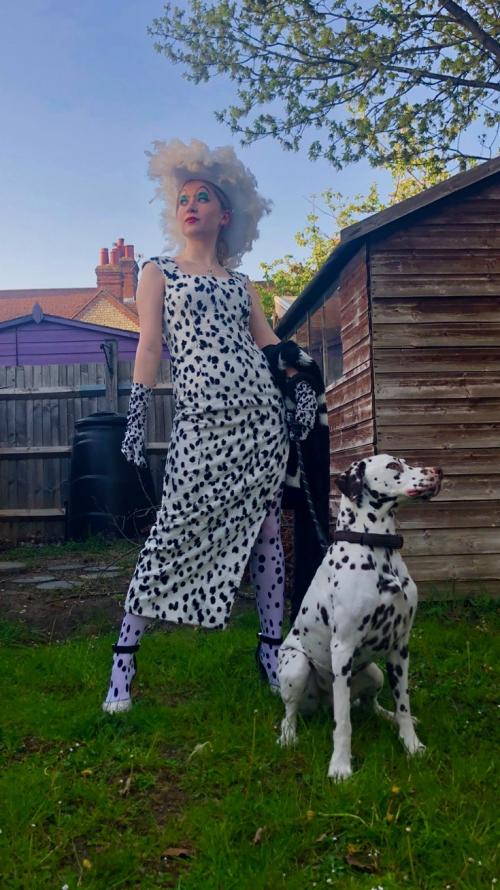 Let's talk a bit about the fashion show! Congratulations on it's success.
Tell us about your role.
When I got the role of Creative Director, about a year before the show, we immediately started looking for designers. We went to the graduate fashion week in London to see all the collections. It involved endless emails, but it was a really enjoyable process in the end because I had an excuse to DM lots of people who I admired.
What were your priorities when you were creating the show?
Something that was really on my mind was having a major environmental focus to the show, rooting sustainability into everything we did. I do think that at this point in society it should be a given that clothes are made sustainably, and that it doesn't have to compromise creativity.
There's so many ways to make sustainable decisions, whether it's using repurposed fabrics or 3D printing, and each designer embodied this in their own way.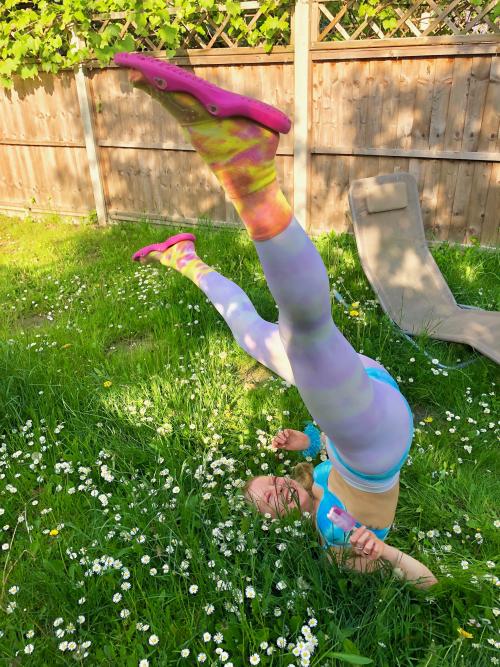 Can you tell us a bit more about your vision for the show?
I really wanted it to be fun, and not taking itself too seriously. A big thing for me was making sure that the models were comfortable: when I see people who are really enjoying what they are wearing – those are the people who look amazing. 
Something I wanted to get across in the show was people's different personalities. It was so important to me that the models felt they were part of the show, rather than just "mannequins."
We worked so hard and did confidence workshops every few weeks to make sure the models were all comfortable and having fun. I'd make them do all this silly stuff like come up with an alter ego, give them a name and a catch phrase. It really worked!
I'd give them little stories to help them, like "I've just disrespected you in the biggest way ever. I want you to walk towards me like you're about to give me a piece of your mind, then at the last minute you decide I'm not even worth your time."
It kind of all came together when Hattie (Hamans, who DJed the show) sent me the set list the day before. It was something we'd planned for so long. I was feeling so stressed, but when I heard it, it reassured me straight away.  
Do you have a particular favourite moment of the event that comes to mind?
I was backstage the whole time but I was so over the moon that Tom Glitter (performer, journalist, writer of best-selling biography 'Diary of a Drag Queen') headlined!
A week before the show, the headliner dropped out, so I had to sort something out last minute. I had seen their show in Edinburgh and was so obsessed with them, so I just DMed Tom on Instagram! It was a real highlight for me. 
Did you have a particular favourite of all the designers?
My favourite collection was the Lanxin Zhang.
I have a little penchant for anything cowboy. I thought their clothes were so beautiful. I had seen the collection about a year before the show, and really hoped we could include it.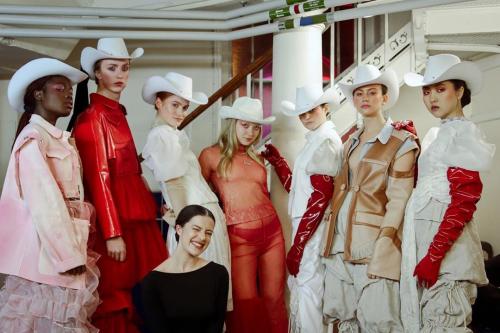 Do you think you would do it again?  
I said when I was doing it, "I'm never doing this again." The day of the fashion show was the most stressful day of my life!
But it was such an amazing experience, and I'd want someone else to have their turn.
Lastly, some quick-fire questions:
What one item from your wardrobe would you save if your house was on fire?
My wedding dress! It's a floor length, cream lace, dress. The lace is distressed and falling off it, with orange and green ties going down the back.
What piece of clothing in your wardrobe makes you feel most "yourself"?
That can really change depending on the day. It's such an addictive feeling. That's why I can spend ages trying on clothes before I leave the house.
Generally, a cowboy hat is always an essential for me. Otherwise, probably a long, floaty dress; I don't really wear them out all the time, but I've been wearing them more recently.
What is your favourite colour?
Probably pink.
Any lockdown film recommendations?
I've watched two films in lockdown that are now probably all-time favourites: Midnight Cowboy. It's about this guy who leaves the south to become a gigolo in New York, set in the 60s, and everything he gets tangled up in while he's there. 
The second one is Crazy Mama, which I adored. It's a road movie by the same director as Silence of the Lambs.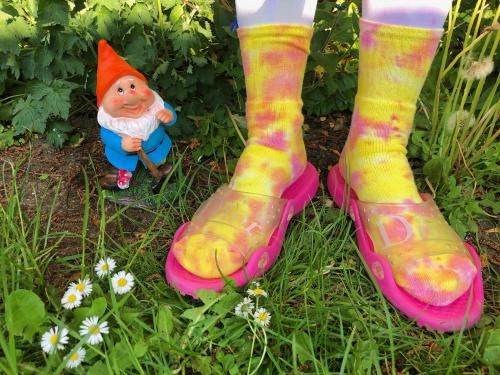 Thank you!
Interview by Isabella Martin. Photographs by Tigerlily Hutchinson. 
Instagram: Follow us @vulturemaguk
Use the hashtags: #CREATIVECASTAWAY #CREATIVEATHOME #CREATIVECOMFORT
Show us what you're doing at home: how you're getting creative, or your quarantine comfort fit.