We are all aware that we are living in "unprecedented times" of global turmoil. And so, what is the role of "fashion" at this time?
When we are "CASTAWAY" from normality, how do we stabilize ourselves? How do we find our "new normal"?
In this series, Isabella Martin explores the role of fashion under global pandemic, speaking to individual creatives about how they are filling their time and what they are wearing whilst doing so.
Meet Otti. Otti takes a one year Foundation Diploma in Art & Design course at Kingston University, specialising in 3D & Design. She is getting ready to start Architecture at Pembroke College, Cambridge starting Autumn 2020.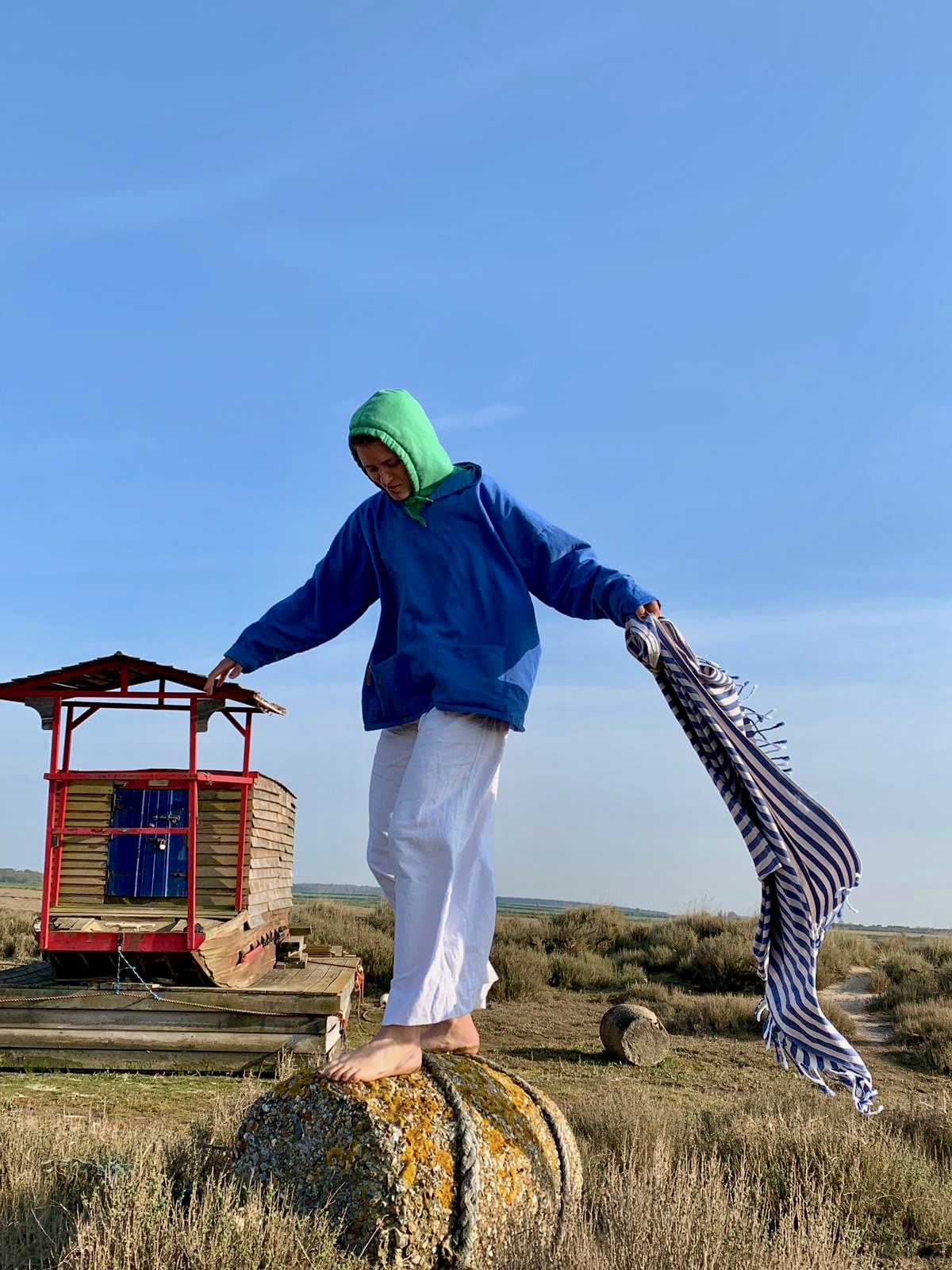 Otti wears a Carrier Company Fisherman's Smock, Gap Trousers, Nike hoodie.
In these images, Otti is hanging out at the beach and on marshland on the North Norfolk Coast, taking her daily exercise.
This natural expanse of marshland is littered with traces of human existence; buoys, barrels, and boats; manmade objects which are entirely "out of place" with nature.
This conflicting landscape sets an appropriate backdrop for our interview with Otti, in the days of enforced quarantine, where every individual is "out of place" with their own sense of normality.
How are you finding your new "normal" routine?
Building a routine in my daily life and making time for the things I have to do and the things I want to do. I find keeping busy is quite important, and having a schedule. I set an alarm every morning, and go to bed pretty early.
Is there anything you miss in particular from your old sense of "normal"?
I miss having studio time with my friends, and having that communal space. But there is a certain beauty in all this free time now; I have time to do these things which I wouldn't normally do.
What are you working on right now?
I'm working on my final project for my art foundation at Kingston; focusing on the sensory information that you lose when you use a utensil or cutlery to eat, instead of your hands. I want to celebrate and give people back the sensory stimulation of eating a meal with your hands.
At the moment, I'm working on carving a spoon out of chalk – if I create a piece of cutlery that is unpleasant to use, the user is more likely to swap to using their hands.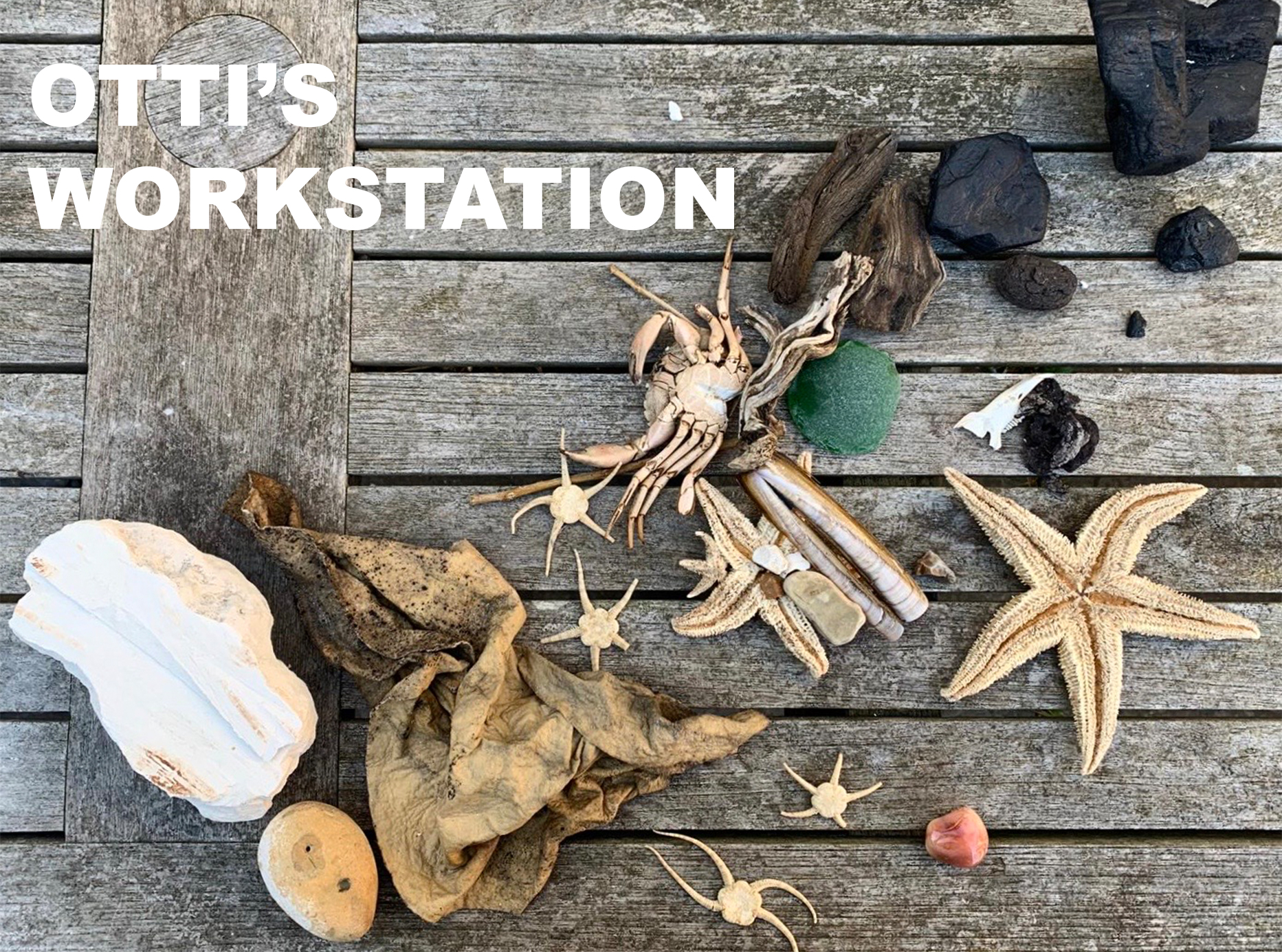 What kind of things do you have more time for now?
I make sure I get a lot of fresh air and get out because I think it can be easy to spend the whole day inside. Use your exercise quota! Right now, I'm so lucky to be able to go to the beach for my outside exercise:
Recently I have also been collecting a few beach treasures and I hope to do a still life with them soon.
Working on tactile projects can be very satisfying – making things with my hands, cooking, crafting.
I made caramelised oranges and dipped dark chocolate walnuts, and wrapped them up in an egg box with parchment paper – I sent one to my Granny, who's self-isolating by herself right now.
How are you getting dressed everyday? For comfort? For practicality?
I wear one of four outfits everyday, depending on the weather - so I guess practicality! I just want to feel easy and comfortable in my clothes. I'm alternating between three hoodies right now. 
I'm also really enjoying my t-shirt which says "Corona" on it.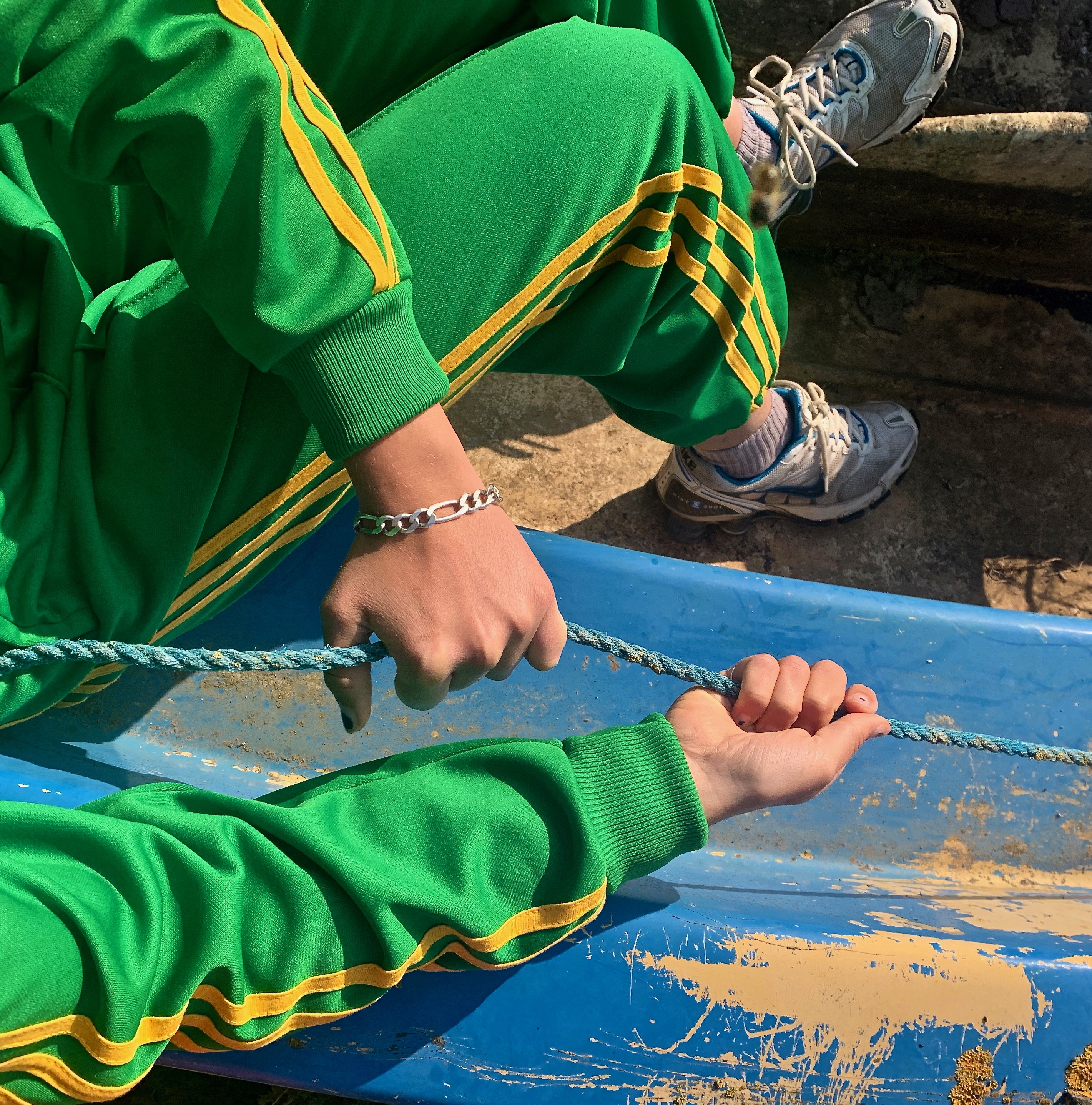 Otti sits in a washed up boat called "Tender to Kingfisher" on the marsh. Spot the bug that flew across this shot.
Otti wears Adidas tracksuit, @E2cartel bracelet, Vintage Nike Shox trainers. 
Are you dressing very differently from before?
For sure; I have jeans here but I've only worn them once! I'm team loose waistband now. At uni, sometimes I will put on a fancy shirt or a dress with tights, just for the fun of it. 
I think this time reminds you that you dress for yourself and not for other people.
What would you wear on a supermarket trip?
If I was going to the supermarket I would wear something cotton so it can be washed at 60 degrees when I get home.
What about a Facetime outfit?
I would probably change my clothes for a Facetime… guilty!
How do you feel about the imminent future?
Uncertain, playing it by ear. I'm a pretty chill person, taking everything day by day. I'm just gonna see how it goes. I'm meant to be starting university (Pembroke College, Cambridge, Architecture) in Autumn but I don't even know if I'll be able to right now. Time will tell, I guess.
I won't have the same materials and equipment that I normally have in studio at Kingston to work on my final project, so that's definitely going to affect my output.
Any optimistic words for us at Varsity Fashion?
Stay creative, do what you love and what makes you feel good.
Thank you for your time!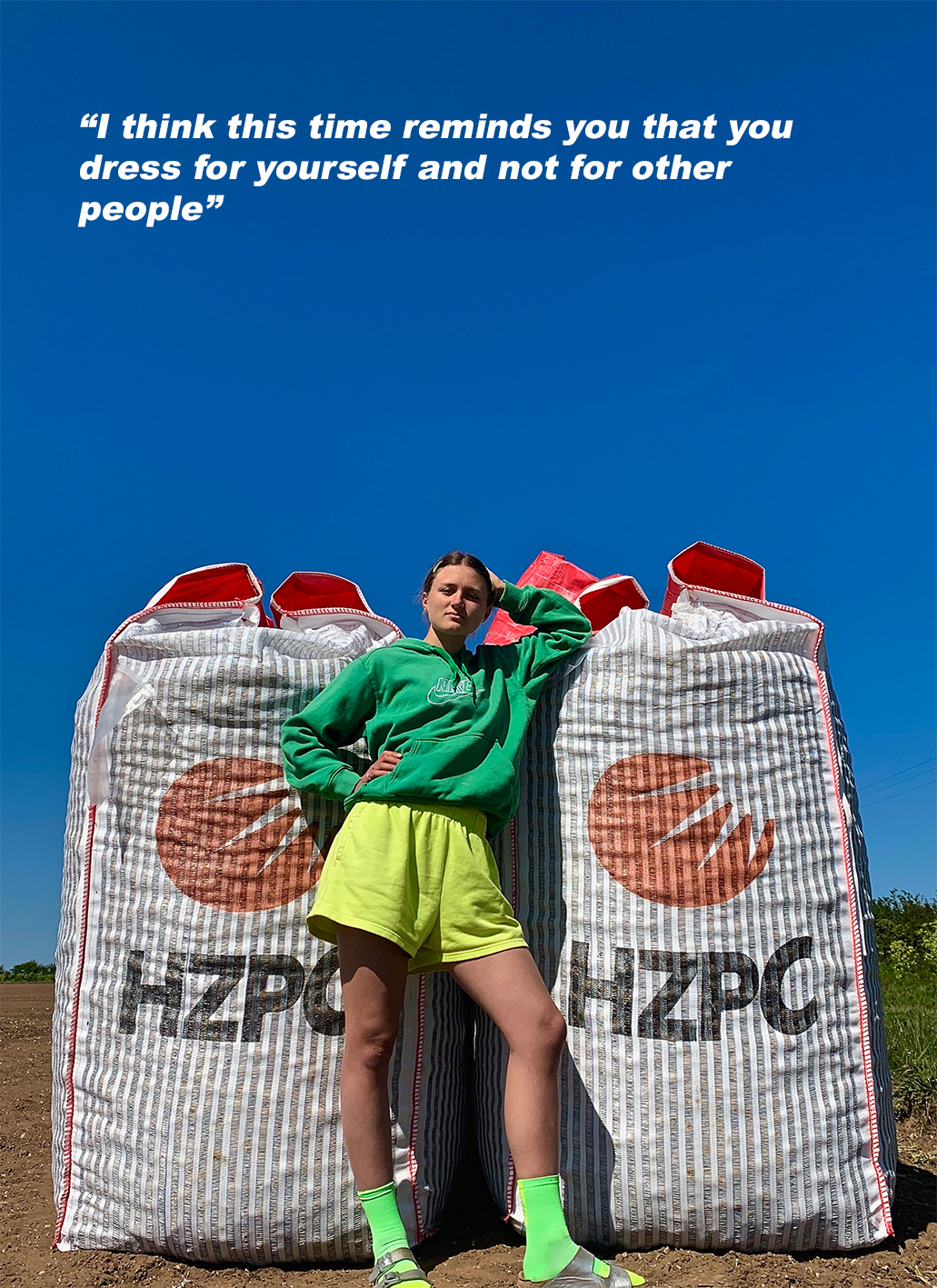 Otti poses by large plastic sacks of potatoes which we found in a field of soil. 
Otti wears Nike hoodie, Weekday shorts, & Other Stories Clips, DHB socks, Birkenstocks.
Whilst incapable of solving a pandemic, there is still value to be found in what we wear: as a means to find comfort in an alien sense of normality, or provide a mere mental distraction from global distress.
Interview and photographs by Isabella Martin. 
Instagram:
Follow us @vulturemaguk
Show us what you're doing at home: how you're getting creative and your quarantine comfort fit.
Use the hashtags! #CREATIVECASTAWAY #CREATIVEATHOME #CREATIVECOMFORT