In a town in which every street boasts grand museums bursting with decades of history and every corner houses another inspiring independent gallery, attempting to absorb all of them in one day would leave you with sore feet and an even sorer brain. Nevertheless, surely combining the intellectual integrity of a museum tour with the mental lubrication of a pub crawl could power a whistle-stop tour of the finest culture Cambridge has to offer? To test our hypothesis of whether several pints could dampen the dryness of multiple museums, your very own Arts team headed out on a soggy Friday afternoon to embark on an (ambitious) mission: to consume as much alcohol and as many cultural artefacts as we could before our tolerance for either ran out.
First stop: Kettle's Yard, by Grace Cobb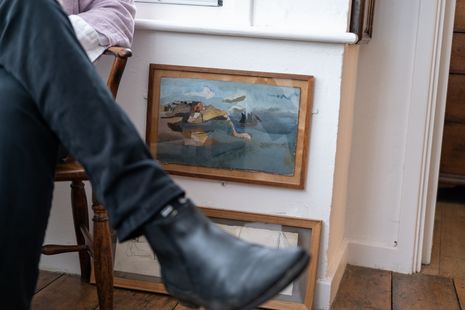 After deciding The Museum of Cambridge was too pricey for our student budgets and instead dipping our toes in Kettle's Yard's Lucie Rie exhibition, we quickly discovered that Daniel (the History student among a hoard of Englings) was surprisingly unimpressed by pots only several decades old, so spontaneously booked a tour inside the gallery's elusive 'House'. Causing a slight kerfuffle (despite only being on drink no.1) as another member of the Arts armada escaped a supervision to join our endeavour, we eventually entered the house of Jim Ede: curator at the Tate Gallery in London and bestie of Joan Miró, Henry Moore and Barbara Hepworth, among other A-list artists whose work lines his toilet walls and window sills.
"This was a sobering experience, quite literally"
and Leo Kang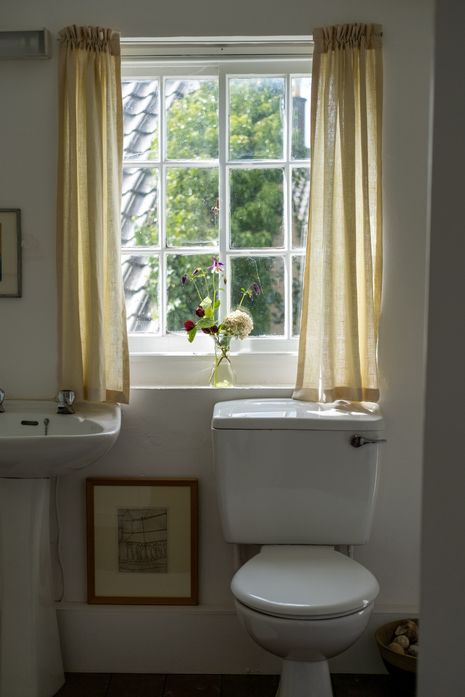 Ede's house, which has been preserved since the 1950s, seemed cramped and confusing at first. His tables were adorned with intricate spirals of seashells or polished stones. In one corner, a single lemon in a silver dish held the darker shades of the room at bay. We were told we could only touch the chairs, because everything else was art – this left Ede's Armitage Shanks toilet in an eerie grey area. Soon, however, we were ushered out of the toilet and up the stairs, where we discovered an antique paradise of huge, high-ceilinged rooms. Sunshine slanted through the windows, and we decided, for no real reason, to snap a group selfie in a battered silver mirror. There were oil paintings and puppets, bookshelves and grand pianos. In the end, Kettle's Yard felt more Architectural Digest than art gallery, but it was a fun little exercise in house envy. We trudged on down to the Baron of Beef and, over shots of tequila, brainstormed a way to steal the house for ourselves one day.
Second stop: David Hockney Gallery Cambridge, by Loveday Cookson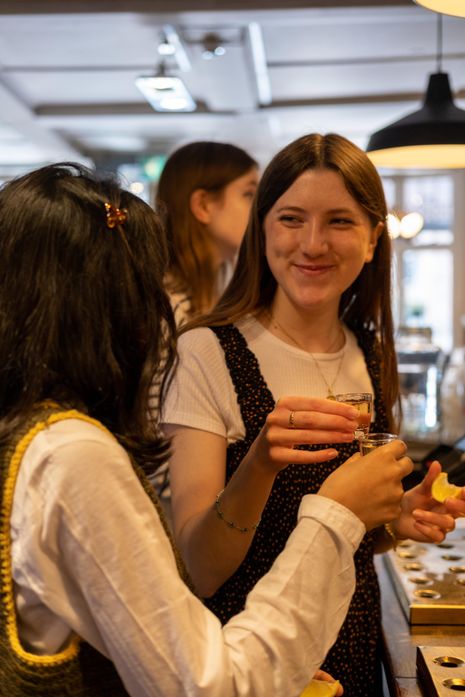 Fresh out of Baron of Beef we found ourselves in The Hockey Gallery, an easily missed treasure paradoxically hidden behind a bright blue exterior. This sets the tone for the art within; bright, bold and everything you'd expect from Hockney. Although small, the gallery more than makes up for its size in the density of art it contains, from smaller floral prints to larger pieces. The centrepiece, an enormous catalogue of Hockey's most loved works (including the all too cute dachshunds), encompassed this jam-packed highlight-reel of art in small-scale. While we didn't spend long there, we have no reason not to revisit considering its convenient proximity to Sainsbury's.
"From small rocks, mighty poems grow"
Third Stop: Extraordinary Objects, by Anna Wythe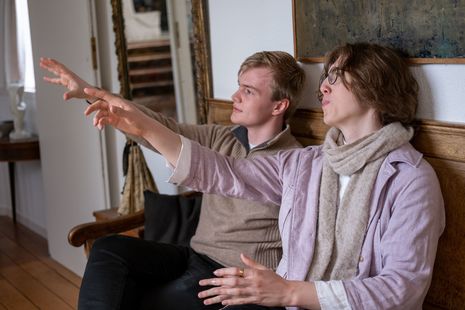 Parched but intrepid, the team traipsed on from Hockney to Extraordinary Objects without even a shot of tequila to cleanse their artistic palates, only to discover what happens if you took the library of a big game hunter and made it pop art. Classic book covers spouted one-note witticisms, whilst the drawling of silver screen divas dripped down the walls. Don't forget the fossilised triceratops skull - your vegan-friendly replacement for a taxidermy tiger. The 'extraordinary objects' turned out to be a collection of expensive conversation starters, but they provoked little more than a hollow chuckle. Even the beautiful fossils felt undermined by their forthcoming role in the interior design projects of trust fund kids. The gallery certainly poses questions about the nature of art, but mostly it just poses.
Third stop: Museum of Archaeology and Anthropology, by Ahana Banerji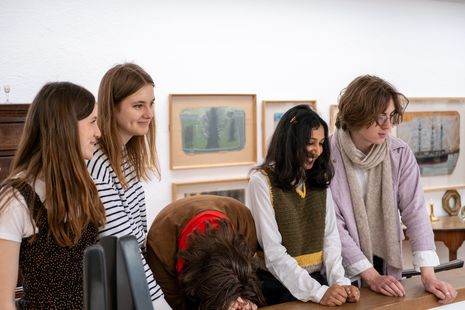 Upon arriving at the Museum of Archaeology and Anthropology, I was decidedly a little tipsy, but David led me with Christ-like confidence into the belly of the museum, straight to the piece he knew I would find most poignant. An ajar stone coffin from the 4th Century A.D., holding the skeletons of a woman, a mouse, and a shrew. The rodents gnawed the woman's ankle-bone to the point of thinning snap; her ribcage looks darkened and distended with age. No wonder Sylvia Plath wrote one of her most grotesquely intense poems, titled 'To All the Dead Dears', after seeing this. This was a sobering experience, quite literally.
Fourth stop: The Sedgwick Museum, by David Quinn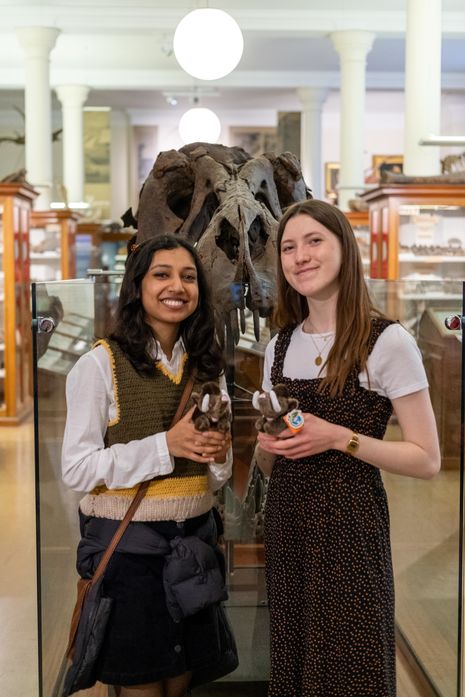 In contrast to its half-sibling Sidgwick, the Sedgwick site's 19th century architecture lends it a sense of grandeur, fitting for its purpose as a glorified display of rocks. All life on Earth is displayed in a neat chronology along one long corridor, where a looming Iguanodon skeleton and a T-Rex skull primed to snatch shut fight over visitors' attention - but there's far more to see than just dinosaurs. One corner houses an ichthyosaurus purchased from unsung archaeologist Mary Anning, another a sizeable collection from Darwin's Beagle voyages. For a science museum, it is not free of a modicum of literature, with Tennyson's fossil finds featured alongside the poems they inspired: from small rocks, mighty poems grow.
Nevertheless, it was the small, plush mammoths gracing the gift shop that made the most lasting impression on the tequila-fuelled group and their bank accounts - but their cuteness assured us these ones would not go extinct.
Fifth stop: The Fitzwilliam Museum, by Eve Connor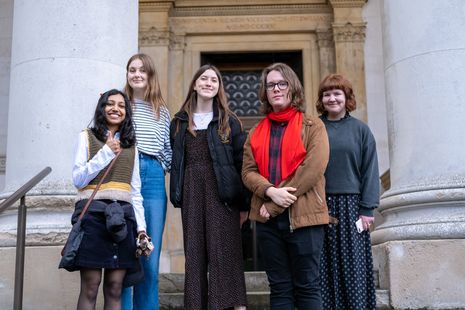 Incapacitated by thunder and rain, our travellers gazed dismayed and (newly) sober through the locked gates of the Fitzwilliam. Had we arrived earlier, I imagine we would have revelled among the broadswords and ornate ivory daggers in the Armoury, a space where wits are at their… sharpest. Gallery 8 ('Spanish & Flemish Art from the 16th-18th Century') houses two strikingly modern-looking pieces. 'Self-portrait, with the Colosseum, Rome' (1553) by Maerten van Heemskerck predates the digital selfie by centuries, yet the concentrated brow and skittish lip share all the characteristics of my pre-Formal Hall efforts. Crispin van den Broeck's 'Two Young Men' (n.d.) depicts the moment I force my friend into frame. A phenomenal museum, when you're sober enough to be punctual.