Linda Karshan is about to perform. Her audience is outside, clustered along the embankment that borders the fountain at Murray Edwards College. They peer into the windows. Nearby, a sound tech adjusts his equipment. He points two LPDA antennas upwards. There is a brief silence as everyone squints in the sun.
Then, over the rush and bubble of the fountain, there is the unmistakable sound of footsteps making their way through the upper floor of Murray Edwards. People are moving in response to the sound, following it with their bodies. The antennas follow suit. It is these antennae that emit the sound of footsteps. But the audience cranes its neck in unison, turning in the grass to track the artist as she moves through the building. The steps sound as if they emphasise the heel, then the toe. Suddenly, the noise is amplified: Karshan has put on tap shoes. The footsteps evolve as the artist descends a flight of stairs, the steady shhh of chalk across a board. A hidden figure emerges from the double doors, a black hood pulled low over her head.
"They must be various", Karshan notes sagely. "It's the nature of the medium."
Linda Karshan is performing Two Feet Walking, an astonishing walked drawing in collaboration with the filmmaker, photographer and poet Ishmael Annobil. Annobil follows Karshan with a camera, capturing this live performance on video. Those with only a cursory knowledge of Karshan's graphic art might consider her more recent walked drawings to be a departure. Karshan's prints, drawings and artist's books are currently being held in private collections at the British Museum, the Tate Modern, and Harvard's Fogg Museum. She gained prominence in the late eighties for a series of intaglio prints: etchings, dry points, and woodcuts. They're created by carving into a copperplate or wood block.
"There is resistance," Karshan tells me. "Which I like." She describes herself as having "no feeling for painting." She continues: "it's too soft for my taste — I would never make screen prints. I once tried lithography, this, too, was too soft for me." Karshan's reflections on her work make it clear that her pieces have always contained the essence of movement. She beautifully articulates the parallel between her graphic art and her walked drawings: "The precision of my footfalls relates to the incised marks of my intaglio prints." She describes herself as being aware of the need to introduce variety within her 'marks' or steps, just as she would in a print series. "They must be various", Karshan notes sagely. "It's the nature of the medium."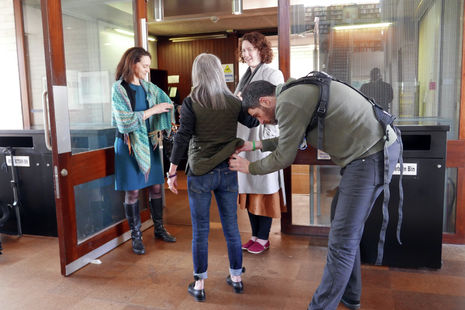 Her first walked drawing was born in Venice in 2018. She was living there while exhibiting her work at the San Giorgio Maggiore Abbey and had become enamoured with the angles on the lozenges in the parquet of her floor. So she began to walk it. This initial foray was followed by walked drawings in the British Museum and Somerset House. Karshan is drawn to large, classical spaces, institutions that make her feel an affinity and "have meaning." Murray Edwards College is no exception. After Karshan's performance, the audience moves to the Dome, where the artist participates in a panel discussion and Q&A chaired by Gill Hedley. Naomi Polonsky, assistant curator of the newly-renamed Women's Art Collection, opens our post-performance panel discussion with a brief history of the building. It was built in 1954 by Chamberlin, Powell and Bon, the architectural firm that designed the Barbican Centre. It's an immense brutalist structure of white brick and cement. The steep staircase, she says, was meant to symbolise women's intellectual ascent.
Karshan's performances reveal the private world of her own mental geometry. She used to count before entering her studio to begin her prints. This internal metronome allows her to enter a meditative state that precedes the creation of art. All of Karshan's work contains gestures and traces of the body. They come from the same point of origin: the human figure. In this way, her prints "serve as a direct reflection on the process of making." During the panel discussion, Karshan reminds the room of the words of her late teacher Robert Reed: "Drawing is not a destination. It's a search." The famed artist Lucien Freud, one panellist reminds us, described his printmaker as a taxi driver. The process, in other words, can be the driving force. The artist might merely be a passenger.
"Karshan's work speaks to a keen, innate awareness of the interaction between human movement and architectural space."
In our conversation afterwards, Karshan notes that like a master-printer, Ishmael Annobil is able to realise the meaning of her walked drawing "by his poetic understanding of what is at stake." And there is certainly a lot at stake: how can a film encapsulate not just the literal motions of a live performance but its ephemerality? A copy of the film of the April 8th performance Two Feet Walking will be donated to the Women's Art Collection. The Collection has also received her new drawing entitled Dashing Corners (Autumn 2021). By placing small cameras in the corners of the college's Rosemary Murray Library, Annobil masterfully captures Karshan's movements on film.
Karshan holds a special reverence for corners. They must be dealt with properly; turns must be taken at the angle that befits them. This is a classically Bauhaus fixation, which seems fitting: Reed, Karshan's mentor, trained at Yale under Josef Albers. Karshan studied architecture under Reed at Skidmore in the 1970s. Her background is one of technicality and precision.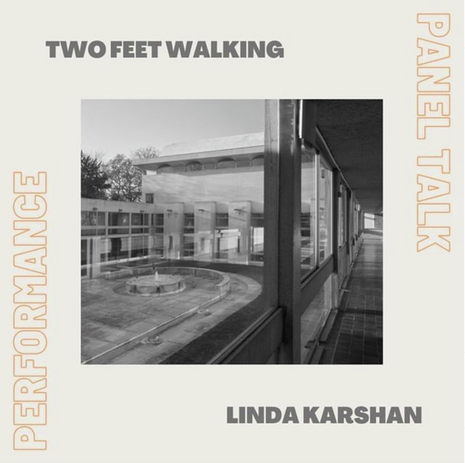 Karshan's work speaks to a keen, innate awareness of the interaction between human movement and architectural space. Two Feet Walking perfectly illustrates her ability to both embody the atmosphere of a building and react to it. Whether printing on a page or occupying space with her body, Karshan has always connected to her audience through space and sound. This is how the rhythm in her work is communicated. Her art has always been intrinsically connected to her body. She recalls that while drawing in her studio, the sound of graphite against paper was "like a breathing machine."
Karshan's father contracted polio in 1951, when she was a young child. He was only 33. He would remain paralyzed for the rest of his life. She suggests that her performances are, in some small way, a means of redemption for his illness. "I breath easily because I can, I am upright and alert because I am able, I am two feet walking because I must", says Karshan.
She describes the sound of her tap shoes against a surface as "both cue and mark." But there is little else theatrical about Karshan's performances. She occupies a building with her body. The space conveys a meaning and her body responds in kind. In her panel discussion, Karshan recounts the criticism that the actor Billie Whitelaw received from Samuel Beckett: "Too much colour, Billie." She smiles at the room. Having too much colour is a synonym for being too 'actorly.' This is a pitfall which Karshan artfully avoids.
As I walk back through Murray Edwards to the exit, I find myself paying attention to the gentle click of my boots against the uncarpeted floor. "After your performance today, what would you like us to do?" Karshan laughs. "Listen."