Marc Chagall, groundbreaking modernist, friend of Matisse and Picasso, the man who designed the Peace Window at the United Nations in New York City. All Saints' Tudeley, a tiny church with a predominantly elderly congregation in a rural Kentish hamlet. What on earth could they have in common? The improbable answer: All Saints' is the only place of worship in the world to have a full set of stained-glass windows painted and designed by Chagall. It's an extraordinarily beautiful place, made all the more exquisite by the poignantly tragic tale of how the windows came to be. To find out more, I sit down with Josephine Willoughby, a member of the congregation and trustee of the Chagall Windows Preservation Trust.
Originally there was to be just a single window in memoriam of Sarah. Sarah D'Avigdor Goldsmid had resided at Somerhill House, a huge Jacobean manor up the road from the church. Josephine explains Sarah's parents' connection to All Saints'. 'Lady Rosemary D'Avigdor Goldsmid worshipped at All Saints' Tudeley, she was a Christian, and her husband, Sir Henry was Jewish, a very successful businessman; he didn't worship at the church.' Sarah's younger sister, Chloe Teacher (née D'Avigdor Goldsmid) is a member of the congregation to this day and is also a trustee of the preservation group. In 1963 tragedy struck the family: 'aged 21, Sarah went on a boating trip with two friends and only one of them came home.' Her grieving family searched for a fitting way to commemorate their loved one.
"That's quite an exquisite way of expressing grief, not allowing it to just be an ending, but to become a very big beginning"
Why a Chagall window? 'Sarah was madly keen on modern art,' Josephine elucidates. In fact, despite her young age, 'she was the first person ever to buy a painting by David Hockney, right at the beginning of his career.' Sarah particularly adored Chagall's work, above all his stained-glass creations. When she was 17 or 18, she had visited Paris with her mother to see an exhibition at the Louvre, with windows designed by Chagall, which were later to be installed at the Hadassah Medical Centre in Jerusalem. 'When Sarah came away, she was absolutely blown away by it, she just couldn't talk about anything else.' Lady Rosemary decided, 'the way I want to honour my daughter is to have a window made for the East window of this church,' which at the time was plain clear glass. As Josephine says, clearly moved, 'that's quite an exquisite way of expressing grief, not allowing it to just be an ending, but to become a very big beginning.' According to her, the family has found much solace in knowing that 'out of their tragedy has been born this extraordinary gift.'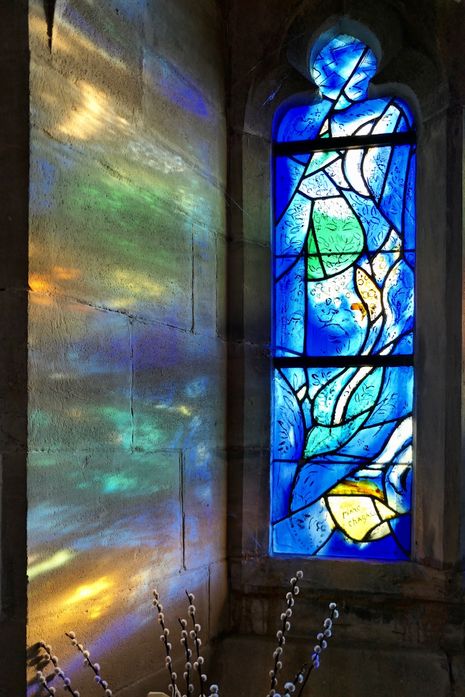 The gift didn't come easily, however. As Josephine points out, 'Chagall was at the height of his fame. Why on earth would he accept this commission?' Fortunately, the D'Avigdor Goldsmids and Chagall had a mutual friend, through whom they were able to contact the artist. Chagall initially refused the commission, but Lady Rosemary persisted. 'She kept writing, and eventually, very excitingly, he said yes.' The family, however, rejected the artist's first design, which depicted his first wife Bella, an angelic figure floating through the air (this is perhaps the most recurrent image in Chagall's work). 'They thought that it was lovely, but it was nothing to do with their daughter.'
The finished window is, instead, 'the narrative story of the life and death of Sarah. It depicts her in the sea surrounded by fish, her grieving family and home, and Sarah joyously mounted on a red horse before ascending to heaven'. The window is predominately blue because 'Chagall believed that red was the colour of joy and blue was the colour of love.' Sarah has 'lost her life but she's at peace. I believe that Chagall's message is that God's love transcends all and we share the hope of resurrection'. At the top of the window, 'you've got Christ with his arms outstretched on the cross. He's loving and welcoming.' Then, 'over the top, there's what I believe is the Holy Spirit, a big bird's wing.' The window also contains a recurring Chagallian motif: a green triangle. This is the artist's homage to his humble beginnings, representing a rooftop in Vitebsk in Belarus, where he grew up in relative poverty. Next to Christ, there's a black swirl. Josephine says that every Jewish group of visitors with whom she has spoken agrees that this whorl represents Tohu Bohu, 'the Hebrew phrase from Genesis v.1 signifying when the earth was formless and empty, a void.'
I ask what prompted the expansion of the project, moving beyond the first window to include all of them. Josephine vividly recounts the turning point, Chagall's first visit ever to the church in 1967. 'On entering the church, Chagall would have seen the north windows, a mixture of clear glass and a medley of Victorian stained glass. On seeing his colourful creation, Chagall immediately exclaimed, "C'est magnifique, je les ferai tous!" (He spoke no English; this translates to "It's magnificent, I'll make them all!")′ Although Chagall had famously been commissioned by the Rockefellers to design a church's windows in New York state, in the case of the Tudeley church, he would gift the windows for free. This dramatic moment marked the beginning of an ambitious project; 'Chagall's desire to entirely fill a place of worship with his glass was finally fulfilled in 1985, the year of his death.'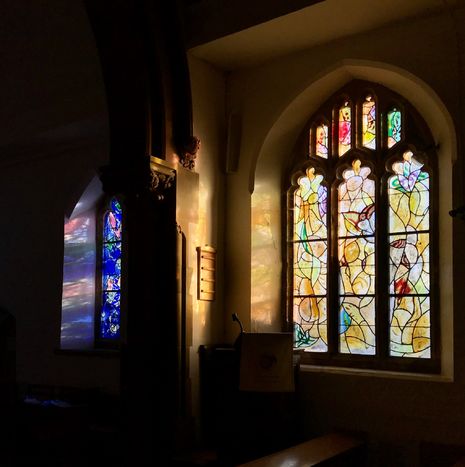 The windows are inspired by Psalm 8, which praises God's majestic power in creating the cosmos. Chagall was described by eminent art critic Robert Hughes as 'the quintessential Jewish artist of the twentieth century', but, as Josephine explains, 'he believed that all of the great faiths worshipped the same God; he thought it was only man that divided them.' Considered as a whole, the windows tell 'a complete story from the Creation through to the resurrection'. 'The windows are filled with recognisable Chagallian motifs: crescent moons, birds, donkeys, and flying angels.' Almost all of the windows are blue, but Josephine's favourite is yellow. 'The southern windows tell of rebirth and of hope for redemption, and they're full of butterflies.' She enthuses about the way the changing light transforms the window from hour to hour, although she emphasises that 'I can't explain it to you, you'll just have to visit the church to see for yourself.'
Chagall actively participated in the physical process of the window's creation, and this is immediately evident as a visitor. As Josephine explains, 'the beauty of these is, you can see the bubbles, you can see the scratches, you can see the thumbprints, especially because they are at eye-level.' As for most of his stained-glass creations, Chagall worked with the glazier Charles Marq, who translated the artist's rough sketches into glass. (Marq's signature can be seen alongside Chagall's on several of the windows.) Chagall 'painted onto glass already bearing the basic colours, which is a technique called grisaille'. The varied texture of the windows is extremely unusual for stained glass. Josephine explains, 'Marq used acid to bite into the coloured glass, to precisely match the varying tones and shades of Chagall's sketches.' In addition, 'Chagall made scratches onto the glass which he called pecking, tracing lines all over it like rock paintings or runes.' This affects the refraction of light in the church; 'they're always ablaze with colour, but they change with the light, so one day will be totally different to the next.'
"For me a stained-glass window is a transparent partition between my heart and the heart of the world"
All Saints' is 'a place of healing and a place of great spirituality' to Josephine. Something a visitor once told her encapsulates this: 'she considered All Saints' to be the Thin place, which in Celtic Christianity is the fine line that divides heaven and earth. It's where that line is thinnest which is just the most appropriate and beautiful way of putting it.' Chagall himself believed that his stained glass occupied a liminal space between the spiritual realm and the physical world, Josephine tells me. 'In 1962, he said, "For me a stained-glass window is a transparent partition between my heart and the heart of the world".' The poignant story of the windows is far more than just inspiring to Josephine; she believes that 'there are extraordinary angelic interferences in the whole story.'
The church has an extraordinary effect on visitors, she says. 'It's difficult to explain. All Saints' is a place where people might just come to see and marvel at the windows, but they don't necessarily expect the church to leave such a lasting impact. You don't have to have faith to visit but for everyone it will be a spiritual experience.' What would she say to someone considering venturing to Tudeley? 'This is not just an interesting place to go. It will change your life. It has changed my life, totally changed it.'
The church receives no government funding and relies entirely on donations from the public for the extensive costs of maintaining and insuring the windows. Information about donating to the Chagall Windows Preservation trust can be found here.
More information about the windows can be found on the church's website.
All Saints' is open to the public every day. In winter, its opening hours are 9:30am to 4pm. Its address is All Saints' Church, Tudeley, Tonbridge, TN11 0NZ.