Commercial Feature
The latest must-have jewellery trends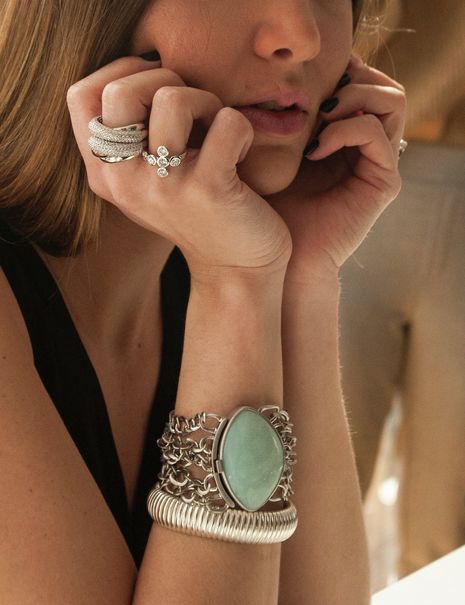 Jewellery trends keep changing like any other aspect of fashion. Each season many people look to find new, 'on trend' accessories. With beautiful jewellery pieces, you can make a statement and enhance your overall look. If you want to buy statement pieces for special occasions, weddings etc. then check out the versatile collection of DC Jewellery.
Heavy Hoops
Hoops are popular trends that can't go out of style. You can see seasonal tweaks in hoops to make them more relevant and trendy, this current season these eternal styles are taking a bolder, bulkier form
Unusual Enamels
Enamels are becoming ever more colourful this season. Choose well, and you can proudly wear these pieces into the next season and beyond. Your wardrobe can really befit from the range of bright, playful colours and unique silhouettes. For spring, colourful jewellery can add vibrant and a whimsical touch to your wardrobe.
Consider three flamboyant stacks of bracelets with beaded enamel in different patterns. You can give a touch of the 'rainbow look' to your outfits in spring. For a bold look, pair your boldest bangle with matching earrings.
Crystal and Faux Pearl Necklace
Shell jewellery is an evergreen trend that you can wear this season and beyond. A combination of pearls, beads and shells look beautiful in the summer. Unique pieces are available in the market with lobster claw fastening, crystal embellished charms, lustrous faux pearls, and red threading. Pair with light, airy linen outfits for a beautiful beach-inspired look.
Link Bracelets and Necklaces
Chains of different sizes and shapes are available everywhere from market stalls to high end boutiques. At the top end, you can always find variances on these classic themes in the collections of nearly all top design houses. Currently the vogue is for thicker chain-link chokers and matching earrings. More budget budget-friendly design is made of stainless steel always look great with a blazer and jeans.
"Spare Change" Jewellery
The once popular practice of using coins to make everything from earrings to necklaces is back again, 'spare change' jewellery is starting to become a popular trend.
Mismatched Earrings
Mismatched earrings become the latest craze amongst many young trend-setters. You can find numerous attractive and seamless combinations. Two mismatched earrings can create a really modern feel and add a quirky but nonetheless stylish touch to your outfit.
Alighieri Pearl Necklace
Wear an oversized pearl necklace along with eye-catching and irregular shaped sculptured pearls.. This trend is famous in the fashion community because of its handmade, unique sculptural design.
You can buy special necklace composed of loin charm, freshwater pearl, and ancient coin. Feel free to add your favourite layers to make this necklace unique.
Beautiful Lucky Charms!
Not just the inspiration for the pieces on a Monopoly board! This sentimental trend can often be inspired by happy childhood memories. There is a huge range of lucky charms available, and doubtless you will be able to find something that captures your imagination. Brightly coloured plastic and enamel charms are proving popular too; and are often coupled with a flower pendant – a ground-breaking trend for the summer and spring seasons.