Commercial Feature
STORED and its competitive advantage in the self storage industry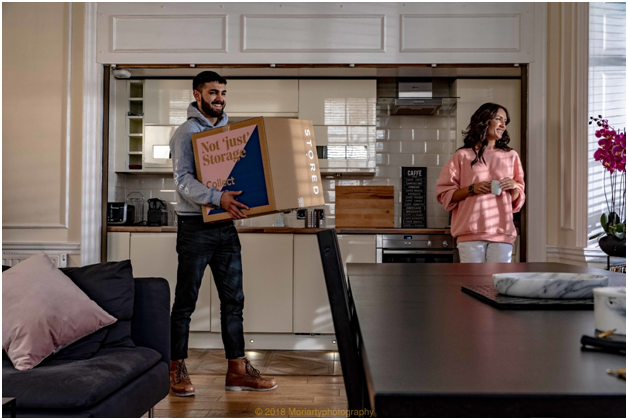 Businesses in every industry always try to find a unique selling proposition in order to gain a competitive advantage and differentiate themselves from the competition. The self storage industry in the UK is no different with many small operators competing against larger companies to gain market share.
Whilst many of these companies may differentiate on price and other minute factors, STORED offers a more convenient business model in an attempt to take the "self" out of self storage, offering customers everything that self storage doesn't.
As of 2019, there were nearly 1,900 self storage locations in the UK and they provide about 49 million square feet of space, which offers the most amount of storage per person compared to any other country in Europe. This storage space is divided under approximately 972 different storage brands.
The annual turnover for the self storage industry in 2019 was a grand £766 million though occupancy rates slipped from 77.2% in 2018 to 76.2% in 2019 because of new entrants not having fully occupied storage sites yet. Therefore, these figures clearly show that the self storage industry in the UK is rather saturated and extremely competitive – yet still has immense potential as self storage is highly relevant in the life of an average UK resident.
For those who are not aware, self storage refers to a storage service that customers can access themselves. Students, people moving house, businesses, and individuals who need some extra space have all been using self storage in order to provide for their temporary storage needs.
The need for self storage is particularly prominent in London as space is priced at a premium and people are often looking to rent cheaper space to keep their extra belongings safe.
With self storage, customers usually bring their belongings to the self storage unit themselves, access their space and put in their items, and then make multiple trips back and forth from the unit whenever they need their items back. Although, this does provide facility, there are several drawbacks to self storage.
These drawbacks are what STORED co-founders Daniel Axater and Peter Gentzel built their business model around and how they designed their own competitive advantage in the self storage industry.
While it is still considered to be a part of the self storage industry, STORED operates on a more "serviced storage" approach in which the customer is not required to do anything. The company offers an all-inclusive package that caters to all of the problems faced by customers opting for self storage, adopting a completely hassle-free approach to storage services.
One of the main drawbacks of self storage is the lack of transportation and the customer having to transport his/her belongings to the storage unit their self, which can often cost a lot and be an extremely tedious and messy process- especially if you have a lot of belongings.
STORED's business model provides the customer with transportation that is included in their package. Hence, STORED's moving van arrives at the customer's doorstep to pick up their belongings and the team loads the belongings onto the moving van to take back to the storage unit. The customer does not have to arrange for transportation for their belongings or do the heavy lifting all the way to the storage unit.
Another drawback of self storage is that it demands a lot of time. If you need to get anything from your self storage unit, you need to take the trip down to the unit, retrieve what you need, use it, and often then bring it back to the unit.
According to the Self Storage Association 2019 Annual Report, 86% of people travelled 30 minutes or less to their self storage unit and 69% of self storage users were between the ages of 40- 79. This clearly emphasizes the need for convenience for this age bracket and the lack of time due to several other important things that people at this life stage need to handle including work, family, health, and other matters.
Peter Gentzel and Daniel Axsater thought. what if people didn't have to spend any time at all on storage and could save that time and energy and spend it on other things? The STORED business model provides free collection and returns at a minimal price right at the customer's doorstep, eliminating the time taken to travel to the storage unit and back- not to mention the cost and the energy too.
The SSA 2019 Annual Report also mentions that 32% of people using self storage are involved in moving house. That means they have a lot of packing and transporting needs as well. While other self storage companies don't, STORED provides packing assistance for a minimal fee to help people moving, pack and transport their belongings to the self storage outlet safely.
STORED's model also works best for students and people in younger age groups who have a lot to handle and would like an all-convenience fully-rounded solution rather than just a self storage unit.
STORED's all-inclusive package has a moving van and petrol, a two-man loading team, a storage unit of a chosen size for a designated time period, limited liability coverage, and the option to view a list of items in your storage unit online.
Basically, the vision for STORED was for it to be "London's easiest storage service", making it extremely simple for customers to handle their belongings. Now, the company is also extending this service to London's surrounding areas such as Brighton, Portsmouth, Eastbourne, Canterbury, and Surrey.
While STORED's business model has given it an edge over other companies in the self storage industry, especially when the company offers a price competitive with self storage and often cheaper than what other self storage companies are charging, the company's business model has been particularly advantageous to customers during the pandemic.
As customers were unable to use public transport or generally go to a self storage unit to handle their belongings, STORED's door-to-door model was the perfect option to help them manage as the moving van and team came to their doorstep. Additionally, STORED offered one-hour time slots for urgent pickups as the situation required responsive services.
Peter Gentzel says, "STORED takes the "self" out of self storage to provide a solution that leaves nothing for the customer to do. Looking at the trends in the self storage industry and the problems that people encountered, we decided to devise a business that ensured people did not have to spend their time and energy where it wasn't needed.
Additionally, we decided to make that service cheaper than what self storage would cost the customer to ensure everybody could afford it and it truly provided an answer to all storage problems. We didn't want to just provide the same thing at a lower price, we wanted to provide something different and better at the best price."
Daniel Axsater adds, "We are happy that STORED has made its mark in a multi-million pound, highly competitive industry. We know that the need for storage is only going to keep increasing over the years, especially for people with certain lifestyles and we are prepared to cater to the increasing demand.
Peter and I are exceptionally happy that STORED was able to provide an advantage to customers during the difficult pandemic. We will continue to strive to provide excellent solutions to regular problems."
STORED is also used by small and large businesses for storing inventory and other supplies.
Sponsored Links
Partner Links