Commercial Feature
Practical year abroad advice you'll be glad you read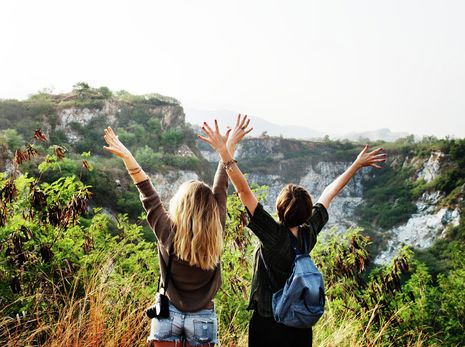 As Talia Carter recently wrote, the year abroad is not a one-size-fits-all adventure, and there are plenty of things Carter wishes she'd have known before jetting off.
Amongst those, she noted that trying "to find ways to make it as easy as possible…for example, maybe look at accommodation before you go" was essential for assuaging some of those pre-departure jitters.
Absolutely.
However, there are also plenty of other things to think about when it comes to making your year abroad go as smoothly as possible, which would-be year-abroaders often overlook. Here are just a few to keep in mind.
Get your accommodation sorted ASAP
It's the one thing Carter mentioned as important when it comes to organising your year abroad, and it arguably is the most important aspect (beyond, you know, landing a placement in the first place.)
The place you live can help define your study or work abroad experience. If you're too far from the nightlife, you might find yourself isolated. If you go upscale, you might find yourself skint.
Basically, there are things to consider.
Regardless of the city (or town, or village) in which you'll be living, do some research beforehand and find out the average rent prices, as well as the best neighbourhoods. Looking on local blogs (a.k.a. beyond Lonely Planet) can sometimes be helpful for this.
Once you've done that, figure out how to secure a rental. It might be the case that your university provides support, or that you can even stay in halls, so decide if that's the path you want to take.
Otherwise, it can be worth renting an Airbnb to ease the transition while you look for a flat once you're on the ground.
Either way, make sure you formulate a plan of action early.
Connect with other people that'll be studying or working in the same place as you
People tend to fall into two camps when it comes to the year abroad: the students and the language assistants. Sure, there are the odd few who choose to head into a business or editorial environment, but they're in the minority.
If you're planning on studying abroad then, as soon as you get your placement details, it's worth connecting with anyone else from your university who'll be in the same city. You might not know each other yet, but it makes for an easy way to start building your year abroad support network.
Alternatively, search for Facebook groups full of Erasmus students also headed to that university and see if you can arrange to meet up with a few once you arrive. Exploring your new city, especially in your first few days, is always better when you're not alone.
If you're headed off to teach English, then try and do the same thing: connect, connect, connect with those who will also be there. You'll need someone to gossip with about all the students anyway.
Look into local classes
If you'd rather blend into your surroundings and make friends with local residents when you get to your new destination, it's worth checking out local classes in your area.
This can be a way to continue practicing a hobby you've picked up at uni or it can be a better way to try your hand at something you've always wanted to, without the fear that you'll be recognised by anyone.
However, the real benefit to taking some classes when on your year abroad (beyond, personal growth or whatever) is that it gives you an excuse to socialise outside of your work or uni bubble, something that's always a good idea. It also makes an easy conversation starter.
Hell, if you choose to take a language course, you might even be improving your employability prospects upon graduation too.
Figure out how you want to remember your year abroad
It might seem pre-emptive, but you should be thinking about how you plan on remembering, and maybe even recording, all the memories you made when on your year abroad.
If you're thinking about buying postcards from every place you visit (there will be ample opportunities for travel), then you need to know ASAP. Otherwise, you'll get to December and be kicking yourself for not starting your collection sooner. An excuse to revisit some spots? Sure, but an inconvenience nonetheless.
If you want to make a scrapbook, or put together some kind of photo project, then you'll want to cling onto ticket stubs and the like from the get go too.
I know it might seem a bit silly to be planning so far in advance. However, future you will be grateful when you're ten years out from graduation and reminiscing on the memories you made in Marseilles or Mexico City.
Pack carefully
As your departure date arrives, you'll want to crack on with your packing. Some will argue that there's little point in taking loads of stuff—just take the essentials, you'll hear time and again! On the other hand, there'll be those who pack everything but the kitchen sink.
While there are definite pros and cons to each approach, don't feel pressured to pack light just because everyone else seems to be doing. After all, there are real benefits to having plenty of home comforts on hand when you're feeling all at sea in the first week in a foreign country.
One thing that you should think about though is the cost and time of having to buy all the basics all over again. When flying in Europe, paying for extra baggage can quickly add up, while dragging multiple suitcases around alone isn't fun.
So, if you're attached to the majority of your bedroom furnishings, it could be worth looking into hiring an international removals company through buzzmove. It will save you plenty of hassle too and help you feel more settled as soon as you arrive.